Taking Mobile Experiences From Good to Great With E-signatures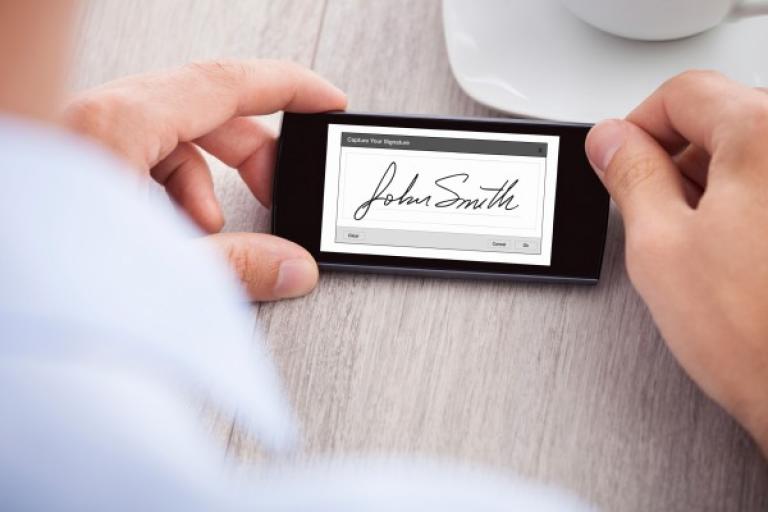 Smartphones and tablets have become ubiquitous in today's society. Gartner predicts that by 2018, more than 50 percent of users will use a mobile tablet or smartphone first for all online activities. According to Gartner, "Users are adopting smartphones as their exclusive mobile devices while in developed economies, multi-device households are becoming the norm, with tablets growing at the fastest rate of any computing device." Users rely heavily on their mobile phones and tablets to not only connect with others, but to also read their favorite magazine, listen to music, make online purchases and even pay their bills – it's clear that people are using their mobile device for their everyday needs.
Mobile banking apps have gained popularity in the past couple of years by allowing customers to conveniently complete banking transactions from the comfort of their own homes. Financial institutions realize the importance of providing a seamless and consistent experience at all customer facing touch points and how it contributes to driving customer adoption and loyalty to their brand. A top North American bank recently launched an iPad app with e-signature capability to provide a fully digital and mobile account opening process from airport kiosks. Customers can now easily review forms and provide a handwritten signature from their mobile phone in a secure and compliant manner. When developing their iPad app, the bank eliminated unnecessary steps in the onboarding process to build a streamlined and optimized mobile experience for its customers.
Integrating with e-SignLive's Mobile SDK
For those of you considering adding e-signature capabilities to your existing mobile apps, we offer the e-SignLive Mobile SDK for iOS. Our Mobile SDK is optimized for rapid development so that mobile developers can get up and running with their first prototype within 30 minutes. The SDK is packaged with complete documentation, sample code and a sample app. What's more, developers can also test and analyze the e-signature capability of their app in an e-SignLive developer account. Our Mobile SDK supports the following capabilities from your app:
Hand-drawn and tap-to-sign signature capture methods
Offline e-signing capabilities for true anywhere/anytime e-signing, particularly in locations with limited connectivity and bandwidth
Transaction synchronization so that documents are automatically synced with the server once signing is complete
In-person signing to allow signers to e-sign documents in face-to-face scenarios
Mobile electronic evidence gathering, including document and process evidence, as well as any action the user performs during the signing ceremony
Interested in integrating e-signature capability to your native mobile app? Visit our documentation portal to download the e-SignLive Mobile SDK.
To learn more about the benefits of digital onboarding from your customers' mobile devices, download our whitepaper here.