Top 5 Security Stories in 2015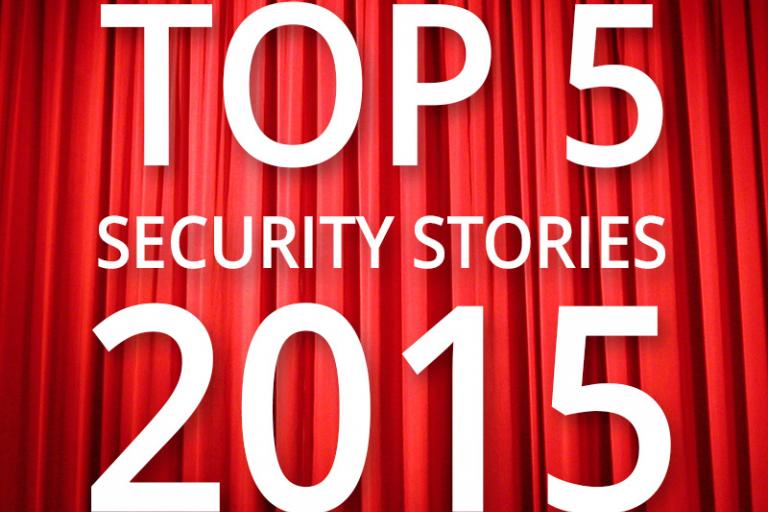 2015 was a remarkable year in the IT security area. There was never a dull moment with novel attack methods, new enemies, massive breaches of healthcare organizations and the OPM, Hacking Team's embarrassing takedown, and cars and toys becoming targets. Hard to imagine it all fit into just 365 days and it doesn't look like it will slow down one bit with the New Year.
Below is a brief look back at our most popular blog posts from the past year that you might have missed or may well enjoy reading again, because these topics will likely still reverberate into the next year.
Enjoy the read!
The Hollow Sounds of Sabre Rattling in the Cyber World
The agreement between President Barack Obama and the Chinese President Xi Jinping was big news in the security segment last week. They agreed to refrain from state-sponsored cyberattacks against each other. That sounded good on the surface, but you have to evaluate the implications of the deal before rendering judgement. Read More
Why the Pending U.S. EMV Liability Shift Deadline is Almost Meaningless
The shift to the EMV standard in the U.S. has drawn incredible media as everyone witnessed the approach of the looming liability shift deadline. But what does it really mean for merchants, consumers, and hackers? I say the answer is actually very little, and in as few words as possible, I will tell you why. Read More
Privacy under siege
The increased use of connected devices puts our privacy under siege. People are often not aware of what they are both voluntarily and unwittingly sharing with the world. Yet, even if you are very careful with what you put online, the truth is that we are not sure how safe every single connected device is. Read More
The Three Laws of Cyber Fraud
Adi Shamir, one of the founding fathers of modern cryptography, formulated his three laws of computer security. These laws inspired me to define some laws regarding fraud in our online world. Read about the Three Laws of Cybercrime. Read More
Why Banks Will Win the Battle for the Mobile Wallet
Apple CEO Tim Cook promised that his company's upcoming mobile payment offering would forever change the way we buy. The announcement of Apple Pay undeniably accelerated our collective migration towards mobile payments.  Even though Apple has received most of the media attention, I believe it will be banks that will emerge as the winners after the dust has settled. Read More