True or False: E-Signature Solutions are Created Equal [Infographic]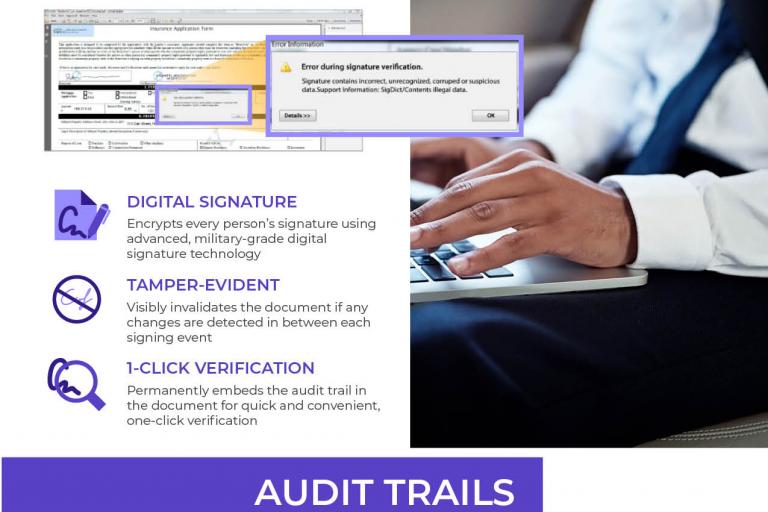 In the e-signature market, there is a perception that features and functionality are becoming commoditized - that all e-signatures are created equal.
But is that really the case?
Take a close look at solution differentiators. These are critical value areas where a vendor's unique approach to things like audit trails, document security, branding, deployment and user experience become important.
There are some deep differences in how e-signature vendors apply technology to solve everyday business problems. While seemingly granular, those differences can make or break your long-term success – and determine exposure to risk.  
7 Key Differentiators
When people ask how eSignLIve is different from DocuSign and Adobe Document Services, I point them to this infographic.
At a glance, it shows how eSignLive adds value where it matters most – balancing the highest levels of security and compliance with ease of use and flexibility. It highlights eSignLive's unique ability to automate any use case across any channel and geography.
Here are 7 key areas where eSignLive stands apart:
The eSignLive Difference
Why it matters
Choice is important. No other

e-signature

vendor gives you as many options: a. For how your users experience e-signatures b. To meet your business and compliance requirements c. To get you up and running
We make it easy for signers, senders and developers to get the job done. From an intuitive UI and responsive design to templates, dashboards and our API/SDKs, eSignLive makes everything faster and more convenient.  
Unlike other solutions, eSignLive lets you fully white label the UI so there's no doubt your brand is behind the e-signing workflow. All the way down to integrating with your SMTP servers.  
We have successfully completed rigorous security audits, such as SOC 2 Type II and FedRAMP compliance, which certify that eSignLive has the necessary controls in place to ensure that data is safe and secure at all times.  
eSignLive makes it incredibly easy to prove compliance. Audit trails are permanently embedded within the e-signed document for easy, one-click verification and access to full details about each transaction. We're also the only vendor to capture a visual audit trail of how the signing process took place.Think of it as a free insurance policy.  
Code once and deploy anywhere – public cloud, private cloud or on-premises. eSignLive provides a highly scalable platform that can be deployed at any one of our global data centers.  
We are focused on customer satisfaction and long-term relationships with customers. In the words of one customer, eSignLive puts the resources and support in place "to do whatever it takes to reach your business goals."[1] eSignLive has the highest customer satisfaction rate at 98% and highest customer retention rate at 96%.
Join the Conversation
What do you think – how commoditized are e-signature solutions?
How many real differences have you uncovered in your electronic signature evaluation process?
Leave a comment. We'd love to hear your thoughts.
[1] https://www.g2crowd.com/survey_responses/e-signlive-by-silanis-review-19133