Welcome to OneSpan's Global Headquarters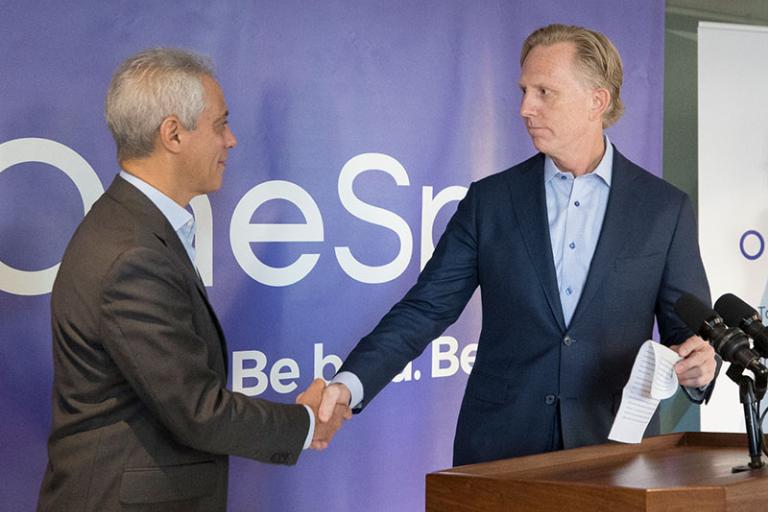 In the world of B2B tech, getting to know a company as a vendor and corporate citizen is as important as vetting its products and services.
While a company's mission statement and brand promise provide insight into its guiding principles, companies are like people in that their actions tell the story of who they are. At OneSpan, that story happens through the everyday efforts of our more than 700 employees around the world, punctuated by public milestone moments.
This year has been packed with public milestones, the latest being the September 14, 2018 official opening of our global headquarters by Chicago Mayor Rahm Emanuel. Earlier this year, we relocated from the Chicago suburbs to the downtown core – a move that makes it easier to attract tech talent as we continue to innovate to help financial institutions fight fraud.

Left to right: CIO Jeff Cole, CMO John Gunn, CHRO Tracy McCarthy, CFO Mark Hoyt, Mayor Emanuel, CEO Scott Clements, Director of Corporate Communications Sarah Hanel, VP Sales Operations Mark Debroeck
At the ribbon-cutting ceremony, Mayor Rahm Emanuel spoke about the city's strategy for growth and how Chicago gives local tech companies an edge through advantages like its talent pool. Tech is Chicago's fastest growing sector, employing more than 143,000 people across 4,000 digital companies.
"Over the last five years, the City of Chicago has been the number one city in America for corporate relocations," Mayor Emanuel said. "There are five things I call the 5 T's: talent, training, transportation, technology, and transparency. If you organize those five, you provide companies like OneSpan […] the certainty and the confidence to make a move, relocate their company, and expand here."
Innovating to Equip Banks with AI and Sophisticated Tools
Beyond relocating our global headquarters, 2018 marks the start of a new chapter for our company in two important ways: we rebranded from VASCO to OneSpan and introduced significant new product offerings.
They say fraud never sleeps, and as a result, financial institutions' security and fraud teams are racing to stay ahead of hackers and fraudsters. One of the ways we're helping banks stay ahead is through our recently announced API-based Trusted Identity (TID) platform and Intelligent Adaptive Authentication solution, which use AI and machine learning to sharpen fraud detection while orchestrating authentication workflows and optimizing the user experience.
In Q2, we also announced the acquisition of Dealflo, adding digital identity verification and financial agreement automation solutions to our portfolio.
As OneSpan CEO Scott Clements explained during Mayor Emanuel's visit, "We are now applying the most advanced technologies to deliver trusted identities and transactions through cloud-based, open architecture solutions, including fraud analysis, behavioral biometrics, artificial intelligence, and mobile device protection. These solutions allow consumers and employees to securely access their online accounts, and enable banks and businesses to digitally onboard new customers with a low-friction, pleasant user experience."
Exciting Plans for the Future  
OneSpan operates in more than 100 countries across the Americas, Europe, the Middle East, and Asia Pacific. In the last few months, we have made some exciting changes to our office locations around the world. This includes moving our primary European location in Brussels to a more modern facility; we have similar plans to relocate our Montreal location to the downtown core of that city. All of this underscores our exciting plans for the future, as we look to expand our team by filling the career opportunities and job postings at our various OneSpan locations.
Congratulations @OneSpan, leading IT and cybersecurity technology firm, on relocating your global headquarters to Chicago! Welcome home to Chicago's vibrant tech community. @WorldBizChicagopic.twitter.com/ZlhzO4XCqQ

— Mayor Rahm Emanuel (@ChicagosMayor) September 14, 2018