What the Wells Fargo Mobile Research Reveals About E‑Signatures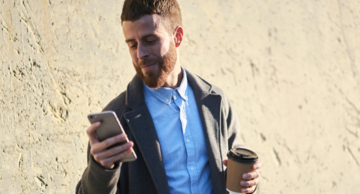 A Wells Fargo mobile study on the use of e-signatures and mobile devices confirms this is the future of loans and mortgages.
"And for many, the future is already here," the researchers say.
Wells Fargo, the largest mortgage originator in the US, undertook the study to understand how consumers use mobile devices for financial contracting. The 2017 study also looks at consumer attitudes, behaviors and experiences when signing documents such as loan disclosures and contracts on smartphones and other mobile devices.
"We commissioned this research because it was apparent to us that consumers are growing more and more comfortable every day while they are using their mobile device to perform an increasing spectrum of financial transactions and services," said Brian Webster, a Senior Vice President for Strategy and Financial Reform at Wells Fargo Home Mortgage.
"Consumers are using mobile devices more often to electronically sign documents. They are even signing contracts. And these experiences cause them to develop opinions and suggestions on how to improve their mobile e-sign experiences."
Key findings:
64% of respondents have completed a loan process entirely online
31% have e-signed a loan on a mobile device
If applying today, 36% would be inclined to e-sign the final loan contract on a mobile device
Even the complex mortgage process is showing an uptick in the use of e-signatures, either online or via mobile:
12% of respondents say they have applied for and signed a mortgage entirely online
38% want to be able to do the mortgage process entirely online (including e-signatures)
21% would actually prefer to use a mobile device to complete the mortgage process
Completing a loan process entirely online
For consumers, the ability to access lending products and services online has become an everyday banking expectation.
In fact, Wells Fargo's research data shows that the majority (64%) of survey respondents have applied for – and e-signed – at least one type of loan or credit agreement entirely online. And the vast majority (nearly 80%) have completed at least part of the lending process online. These numbers apply to the following:
mortgage or refinance
home equity loans
auto loans
personal line of credit / personal loans
credit card applications
student loans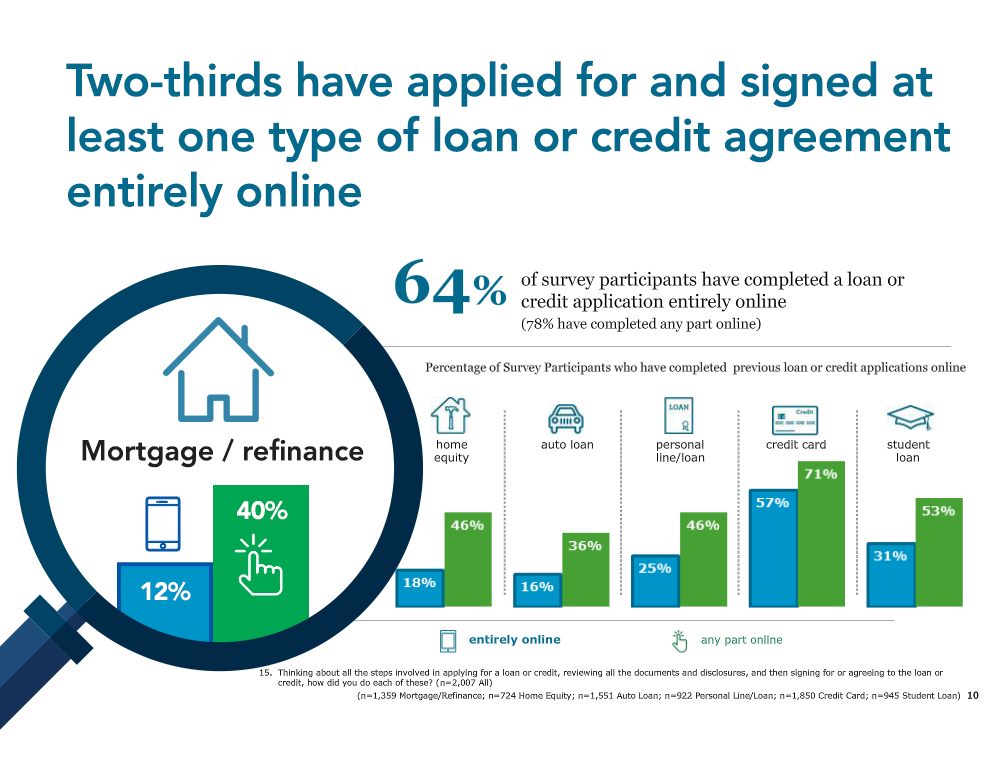 Sourced from the eSign Mobile Research webinar presented by Wells Fargo Home Mortgage, September 12, 2017
  When segmenting the data by loan type, credit cards rank highest in percentage of respondents who completed the application entirely online (57%). Mortgages rank lowest at 12%.
"It's no surprise that credit cards are the highest number here," said Dr. Joe Hopper of Versta Research, one of the firms commissioned to do the Wells Fargo study. "But I'm always looking at the mortgage or refinance number as well because those numbers, while they are low, are surprisingly high just in terms of how difficult the process is. And yet people are doing them; 12% of respondents say they have applied for and signed a mortgage entirely online."
Devices used for online lending transactions
When asked which devices they used for the online parts of the lending process, >25% of participants confirmed they have used a mobile device for all or part of an online loan.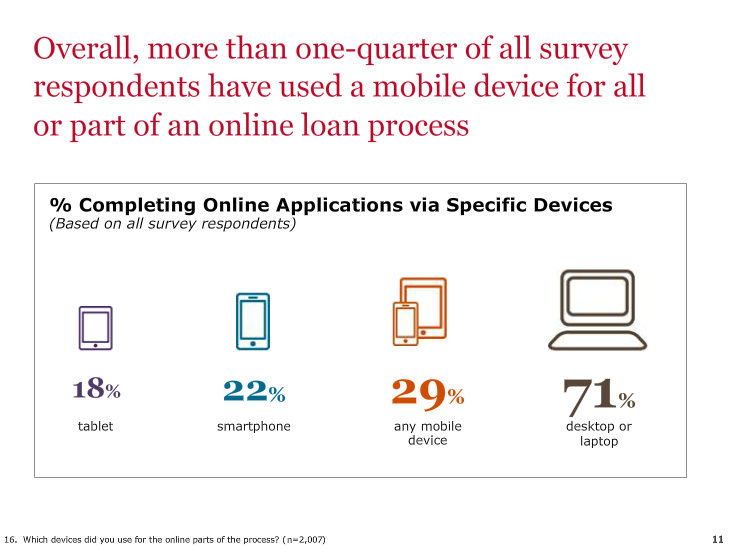 Source: eSign Mobile Research webinar presented by Wells Fargo Home Mortgage
Their device of choice (at 71%) was a desktop or laptop (owing to the larger screens) versus any mobile device (29%).
Of the 29% who used a mobile device for all or part of the loan process, there is a generational difference. If looking only at millennials that skyrockets to 42%, Hopper says.
While it is mostly a perception that millennials are the only demographic that want to bank online exclusively, the Wells Fargo research found that >50% of individuals who identified as baby boomers said they applied for and signed agreements online.  
31% have e-signed a final loan document via mobile
The researchers found that "not only are consumers initiating an application online, 31% of respondents used e-signature to sign a final loan or credit document, confirming full consent and agreement, on a mobile device."
The most common type of loan for which consumers use mobile e-signatures is credit card applications at 17%, followed by auto loans and mortgage. These are the top three most popular types of loan to be e-signed on mobile devices.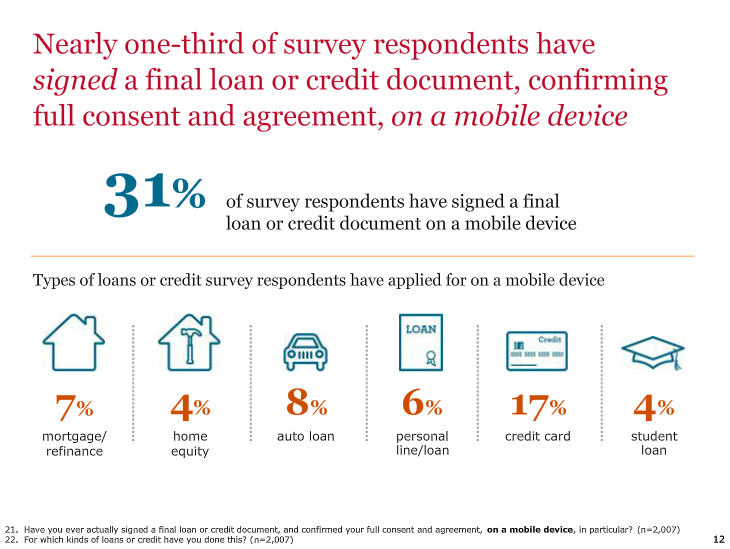 Source: eSign Mobile Research webinar presented by Wells Fargo Home Mortgage
Consumer perceptions on mobile security
When looking at what people would like to be able to do today, Hopper explained that, "Consumers want the process to be online, and many – but not all – say they would use mobile devices to do that." Security is one of the reasons some consumers are still holding back. In the words of one survey respondent:  
"I generally prefer to use a laptop for financial transactions
since it seems more secure than a mobile phone or tablet,
but I realize that may just be a bias that I have that is not based in fact."
(male, 35 years)
Hopper confirmed this is a bias that many consumers have.
In our view at VASCO, we agree with Hopper. Banks are investing in mobile as a key engagement channel, but to enable growth in this channel, banks and lenders need to provide high-value services delivered as securely and fraud-proof as possible. Many consumers are waiting for banks to prove that loans and other transactions via mobile can be made trustworthy enough to earn their business and loyalty. Before banks can crack consumer apprehension regarding mobile security, they must address technical issues that are unique to mobile.
Preferred devices, if applying for a mortgage today
Another interesting theme to emerge from the Wells Fargo mobile research is directly related to mortgage. More respondents would prefer to complete the mortgage process online than on paper.
If applying for a home mortgage today:
38% would want to do the entire process online (applying, submitting documents, tracking, looking at disclosures, and using e-signature to sign), versus 32% on paper
21% prefer to use a mobile device for their mortgage process
According to Hopper, "Across all types of loans, large majorities say they want to work from a desktop or laptop. That's not surprising, because mobile devices still feel limited […] and sometimes feel too small for the things we want to do on them. But what is surprising to me personally is that 21% prefer to use a mobile device for a mortgage, as complex and as difficult as a mortgage can be. I think that's a harbinger number that already one in five are already there."
Conversely, 32% want to be able to do the process entirely on paper. When the researchers asked why they prefer paper, more than half (of the 32%) said they want to have hard copies in their hands that they can review with others.
"[This is] interesting, because it's not just about security or ease of use," says Hopper. "It's also about human interaction and wanting to share information with others, whether it be an adviser, a spouse, or somebody else."
"We did ask respondents, 'If there were a bank employee, or an attorney, or another professional there with you to help you review these documents, on your mobile device, would that make you more inclined to sign online?' The answer was yes."  
Where to go from here
The Wells Fargo mobile research confirms momentum is growing for using mobile devices to apply for and close loans. In sum, the study's sponsors concluded that consumers want the ability to transact online, and many want to use mobile devices and electronic signatures to do so – even as part of the mortgage process.
This is valuable insight for the financial services industry, where the digitization of lending continues to accelerate. In fact, lending is one of the top use cases for e-signatures in financial services. Banks and non-bank lenders alike continue to automate a wide range of loans, including:
Many of our banking customers first introduce e-signatures in their consumer lending or home mortgage business lines. And while they may initially deploy e-signature capability in the branch or online channels, banks are now integrating e-signatures with their mobile banking apps to offer a seamless, trusted mobile experience that meets customer expectations, provides differentiation and builds loyalty.
If your organization is interested in automating the lending process, contact us for best practices and peer insights.