What's Document Automation Without Electronic Signature Software?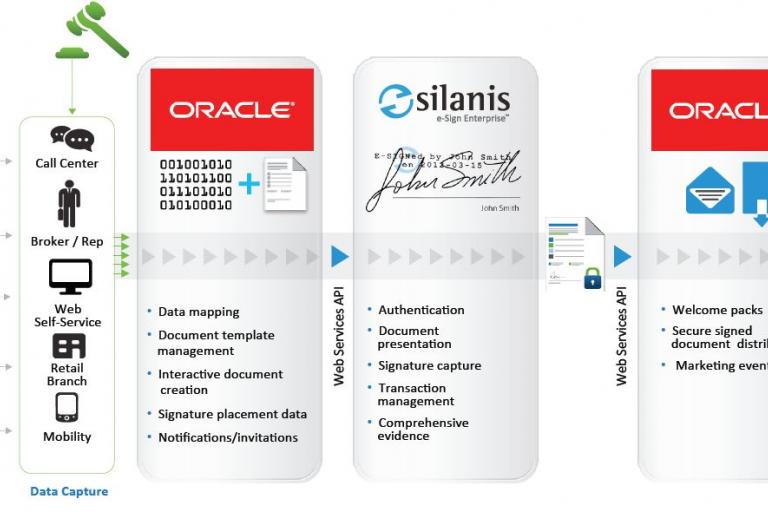 It's impossible to talk about enterprise document automation without considering the role of electronic signature software. Automating documents from start to finish in an online setting requires e-signatures for straight-through processing, otherwise the transaction would fall back to paper for the signature component. Thinking about straight-through processing isn't necessarily top of mind for people when considering document automation, which is why Silanis' Paul Giordano was on hand last week to present at our partner Oracle's Documaker event.
Paul spoke with attendees from both the property and casualty and life and annuities sides of insurance. He  explained the benefits of a 100 percent electronic process when a document automation platform is integrated with electronic signature software, including:
Reduce risk in regulated consumer transactions;
Adjust to changing compliance requirements quickly and efficiently;
Reduce cycle times and costs while improving customer experience;
Respond to customer demands for on-demand document and form output;
Leverage new and existing business systems.
So how does it work? First, Oracle Documaker receives a request with data feed, or a new document is requested in interactive format. It then generates the document with the necessary signature placeholders. Documaker then delivers the document to Silanis' server, which handles the signing event securely. Signed documents are then reentered into the workflow within Documaker. Here's a handy diagram to illustrate the process: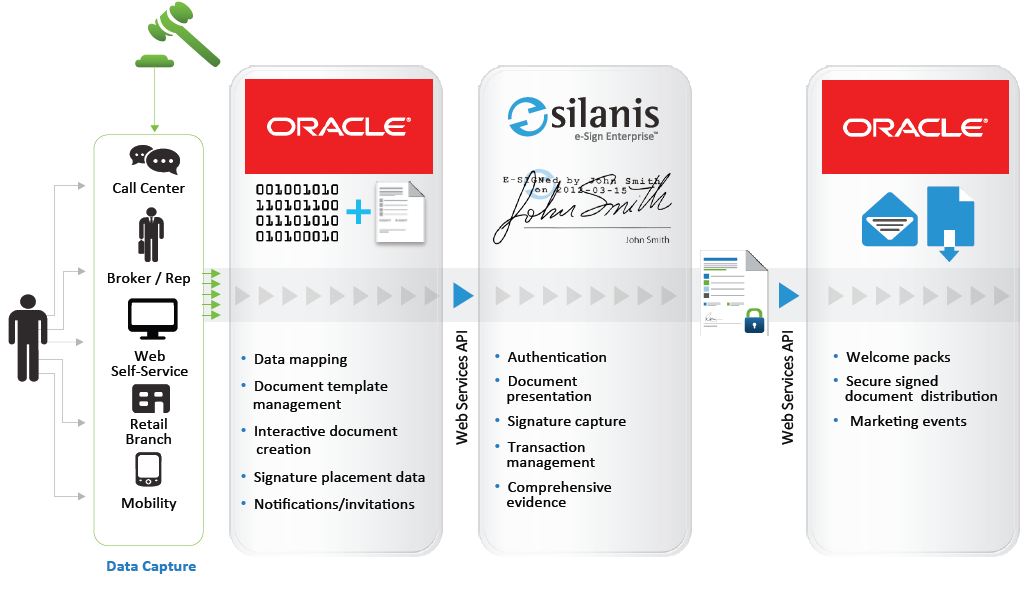 In his presentation, Paul also covered the legalities and compliance aspect of electronic signature software and digital signature technology. In short, e-signatures are legal, compliance and defensible and help an organization gather process and document evidence that can stand up in court, should a dispute arise. This can be particularly appealing for organizations that choose to automate documents that could fall under legal or regulatory scrutiny such as life insurance applications and terms and conditions.
Questions from attendees centered on the legality of using electronic signature software in an enterprise, and in particular whether Silanis e-signatures were compliant with the ACORD Guidelines for e-Signature and e-Delivery in the Insurance Business (see our infographic illustrating this here). To top it it, one attendee said, "This is exactly what I need to give to our legal and compliance folks," which is always a compliment to hear from an attendee!
To find out more about the legalities of electronic signature software, download the Top 6 Legal Risks of Electronic Signatures and E-Transactions.