Which E-Signature Implementation Option Fits Your Organization's Needs?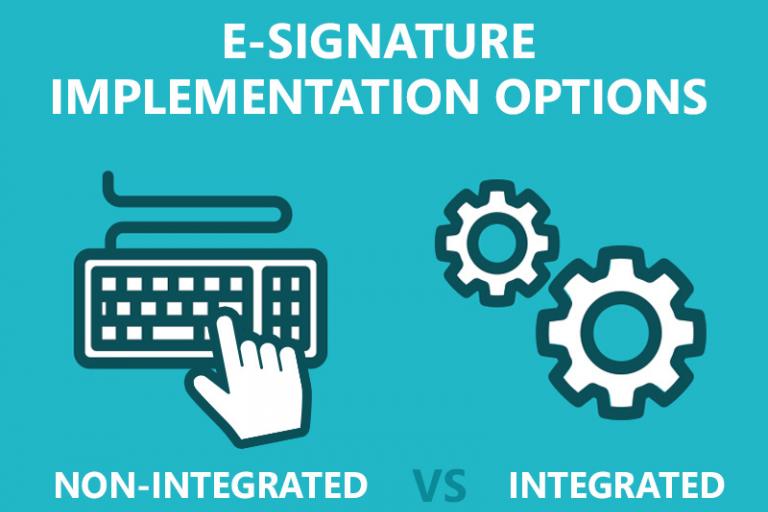 With rapid changes in the market and technology advances, many organizations are riding the digital transformation wave to adapt to the technology and processes needed in today's digital world. According to IDC, an estimated 40 percent of all technology spending will go toward digital transformations, with enterprises spending in excess of $2 trillion in 2019.   Organizations are evaluating e-signature technology to include in their transformation initiatives. Paper-based processes remain to be a culprit and has become one of the largest cost centers for an organization. E-Signatures are a small, yet significant piece to the digital transformation puzzle, that help organizations experience huge benefits:  
Achieve higher ROI and improvement to an organization's bottom-line
Improve customer experience – they can conveniently e-sign documents at any time, on any device
Increased staff efficiency and productivity
Eliminate error-prone processes with paper
Easy to use – a key driver for high adoption rates for your internal staff and customers
Compliant and secure
EVALUATING E-SIGNATURE IMPLEMENTATIONS
If your organization is trying to build a case to implement e-signatures company-wide, Technology Evaluation Centers recommends six decision-making criteria that should be evaluated before purchasing e-signature software.   Look for a flexible e-signature solution that fits your organization's growing needs. Today, you may want to smart small and deploy e-signatures to one line of business or department. However, it's important to think of the long-term and the scalability required for e-signatures to be used across the entire enterprise. Examples of flexibility include deployment options, availability of authentication methods, omni-channel support, support of multiple major languages and worldwide cloud locations.   Determining how your organization will consume e-signatures is another important deciding factor. E-Signature software is consumed broadly in two distinct ways – non-integrated or integrated:  
Non-integrated: Users can send and sign documents via the web application or mobile app. This option is ideal for lower volume, user-initiated e-signature processes (i.e.: sales contracts, HR forms, expense report, purchase orders, etc.).
Integrated: If you're looking to fully automate the e-signature process with your web portal, business applications, core systems and mobile apps, the integrated implementation option will fit your needs. There is no manual work for employees to prepare a document for e-signature – documents are system-generated and completely automated. This option is ideal for larger volume, system-initiated e-signature processes (i.e.: loan applications, mortgage origination and closing, account openings, claims, etc.).
  As an example, the integrated option would be beneficial to a bank that wants to push account applications out via its mobile app or banking website, or an insurance company that needs to send claim forms to its customers, that are pre-populated with the appropriate information. The integrated option will benefit any organization that processes tens of thousands forms that require e-signatures - significant cost savings will be realized by virtually eliminating all of the steps required to process a paper document.  
E-SIGNATURE IMPLEMENTATION DECISION MATRIX
As your organization evaluates a non-integrated or integrated e-signature implementation option, there are a number of criteria to consider. This e-signature decision matrix will help you carefully evaluate each e-signature implementation option to meet your project needs: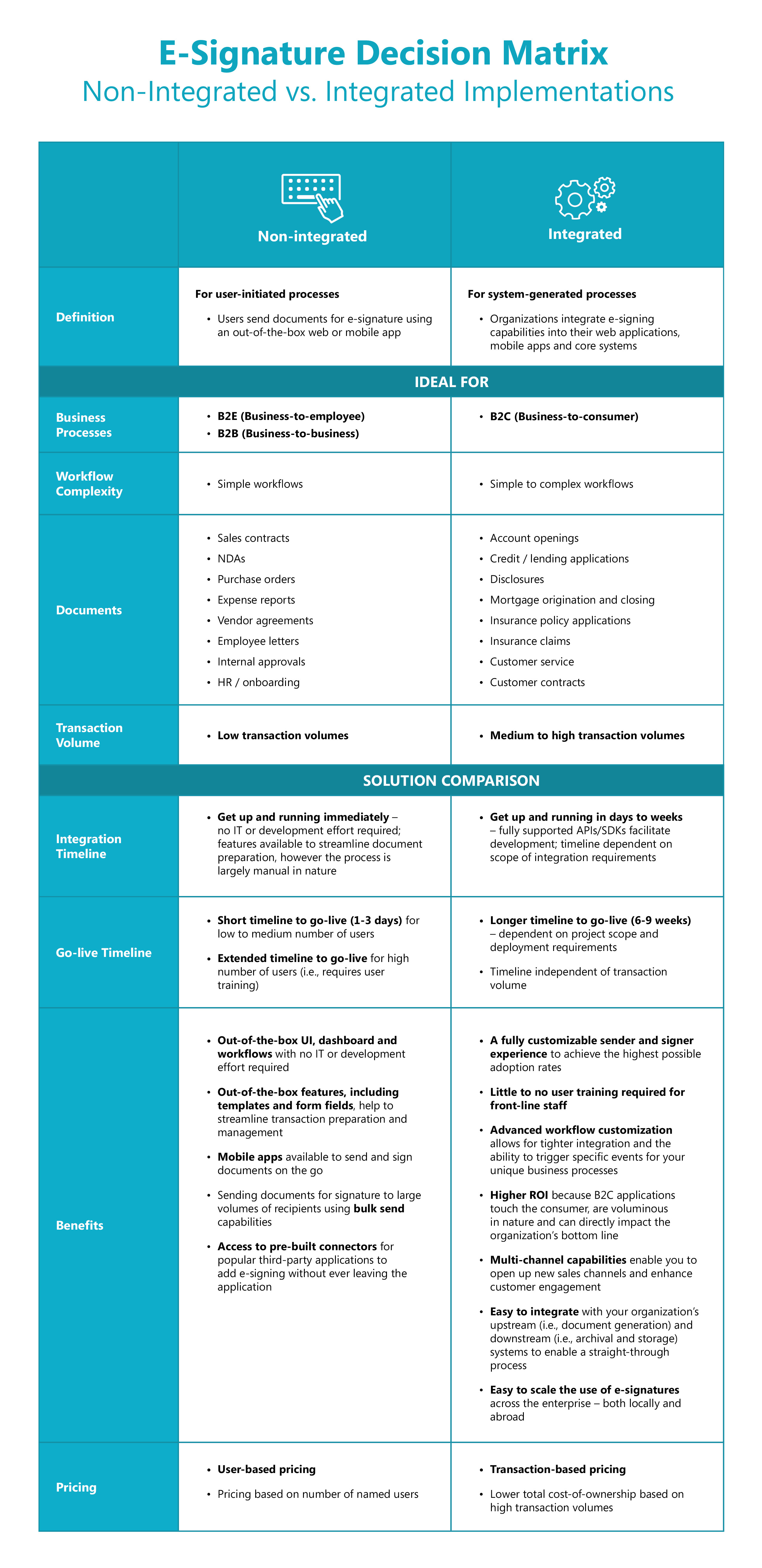 Download the E-Signature Evaluation Toolkit to learn about key criteria, and how to define requirements for your organization's e-signature implementation.