Will the CFPB Delay their August 1st Implementation Deadline?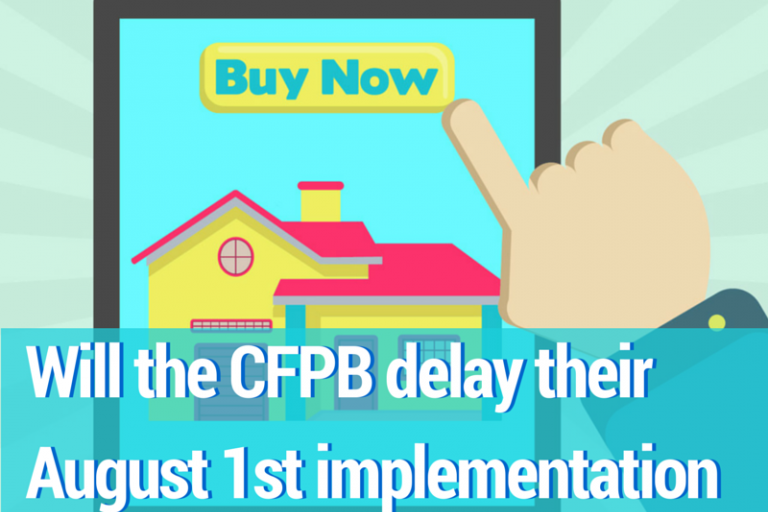 Just days ago, National Mortgage News reported comments made by Steven Antonakes, Deputy Director of the Consumer Financial Protection Bureau, which created the impression the CFPB might be open to delaying the August 1, 2015 implementation deadline of their new mortgage disclosure forms. Soon after, the publication reported that CFPB spokesman Sam Gilford clarified the Deputy Director's comments and confirmed the CFPB has no plans to delay the deadline.
With the implementation deadline only four months away, the new CFPB mortgage disclosure forms are one of the hottest topics in mortgage right now. And the reaction to Mr. Antonakes's comments shines a spotlight on the pressure banks and financial services organizations are feeling in response to increased regulatory oversight and consumer protection laws.
There is a silver lining, however.
According to MortgageORB, the CFPB's new regulations could help make the e-mortgage a reality: "With the implementation of the CFPB's ability-to-repay/qualified mortgage rules - and the implementation of the Know Before You Owe docs and rules on Aug. 1, 2015, the stage is now set for the e-mortgage to become the standard approach to the mortgage process."
The move to new integrated mortgage disclosure forms is prompting lenders to evaluate electronic disclosure delivery. In the last year, we have seen a spike in inquiries around the use of e-signature technology for electronic disclosure delivery and e-mortgage.
Banks, credit unions and financial services companies of all sizes are bringing various aspects of the mortgage process online and turning to electronic signatures as a key enabling technology. E-Signatures, e-forms and digital transactions are being used today for e-disclosures, Form 1003, home equity lines of credit (HELOC), e-closings and the e-Note, mortgage renewals, annual agreements with title agents, and default management and foreclosure processes. For a list of select e-SignLive customers automating part or all of the mortgage process, view our mortgage solution overview.
Electronic signature technology presents an opportunity to strengthen compliance, improve customer experience and cut operational costs. Rather than managing regulatory pressure with additional people, manual controls and process complexity, institutions that transition to e-disclosure delivery and e-signatures have the ability to respond faster to changes in regulations; execute customer transactions correctly and consistently across all channels and business lines; and capture a full audit trail.
To learn how e-signatures enable a secure, e-disclosure delivery process, read the Secure Electronic Delivery of Consumer Disclosures white paper.