Use Cases
The OneSpan Sign accelerators for Guidewire ClaimCenter™ and PolicyCenter™ lets you add e-signatures to all kinds of insurance documents, such as:
New business applications / onboarding
Option forms
Un/under-insured motorist 
Renewals
Disclosure delivery
Policy servicing
Agent licensing and appointment 
Claims forms
Reinsurance forms 
And more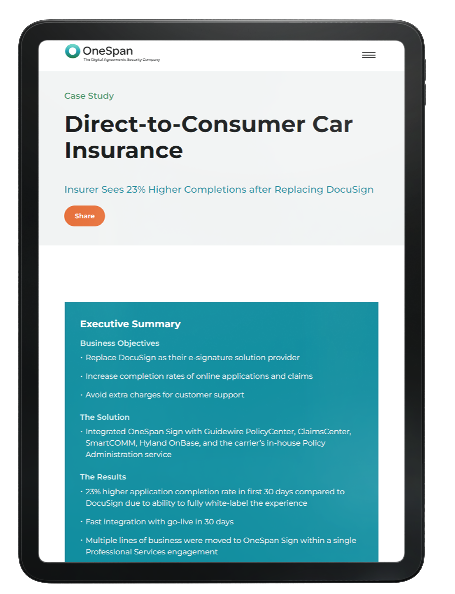 Case Study
23% Higher Completion Rates
Within 30 days of replacing DocuSign as their e-sign provider, this insurer saw a 23% increase in application completion rates. The reason: a fully white-labeled experience.
Read More
Experienced E-Signature Provider
Built on years of best-in-class e-signature capabilities for the most secure signing experience
As pioneers of the e-signature market, OneSpan has over 15 years of experience helping Insurance carriers, broker-dealers and agencies reduce the cycle time and eliminate paper-based processes in acquiring new customers and completing claims. We have proven best practices for accelerating ROI and adoption across online, mobile, call center and captive and agent channels in the insurance industry.
From online new business policy applications to complex mediated claims processes, our solution offers flexibility and functionality around authentication, signature capture methods, and a number of workflow options. We take pride in helping our clients enhance digital experiences for their customers.
Advanced Security
Prove your compliance and deflect legal disputes with the most comprehensive audit trails
The security of your organization and customers is paramount to all of us. OneSpan Sign's tamper evident seal and digital signature is applied after each signature and can automatically identify any modifications to the document. 
Our advanced military grade security also embeds the audit trail of the signing experience right inside the document. This gives you the power to validate the signatures immediately.
OneSpan Sign is the only e-signature solution to offer a single audit trail of the entire agreement process that captures identity verification, authentication, and e-signature events proving how the signer was identified, what they signed, when, and where. Audit trails are embedded in the document and travel everywhere with the record seamlessly. Records can be stored in any system of your choice.
Improve Customer Experience
Create a unique customer experience by white-labelling the solution to keep your brand front and center with your customers
Eliminate paper documents and get your important documents e-signed anytime, anywhere, on any device while keeping the spotlight on your brand. 
Provide policy holders, brokers, and agents with the most seamless user experience to promote high adoption and completion rates with the OneSpan Sign for Guidewire accelerators for Policy Center™ and ClaimCenter™, OneSpan Sign is optimized for desktop and mobile signing right 'out of the box', while enabling you to fully customize workflows and screens to create a unique and trusted experience. That includes white-labeling at no extra charge.
Robust E-Signature Capabilities
Leverage OneSpan Sign's best-in-class capabilities for the most seamless signing experience
Transform your claims and policy processes in Guidewire with OneSpan Sign's best-in-class e-signature capabilities:
Manage multiple documents and signers with serial or parallel signing processes 
Apply an additional layer of security with a wide range of authentication methods like email, SMS text code, Q&A, ID Verification, and KBA
Include built-in reminders and notifications for documents sent out for signatures
Access OneSpan Sign Virtual Room to get high-value and complex claims or policy documents signed in a secure, live videoconferencing session
Automatically place signature fields and data capture fields in the correct locations of your document using text tags
Customize the signer experience across any channel and any device, including mobile
The pre-built accelerators are Guidewire cloud-ready to help you migrate your claims and policy documents from on-prem to the cloud
And more
End-to-End Digital Process
Eliminate manual processing of insurance documents with electronic signatures
Add e-signatures to any claims or policy documents in Guidewire to ensure your business processes remain 100% digital – while reducing document handling costs, NIGO errors, and increasing productivity for insurance brokers, agents, and employees.
OneSpan Sign for Guidewire can pull data from your Guidewire PolicyCenter™ and ClaimCenter™ workflows into your documents and then once signing is completed, are automatically stored in the Guidewire applications for a completely digital, straight-through process. A complete audit trail is archived with the e-signed documents that captures who signed, in what order, when, and where.
Cost Effective Solution
Get transparent pricing with no nickel and diming, no hidden fees, and no surprise price increases
Unlike other electronic signature providers, you won't see an astronomical price increase at the end of your contract. We work closely with you to review your consumption needs and help you scale your model in the most cost-effective manner. What's more, if your needs and volume change before your contract is up, we'll re-assess the terms so that you maintain a cost-effective solution and receive quality customer support – today and tomorrow.
Get started with electronic signatures
Try our quick demo to see what the e-signing experience looks like