Secure access to your documents with strong ID verification and authentication 
OneSpan Sign offers a range of ID verification and authentication options, so you can get documents electronically signed with confidence. You have the flexibility to choose the level of security you need.
We help ensure your agreements are safely accessed and signed only by the individuals they're intended for with options including SMS, Q&A, knowledge-based (KBA), and government ID checks.
ID Verification
Enhanced authentication using government photo IDs
For the highest level of signer identification, OneSpan Sign's ID verification option quickly determines whether the signer's government photo ID is authentic. 
Allow your signers to take a photo of their passport, driver's license, or other government-issued IDs directly from their mobile device. Machine learning algorithms analyze the authenticity and validity of the photo ID to determine whether the ID document is genuine.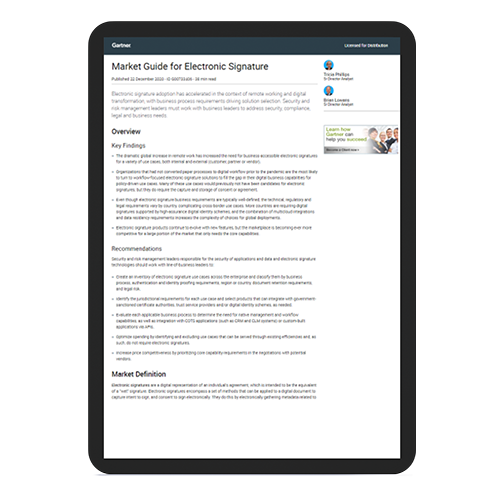 Analyst Report
Gartner Market Guide for Electronic Signature | OneSpan Listed as a Representative Vendor
Get your copy of the Market Guide for Electronic Signature Report to find out why, with compliments from OneSpan.
Download Now
Biometric Verification
Ensure signers are who they say they are
For a higher level of security and confidence, pair ID verification with the biometric comparison option. Signers are asked to take a "selfie" with the camera on their mobile device. Advanced algorithms extract biometric data from the image and compare it to the image on the authenticated ID document to determine whether the signer is genuine.​ 
Liveness detection involves the signer performing an action, for example blinking or moving their head, to prove that they are genuinely present and that a static image or video is not used fraudulently.
Why a connected signing and identification experience matters
71%
of mid‑sized FIs
are digitizing their account opening processes* 
43%
of customers 
abandon account opening processes during the qualification stage*
80%
of organizations
will be using document verification as part of their onboarding workflows by 2022**
SMS Authentication​
Add a layer of security to your consumer-facing transactions​
OneSpan Sign generates a one-time PIN that is sent to the signer's phone. The signer enters it into a login page and gains access to the documents that require signatures. ​
Q&A
Present challenge questions to your signer before they can view documents
These questions are referred to as "shared secrets", because the sender needs to know something about the signer to create the questions. The questions and answers are known by both parties and pre-selected ahead of time. Common questions include the last four digits of a Social Security Number (SSN) or an application ID number. The signer must correctly answer one or more questions before being granted access to the electronic documents that require signature.
Knowledge-based Authentication (KBA)
Dynamic "out-of-wallet" questions to prove a signer's identity
OneSpan Sign can connect to third-party credit bureaus to obtain a multiple choice questionnaire that is generated on-the-fly and presented to the signer. These out-of-wallet questions are generated in real-time, making it difficult for anyone other than the actual user to answer correctly.
Certificate-based IDs
Use personal digital certificates to verify the identity of signers
OneSpan Sign can leverage local and remote digital certificates issued by trusted authorities and partners to verify the identity of signers at the point of signing. When using a personal digital certificate to e-sign a document, OneSpan Sign verifies the certificate's status and the action requires a PIN or password to complete the signing process. 
When using a digital certificate issued by a qualified Trust Service Provider (TSP), this creates a Qualified E-Signature (QES) in accordance with the requirements of the European Union's eIDAS regulation.
What customers are saying about OneSpan Sign
From a customer onboarding perspective, we are now able to take the customer through a consistent journey. We know that they're getting the information that they need to see and that they're passing through compliance and KYC processes. I think the customer experience is much, much improved to what it was with our paper-based system.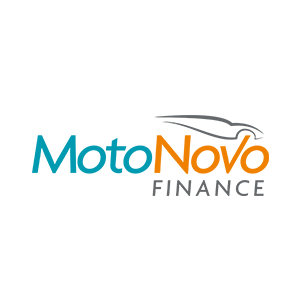 Dave Briggs
Chief Operating Officer, MotoNovo Finance
OneSpan Sign ID Verification & Authentication Solutions
OneSpan-provided identification methods
Signer identification before accessing documents for signing
ID verification
Biometric verification
Email
SMS OTP
Q&A
Knowledge-based authentication (KBA)
Single Sign-on (SSO)
Trusted partner-provided identification methods
Signer identification at the point of signing using local and remote digital certificates
U.S. Government smart cards
European IDs
Certificate-based IDs from our Trust Service Provider (TSP) partners. Learn more about Qualified E-Signatures.
ID verification and authentication options are available as add-ons to OneSpan Sign plans.
Contact us today to find the best option for your business.
 
*2020 Cornerstone Advisors Research Report
**Gartner Market Guide for Identity Proofing and Affirmation, 2020 
The information on this site is for informational purposes only and does not constitute legal advice. We recommend that you seek independent professional advice. OneSpan does not accept liability for the contents of these materials.