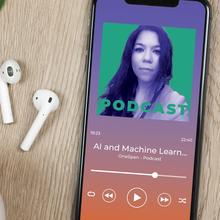 Payments on Fire Podcast
AI and Machine Learning Bias and How it Affects Financial Systems
In this Payments on Fire® podcast Ismini Psychoula, Research Scientist at OneSpan, discusses artificial intelligence (AI) and machine learning and its role in financial services.
Ismini Psychoula has a PhD in Computer Science, with her thesis focusing on Privacy-Preserving Machine Learning for Smart Healthcare. At OneSpan she researches and designs privacy-preserving and explainable machine-learning models for financial systems.
In this episode, you'll hear about Ethical AI, AI feeding and monitoring, machine learning bias, and how it affects financial systems. The podcast takes a deep dive into the latest research to prevent fraud and increase transaction security using AI and machine learning.
Podcast highlights:
How AI and machine learning analyse data to determine if a transaction is fraudulent or not.  
How automated credit decisioning based on historic data can cause bias. 
How explainable AI can help detect bias and improve algorithms.
Recorded on: January 13, 2022
Speakers:
George Peabody, Partner at Glenbrook Partners and Payments on Fire® Podcast Host
Ismini Psychoula, Research Scientist at OneSpan