Country Overview
As Malaysia emerges from the COVID-19 pandemic, its government is keen to cultivate the digital economy, bolster its regional competitiveness and attract new entrants and funding to the fintech ecosystem. The COVID-19 pandemic drove a GDP shrinkage of 5.6% in 2020, Malaysia's worst economic performance since the 1998 Asian Financial Crisis,1 but the economy is projected to grow by 6.7% in 2021.2 Meanwhile, the health crisis spurred on the increasing adoption of digital solutions. In 2020, e-commerce skyrocketed by 87%, contactless payments surged3 and 36% of all digital service consumers were new.4 Digital talent is significantly lacking, however,5 and slow broadband speed and high costs have impeded the greater adoption of digital services by Malaysian businesses.6
Malaysian regulators spearheaded numerous efforts in 2020 to strengthen cybersecurity, promote the adoption of innovative technologies and regulate digital assets. In June 2020, Bank Negara published new eKYC guidelines enabling the use of video calls and AI in remote identity verification during customer onboarding, applicable to banks and other financial institutions. The Federal 2021 budget, announced in December 2020 and Malaysia's largest yet,7 allocated RM I billion (approximately $242.5 million USD) towards promoting cybersecurity, the digital transformation of SMEs, digital talent, connectivity and Internet of Things.8
The 2021 digital agenda focuses on further developing the digital economy and fostering a competitive digital banking landscape. In June 2021, Suhaimi Ali, Director of Financial Development and Innovation at Bank Negara, stated that the authority plans on running a proof-of-concept project to assess a possible central bank digital currency (CBDC), with a focus on wholesale CBDCs. Other future plans include the development of a new biometric National Digital Identity (NID) framework, which can be utilized to access online government and financial services, and the construction of an artificial intelligence park, which the government hopes will attract foreign direct investment and encourage the development of innovative technologies. The government's 12th Malaysia Plan (12MP), 2021-2025—which is in its final stage of development—seeks to strengthen the Malaysian economy and combat poverty, and includes initiatives to boost digitalization and the adoption of high-tech. As Malaysia undergoes its rapid digital transformation, regulators must ensure that the increasingly tech-based society does not further exclude people living in rural areas.  
Financial Regulatory Authorities
Bank Negara Malaysia (BNM) is the central bank of Malaysia.  
The Securities Commission Malaysia regulates and develops the capital markets in Malaysia. 
Policy, Laws and Regulations
The government unveiled its Digital Economy Blueprint, a ten-year plan comprised of six strategic areas, including 22 strategies, 48 national initiatives and 28 sectoral initiatives. The six strategic areas aim to "drive digital transformation in the public sector, boost economic competitiveness through digitalisation, build enabling digital infrastructure, build agile and competent digital talent, create an inclusive digital society, build trusted, secure and ethical digital environment." The blueprint will unfurl over three implementation phases. Phase 1 from 2021-2022 will focus on strengthening the foundation for adoption of digital solutions; phase 2 from 2023-2025 centers on inclusive digital transformation; and phase 3 from 2026-2030 aims to make Malaysia a regional leader in digital content and cybersecurity. Over the next five years, the initiatives seek to attract two new unicorns, spearhead the growth of 5000 startups and convert 875,000 micro, small and medium enterprises to e-commerce. A series of partnerships between the public and private sectors will develop a stronger digital infrastructure and overall ecosystem, and by 2022, all public agencies will offer cashless transactions as a principal option. The government aims for the initiatives to boost economic productivity by 30% by 2030 and attract RM 70 billion (approximately $16.8 billion USD) in investments in the digital sector.  
Malaysia's decade-long digital strategy will enable the country to learn from other countries in terms of what has worked and what has not. Canada's Pen-Canadian Trust Framework expected to launch in 2022 and the European Union's forthcoming digital wallet could serve as model as Malaysia builds out its digital infrastructure. Privacy and data protection laws could also be enacted. With digital banking licences be issued, Malaysia could be a model digital economy in the coming years.
Central Bank Launches Digital Banking Framework, 31 December 2020 
Bank Negara issued the Policy Document on Licensing Framework for Digital Banks, which allows for qualified entities to apply for a digital banking license. To receive a license, entities must have at least RM 300 million (approximately USD $72 million) in capital funds. The bidding process ended on 30 June 2021, and the central bank revealed that 29 companies had filed applications,9 of which five will be chosen and announced by the first quarter of 2022. The move to open its banking sector to non-financial entities hints at Malaysia's serious intentions in cultivating competition in its domestic banking sector, as well as competing with other ASEAN markets like Hong Kong, the Philippines and Singapore, all of which have similarly encouraged new entrants to the banking sector.  
The Securities Commission (SC) issued its revised Guidelines on Digital Assets, which outlines requirements for initial exchange offering (IEO) operators, digital asset custodians and issuers. Issuers must prepare a white paper that includes important information on the digital token for potential investors, including characteristics of the digital token; challenges, risks and mitigation measures; a technical description of the digital token; and the business plan of the issuer, amongst other requirements. IEO operators must conduct customer due diligence, review the issuer's proposal and white paper, and assess the issuer's ability to comply with the DA Guidelines and national AML/CTF framework. In order to register as a digital asset custodian with the SC, applicants must meet fit and proper requirements, have appropriate security arrangements and have sufficient financial and human resources to conduct operations. The document also overviews marketing, promotion, reporting and auditing requirements. 
The government launched the Malaysian Cyber Security Strategy (MCSS) 2020-2024, which outlines five pillars and allocates RM 1.8 billion (approximately $434. 8 million USD) towards strengthening the country's cybersecurity framework. The five pillars seek to enhance governance of the management of national cybersecurity, strengthen and enforce existing laws and regulations, enhance the capabilities of experts and boost cybersecurity awareness, provide support for research and development and strengthen international cooperation. Malaysia is already a global cybersecurity leader, ranking five out of 194 states10 in the 2020 Global Cybersecurity Index issued by the International Telecoms Union, a United Nations agency. Of the index's five categories, Malaysia earned top marks in three of them: a legal framework for handling security and crime; capacity measures based on R&D, education and training; and international partnerships and information sharing.11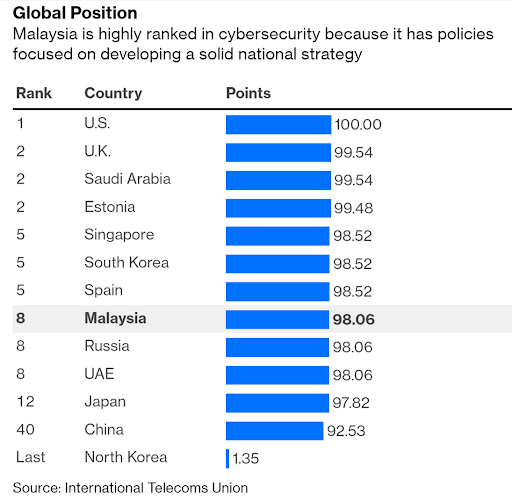 ---
Reference:
1. Anand, Ram. "Malaysia's GDP shrinks 5.6% in 2020, worst performance since 1998." The Straits Times, 11 February 2021. https://www.straitstimes.com/business/economy/malaysias-economy-shrinks-faster-than-expected-in-q4-on-tighter-covid-19-curbs.
2. "Malaysian economy showing signs of recovery, projected to grow by 6.7 percent in 2021 following a contraction of 5.8 percent in 2020." The World Bank, 17 December 2020. https://www.worldbank.org/en/news/press-release/2020/12/17/malaysian-economy-showing-signs-of-recovery-projected-to-grow-by-67-percent-in-2021-following-a-contraction-of-58-percent-in-2020.
3. "Contactless payments exceed 50% of transactions." The Star, 23 January 2021. https://www.thestar.com.my/metro/metro-news/2021/01/23/contactless-payments-exceed-50-of-transactions.
4. e-Conomy SEA 2020. Google, Temasek and Bain & Company. https://storage.googleapis.com/gweb-economy-sea.appspot.com/assets/pdf/e-Conomy_SEA_2020_Report.pdf.
5. Lim, Jotham. "TechTalk: Hiring digital talent during MCO 2.0." The Edge Markets, 01 March 2020. https://www.theedgemarkets.com/article/techtalk-hiring-digital-talent-during-mco-20.
6. "Malaysia's Digital Economy – A New Driver of Development." The World Bank, 25 June 2021. https://www.worldbank.org/en/results/2021/06/25/malaysia-s-digital-economy-a-new-driver-of-development.
7. Anand, Ram. "Malaysian PM Muhyiddin's federal budget passes Parliament test." The Straits Times, 26 November 2020. https://www.straitstimes.com/asia/se-asia/malaysian-pm-muhyiddins-federal-budget-passes-parliament-test.
8. "Malaysia Digital Economy." International Trade Administration, 08 December 2020. https://www.trade.gov/market-intelligence/malaysia-digital-economy.
9. Fong, Vincent. "Bank Negara Malaysia Received 29 Applications for Digital Banking License." Fintech News Malaysia, 02 July 2020. https://fintechnews.my/28039/virtual-banking/bank-negara-received-29-applications-for-digital-banking-license/.
10. "Global Cybersecurity Index 2020." ITU Publications, 2021. https://www.itu.int/epublications/publication/global-cybersecurity-index-2020/en/.
11. Culpan, Tim. "This Asian Nation Is a Quiet Leader in Cybersecurity." Bloomberg, 01 July 2021. https://www.bloomberg.com/opinion/articles/2021-07-01/malaysia-makes-the-cybersecurity-top-10-with-some-help-from-its-friends.
---
*DISCLAIMER: This information is OneSpan's interpretation of the compliance requirements as of the date of publication. Please note that not all interpretations or requirements of the applicable laws are well-settled and its application is fact- and context-specific. The information contained in this document should not be relied upon as legal advice or to determine how the law applies to your business or organization. We encourage you to seek guidance from your legal counsel with regard to law applying specifically to your business or organization and how to ensure compliance. This information is provided "as-is" and may be updated or changed without notice. OneSpan does not accept liability for the contents of these materials.
Last updated: November 2021