The Bank Branch of the Future: Consumers Prefer Hybrid Experiences
Bank branches are facing a reckoning. Digital banking has been displacing many branch interactions in the move to digital, particularly for day-to-day financial services transactions. Customers are using in-branch banking less or performing fewer activities there. As a consequence, banks are closing branches and investing in digital transformation, especially around remote account opening.
What does all this mean for the bank branch of the future?
In a recent webinar, Alyson Clarke, Principal Analyst with Forrester, and I discussed the dynamics of in-person and remote banking, and what banks and other financial institutions need to do to modernize the way they interact with customers in the branch. We discussed a hybrid operating model, one that merges digital empowerment with human expertise and assistance. Essentially combining the brick-and-mortar branch model with virtual banking, because research shows consumers prefer hybrid experiences versus an entirely digital experience.
Below is a 5-minute summary of the key points covered in the webinar. To hear the whole presentation, follow this link.
The Evolving Role of the Branch Network
To get an idea of the current landscape in the banking industry, OneSpan polled webinar participants on how events in recent years impacted their branch-related initiatives. From the responses, 8% said they had closed branches or had plans for branch closures. And while almost 35% said they were shifting resources to digital channels, 26% were investing in transforming the branch experience.
In fact, despite the rise in popularity of digital banking services, on a per capita basis, very little has actually changed in terms of branch closures, according to Clarke.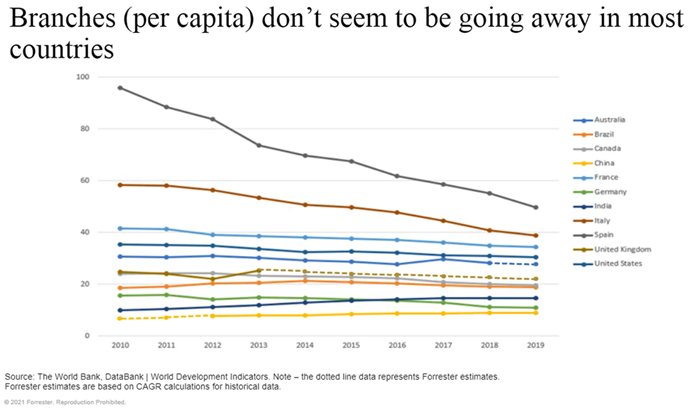 Consumers still want to visit physical branches. Although they don't visit branches to do day-to-day transactions because they can do these activities through online banking or mobile banking, they will visit the branch for more complex activities. Especially since in-person interaction helps drive customer trust and reassurance that transactions are completed correctly.
The US Banking Customer Experience Report 2020 by Forrester shows that customer service, banking services, and even ATMs and branches, are among the top drivers of customer experience for multichannel banks. Conventional wisdom assumes that customers prefer digital experiences. As a result, companies invest in creating entirely digital self-service experiences to be competitive, and either force or entice customers away from contact centers or branches.
However, consumers want experiences that marry digital empowerment and self-service with human expertise and assistance. While customers may agree that their banks do well on the digital and self-service side, these are not key contributors to customers' opinion of good customer experience or brand loyalty.
Consumers Prefer Hybrid Experiences
Although the digital experience is important for customers, consumers are ultimately looking for hybrid experiences that can meet their financial needs. It's about offering the right balance between digital and in-branch service for banking products. For some activities, like applying for a loan or select retail banking services, consumers will switch between digital and in-person as they conduct research and gather information. So, it's important to ensure that these digital end-to-end tools are available both online and in-person.
Leading companies are combining technology for digital account opening, digital identity verification, and e-signatures with face-to-face opportunities at the branch level, and convenient, real-time service through contact centers.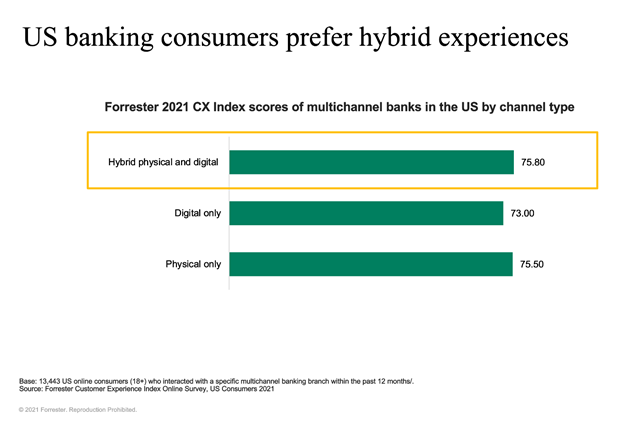 When the Human Touch is a Must
Digital banking is quickly replacing the branch as the primary banking channel for things like paying bills and tracking finances, or sending money to family and friends.
But when we look at the activities done in traditional channels, they are more complex in nature. Activities like applying for a mortgage or loan, or discussing investment or retirement strategies, are activities that greatly benefit from branch staff interaction and assistance.
That's why it's important to inject the human element into the digital experience where it makes the most sense. With new technologies, it's now possible to recreate the face-to-face experience in a virtual environment. Using video conferencing and rich collaboration capabilities like co-browsing, an in-person experience can be closely mimicked.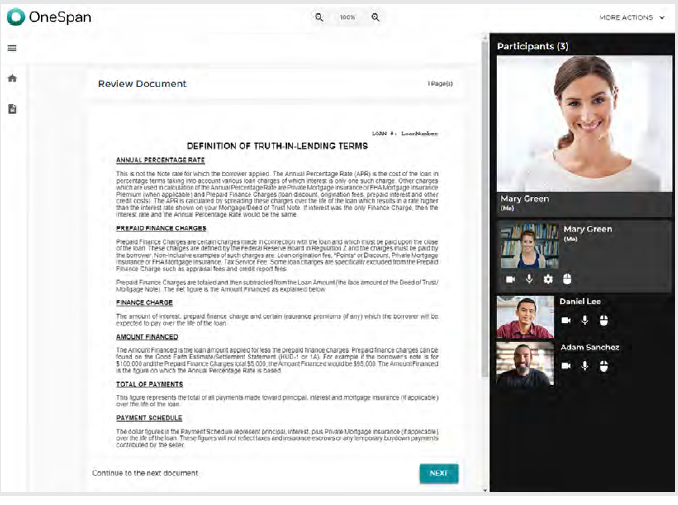 Additionally, simultaneously being able to review and electronically sign documents in real time can be beneficial in some of these scenarios. These types of virtual blended or hybrid experiences help customers and bank employees adapt to the new reality where customers often prefer interacting remotely rather than in the branch.
Hybrid Experiences Are Part of the Bank Branch of the Future
The evolution of the traditional branch into a hybrid banking experience is a win-win for banks and customers. It comes down to being able to meet the needs of the consumer at every point of the customer journey. Digital technology has enabled customers to conduct self-service transactions at their convenience. At the same time, opportunities for in-person interaction at branches is just as important an offering, and is the stronger driver for building customer loyalty and developing trusted customer relationships.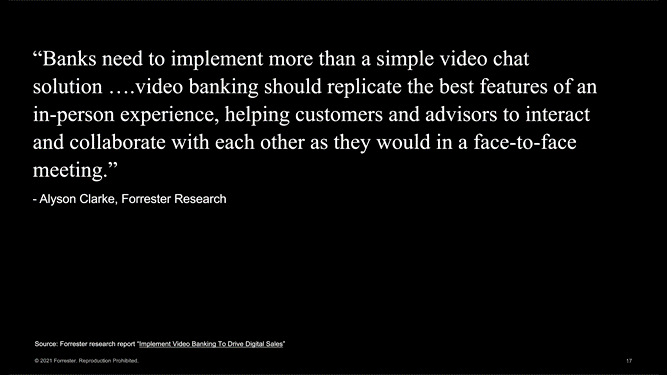 Digital technology enables financial institutions to mimic traditional face-to-face interactions through video conferencing, onscreen collaboration, and e-signature.
Through these hybrid experiences, customers get the financial help they need in a fast and convenient way, no matter what type of transaction they want to complete. At the same time, financial institutions are able to increase their flexibility and adaptability, and offer a competitive customer experience.
The best solution will be different for each company, so adopting a hybrid model will allow for the greatest amount of flexibility for banks to be able to meet the needs of their customers, as well as their own goals.
Learn more about how new technology from OneSpan supports branch transformation by watching the full on-demand webcast .
Discover the OneSpan Virtual Room Solution