Biometric Facial Recognition Software: Massive Gains in Accuracy, But Challenges Remain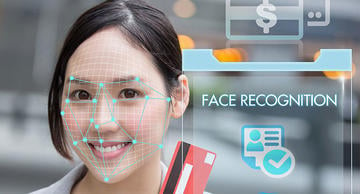 Biometric facial recognition is evolving faster than many people realize. It is common knowledge that government buildings, military installations, and retail locations have had security cameras deployed for years. Over the past decade, they have upgraded and integrated cameras with sophisticated facial recognition software to help protect people and assets on-site.
What is changing, however, is the rate at which biometric facial recognition is expanding into our physical and digital lives. Just this year, Delta Airlines announced that international travelers flying through Atlanta's airport can use facial biometrics instead of a passport. RollingStone reported that pop star Taylor Swift's security team had tested facial recognition at concerts. And the National Australia Bank launched a pilot project that replaces ATM cards with facial recognition and a PIN.
Realizing the balance in security and usability that biometrics offers, financial institutions are expanding support of biometric facial recognition, fingerprint scan, and voice biometrics in mobile banking applications. While fingerprint scan is the most popular with consumers, a newly published research report from the National Institute of Standards and Technology (NIST) confirms significant gains in accuracy for facial recognition software, powered by machine learning and AI. This makes me wonder. Will selfie authentication soon overtake fingerprint scan as the most popular biometric modality?
NIST Research Report on Biometric Facial Recognition 
The U.S. National Institute of Standards and Technology recently announced that facial recognition technology has come a long way in just a few years. In the Ongoing Facial Recognition Vendor Test (FRVT) released in November 2018, the agency shares its test results after evaluating 127 software algorithms from 39 different developers, which represents the majority of the industry.
NIST's findings point to a rapidly advancing marketplace for face-based biometric matching algorithms. According to the report, "The major result of the evaluation is that massive gains in accuracy have been achieved in the last five years (2013-2018) and these far exceed improvements made in the prior period (2010-2013)."
False match rates have historically driven decision makers to acquire and deploy other biometric modalities, but that may changing due to fast pace of improvements in the technology. According to NIST, "Between 2014 and 2018, facial recognition software got 20 times better at searching a database to find a matching photograph."
At the same time, the rapid advances in this technology due to machine learning and AI have compelled Microsoft (one of the vendors that participated in the NIST testing) to call for government regulation of biometric facial recognition technology. In a recent blog, Microsoft president Brad Smith identified three key problems that society, tech companies, and government jointly need to address: the potential for bias, privacy concerns, and the need to protect democratic freedoms.
Facial Recognition to Secure Mobile Banking
According to the Javelin 2018 Mobile Biometrics Platform Scorecard, "Fingerprint scanning has become an uncontested favorite for consumer authentication, with 62% of consumers selecting it as either their most preferred or second-most preferred authentication method for logging into their financial accounts. What is perhaps more surprising is that facial recognition and eye scanning both also come in the top four, with 32% and 24% of consumers desiring these authentication methods."
When it comes to selfie authentication and other forms of biometric authentication, the banking and finance sector is expected to grow its use of biometrics by 22% CAGR from 2017 to 2024, according to market research firm Global Market Insights. This aligns with what we are seeing in the market. For example, we are working with banks like Raiffeisen Italy to implement support for Touch ID and Face ID, driven by the need to continuously improve the mobile customer experience while also meeting compliance initiatives such as PSD2.
As a leader in mobile biometrics, we understand how critical it is for businesses to meet customer expectations for a modern, easy, and secure authentication experience. At the same time, we also know that facial biometrics will not solve all problems. At OneSpan, we believe the best approach is a layered approach. As an example, when one or multiple biometric authentication methods is used in combination with a time-sensitive one-time password or OTP (something the user knows), the use of the person's device (something the user has) for biometric authentication results in multi-factor authentication (MFA).