E-Signature Guidance for Digital Mortgage Bankers: Take a Phased Approach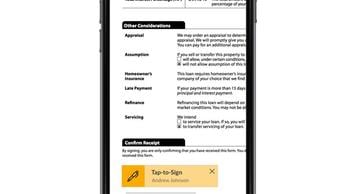 Bankers have been talking about the paperless mortgage for years. And while progress towards the full, end-to-end digital mortgage has moved slowly, there is renewed urgency for technologies like electronic signatures which get borrowers to the closing table faster.
To gain a competitive edge, lenders and originators are focusing on customer experience. Clearly, consumers want the convenience of digital transactions. Who has time to wait for a paper package to be delivered, when it's faster to go online to communicate with a loan officer, upload documents, electronically accept disclosures and e-sign forms?
Where to Start 
Rather than offering a full, end-to-end eMortgage complete with eClosings right out the gate, banks and non-bank lenders are digitizing in stages. A phased approach provides immediate and tangible benefits to all. Banks, credit unions and lenders have found the greatest early successes by:
Offering borrowers the ability to complete and e-sign the application package online
Delivering disclosures electronically
From there, the next step is to incorporate digital documents into a hybrid or full eClosing.
Why Applications & eDisclosures
If your bank or financial institution hasn't started to automate, leveraging e-signatures for the mortgage application is a logical and easy first step for two key reasons:
1.It's a faster way to collect signatures and improve customer experience
The application is a cumbersome package composed of many documents. Removing paper entirely at this stage and giving customers the ability to complete and sign the application online has an immediate impact on customer experience.
On average, online applications with e-signature capability are completed in 24 to 48 hours, as opposed to 7 to 10 days for paper. In short, automating the application addresses two of the biggest frustrations with the mortgage process: there's too much paper and the process takes too long.
2. It's a faster way to deliver the Loan Estimate (and collect the fee)
Clearly, electronic delivery accelerates the process. However, the true benefit of using an e-signature platform for eDisclosure delivery is directly related to the CFPB's new TILA-RESPA Integrated Disclosure (TRID) rule. Lenders and brokers cannot collect an origination fee until after the consumer has demonstrated intent by reviewing and signing the Loan Estimate. This is important since the consumer will likely continue to shop around for a better rate until they are committed by paying the processing fee – making the need to deliver disclosures and quickly capture intent more urgent.
While the consumer's intent can be communicated verbally, through email, or by a signature, it must be documented by the lender. By having the consumer e-sign the Loan Estimate, the lender meets the documentation requirement and can confirm the consumer's intent to proceed by obtaining the application processing fee.
Electronic delivery of time-sensitive disclosures is one of the main mortgage processes being digitized today. While there are some who still see paper as the best way to deliver disclosures to customers, very soon it will be near impossible to prove compliance and serve customers in a timely manner using manual, paper-based processes.
Plus, customers want to avoid closing delays. The most practical way to shorten the countdown to closing is not only to compress the upfront application cycle - but to also send the Closing Disclosure electronically and obtain an acknowledgement of receipt via e-signature. This represents a significant competitive advantage in terms of meeting customers' expectations for fast, efficient service during the home buying process.
To learn more about e-signatures for electronic disclosure delivery:
(continue reading below)
Next, Look at eClosings
On the heels of the CFPB eClosing Pilot, we have seen digital mortgage lenders moving forward with hybrid eClosings, where the closing package is sent to the borrower electronically, in advance of the closing. All non-notarized documents can be electronically signed online from home, while the mortgage note is signed in ink at the closing table.
"An eClosing process can have tremendous benefits for lenders, even if they are beginning with a hybrid process in which the note and/or security instrument are still wet-signed paper documents. Your ultimate goal may be to go paperless; however, originating, selling, and servicing eNotes imposes additional requirements and considerations on lenders. Starting with a hybrid eClosing approach allows lenders to realize the benefits of electronic documents through operational efficiencies. Lenders can provide a vastly improved borrower experience through eClosings, all the while moving toward a full paperless process as the industry works to remove obstacles specific to eNotes." Fannie Mae
Unlike hybrid eClosings, full eClosings are entirely digital. The full eClosing includes the e-signing of the promissory Note and security instrument. To sign these electronically, title companies must address notarization, recording and eVaulting.
To help with this process, eSignLive will be unveiling a new eClosing Suite at the upcoming Digital Mortgage Conference on December 8 and 9, 2016, in San Francisco. As a demo presenter, we will show an in-person eClosing scenario and explain:
How the borrower and notary can electronically sign the Note and Security Instrument
How the lender can access the loan documents in the cloud-based eVault
More Digital Mortgage Tools
Over the past 15 years, eSignLive has provided eSignature, eDisclosure and eVaulting solutions to financial services providers who originate, buy and sell mortgage loans. In addition to processing eMortgage documents for banks and lenders of all sizes - from Wells Fargo to Signature Mortgage - we are also a long-time participant in industry standards associations such as the MERS E-Registry Development Advisory Team and the Mortgage Industry Standards Maintenance Organization (MISMO).
Based on this experience, we have published tools to help you get started with e-signatures and digital mortgage: