eSignLive Print Driver: It's All About Convenience
Let's face it, we're all busy. With tighter timelines and multiple projects on the horizon, you don't have a moment to waste. With more and more businesses using e-signatures, we've made it our mission to make preparing and sending documents for e-signing extremely fast and easy. In fact, with eSignLive it only takes 4 quick steps to upload your document, add signers, place signature blocks and send. But what if we could help make this process even easier? If you regularly prepare documents for e-signing, the new eSignLive Print Driver will be of great interest. The Print Driver acts like a printer and prepares any printable document for signing. So whether you're creating contracts in Microsoft Excel or designing an NDA in Word, you can use the Print Driver to "print" to eSignLive directly from your Windows-based application. Think of it as a universal connector that'll send your application's document straight to eSignLive. What's the big deal? The Print Driver is ultimately about convenience. Instead of creating a PDF of your document or form and then manually uploading it to e-SignLive, the Print Driver automatically converts your document into a PDF from any 3rd party application and sends it directly to e-SignLive for preparation and signing – all in one simple step. From there, simply add the signers, signature blocks and fields, and send! It's really that simple. If you have an eSignLive account, you have everything you need to take advantage of the Print Driver. Visit our website and download the eSignLive Print Driver today. The Print Driver can be installed locally on your computer or across your company's network by your IT administrator. Once installed, select "Send to e-SignLive" from your application's print menu and off you go.
Apply a layout
At eSignLive, we're big fans of repeatable processes. That's why we included a neat little feature in the Print Driver that enables users and administrators to reuse existing document layouts. If you're familiar with the layouts feature in eSignLive, you know that it can save time and cut redundant steps from document preparation.
With the eSignLive Print Driver, you have the option to apply an existing layout to your application's document or form. Simply select the desired layout from the Print Driver dialog box and your pre-defined signature blocks and fields will be automatically applied to your document.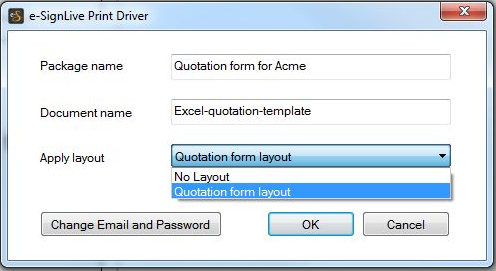 Common use cases
We've been working closely with our users to bring the eSignLive Print Driver to market. Here are a few examples of the types of documents they're using in conjunction with the Print Driver to expedite the document preparation and signing process:
NDAs (non-disclosure agreements) created in Microsoft Word
Sales agreements and contracts designed in Microsoft Excel
SLAs (service-level agreements) viewed in Adobe Reader
Fillable forms served via a web application
So, what do you think? Now that the eSignLive Print Driver is here, will you continue to be busy? No doubt! But at least you'll be able to conveniently use e-signatures directly from your Windows applications and eliminate a few steps from the process. Our hope is that you'll get a few minutes back in your already-busy day. Do you like what you see? Do you have feature requests for future releases? Let us know using the comment box below. Rahim Kaba is the Product Marketing Director for the eSignLive product line. Watch for future posts from Rahim outlining all of the great new products we have in store for you this year. You can find him on LinkedIn.