eSignLive for Box Canadian Edition, eh?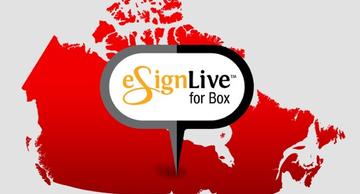 With the adoption of cloud computing on the rise, privacy and data residency of sensitive documents have become a major concern for many organizations. Although cloud computing allows for borderless digital business scenarios, there are complex regulations and policies to ensure data is protected and that it complies with an organization's local data residency and privacy laws. This is especially true for organizations in highly regulated and compliance-driven industries such as banking, insurance and government that require transparency and control over where transactional data resides.
Data Residency in Canada
Canadians are flocking to the cloud in large numbers. Gartner estimates that Canadian public cloud services expenditures will grow to $10 billion by 2019. Canadian organizations realize the benefits of cloud computing such as the cost savings and how easy it is to deploy. With Canadian organizations increasingly reliant on cloud computing to conduct every day transactions, they are the first to evaluate cloud service providers that offer data residency options to help these organizations store their data within the country.  
Box + E-Signatures
Adding e-signature capability to your Box account lets you collaborate and also automate your existing workflows. eSignLive offers you the power to get your contracts, agreement and any other document stored in Box e-signed with the eSignLive for Box app. By leveraging eSignLive's core e-signature capabilities through Box, organizations that require collaboration and sharing of documents can now benefit from the Box app to quickly obtain secure, legal and compliant e-signatures. What's more, all e-signed documents are automatically stored in Box once the transaction is complete.  
Canadian Data Residency Extended to eSignLive for Box
Box recently announced that it will extend data residency to its Canadian customers. They recognize the importance of data residency of their Canadian customer base and also their multinational customers who require that their data remains in Canada.  
eSignLive is hosted in multiple data centers around the world, including in Canada, through our partnership with IBM SoftLayer. Canadian data residency also extends to our third-party apps such as our eSignLive for Box app. The latest version of our Box app gives Canadian organizations the ability to send and sign documents from Box using eSignLive hosted in Canada.  
Try eSignLive for Box (Canadian Edition) and discover how quick and easy it is to send documents for signature without ever leaving Box. Watch our video to get started with eSignLive for Box today.