eSignLive Named #1 App at Dreamforce 2015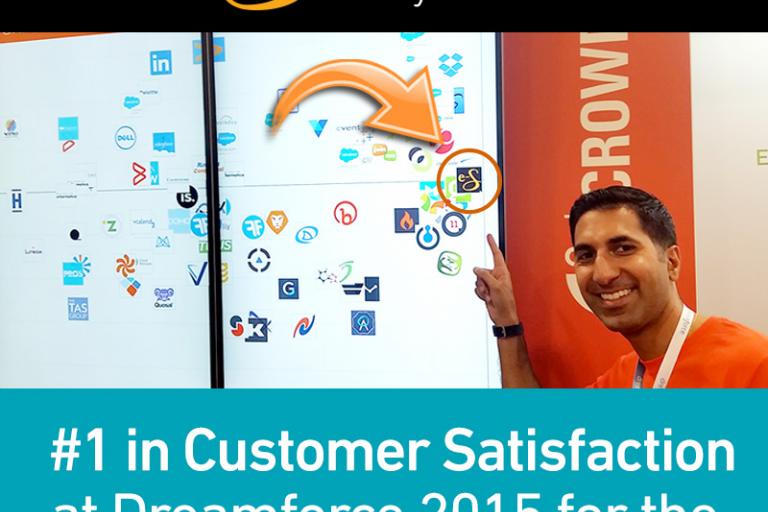 It's day two of Dreamforce 2015 and we're feeling the love. Of the nearly 100 cloud software vendors on G2 Crowd's real-time Dreamforce 2015 Gridscape for Enterprise Users, eSignLive just took top honors with the #1 ranking in customer satisfaction – for the second year in a row!
No question, this is the cloud computing equivalent of Fans' Player of the Year.
Our customer base had already recognized us with four back-to-back G2 Crowd awards for the highest customer satisfaction in the electronic signature category, based on an analysis of more than 1,300 user reviews on G2 Crowd.
But this year, our e-sign service is stacked up against 25% more companies than last year's Dreamforce Grid. There are currently over 95 exhibitors on the Grid, including leaders like Box, Salesforce and LinkedIn. We couldn't ask for stronger proof that our focus on customer experience is resonating.
We've tasked all our staff to provide the best customer experience every time they interact with a customer. Delivering a world-class customer experience is a strategic goal that we champion internally form the CEO level throughout our entire company. After all, everyone expects a vendor to offer good service during the sales cycle. That's the honeymoon phase. Our goal is to make sure that once you become a customer, you get that same level of service and responsiveness.
That's just one of the ways we're different from DocuSign or any other e-signature service you might see at Dreamforce.
If you are at here this week, come visit us in Moscone North at Booth #N2005 and find out why users say we're #1. We'll be here until Friday at 2:00 pm.
Floor hours are:
Thursday 9:00 am – 5:00 pm
Friday 9:00 am – 2:00 pm
To learn more about eSignLive, scroll through some of our G2 Crowd reviews or download eSignLive for Salesforce from the App Exchange.