How to Tell if an E‑Signature Provider is Invested in Your Success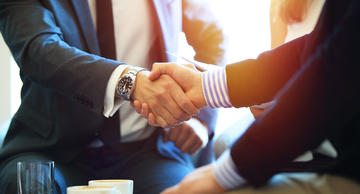 If you're like a lot of our customers here at OneSpan, chances are you recognize the value e-signatures can bring to your entire operations. While you may be planning to start your e-signature initiative in one area of your business, your goal is to roll out a solution across multiple departments and lines of business over time as the value is proven, and as your employees, partners and customers gain confidence in the digital workflow.
Ideally, you would also prefer to have one e-signature provider to partner with for all your needs. This will make it easier and more cost-effective than having to deal with different electronic signature providers.
But before committing to any e-signature vendor – even to test them out on a small project – you want to be assured that they will support you before, during, and after the sale. This is key to making your e-signature initiative successful. You want to be sure the e-signature provider will be invested in your success, both in the short and long term.
So, how can you tell whether a provider will provide the level of sales and technical support needed to deliver on their promise?
Here are eight signs to look out for as you meet with and evaluate prospective e-signature providers.
Communication Style

How does the e-signature provider first approach communication with your company?
Does the sales person focus on trying to sell you the features and functionality of their solution? Or, does he/she begin by trying to understand your company's unique challenges and needs, and identify which features map back to your pain points?

Access to Subject Matter Experts

Who does the e-signature provider make available within their organization to speak to you?
Is your only contact the sales person? Or, does the sales person invite a range of subject matter experts, such as business and solutions architects, sales engineers, service engagement managers, and even customers, to meet with you to discuss your needs and explore solution options?
How many years of experience do the vendor's experts have?

Consultative Selling

How much value-add does the e-signature provider provide during the evaluation process?
Do they present you with a cookie-cutter solution that could be used in any company, regardless of the industry? Or, do they challenge your thinking on how to best address your needs and come up with creative options that you hadn't thought of before?

Solution Recommendation

How does the e-signature provider present a solution to your problem / needs?
Does the sales person provide limited options that don't quite fit your needs? Or, is he/she flexible and willing to explore options outside of their standard solution offering?

Responsiveness

How responsive is the e-signature provider during the sales process?
Does the sales person take a long time to follow-up with next steps, provide you with the information you need, give you access to demos/a proof of concept, or gather stakeholders? Or, does he/she provide clear timelines for all next steps and deliverables, and meet all deadlines?

Consistency of Contacts

How consistent are your pre-sales contacts at the e-signature provider?
Has the sales person (or other people you needed to deal with) changed during your evaluating period so that you have had to repeat your needs and requests? Or, have you been dealing with the same people throughout your evaluation process?

Comfort Level

What feeling do you get speaking and meeting with the different people at the e-signature provider?
Does the sales person remind you of the stereotypical used car salesman, trying to nickel-and-dime you for everything? Or, do they come across as rigid or arrogant, saying, "If you want the best, then this is the price to pay.  Take it or leave it." Or, were the staff approachable, accommodating and sincere?
Do you think your team will be comfortable working with them and establishing a long-term relationship?

Transparency

As with any relationship, things do not always go perfectly all the time. Is the e-signature vendor transparent about how they handle service and support issues post-sale?
Do they assign a single point of contact to each customer, someone who is mandated to take responsibility for your support case and follow any issue through to resolution?
Can they provide proof-points via customer references, to support their service and support claims?
Will they connect you with industry peers of similar size to discuss the vendor's company culture and track record?
The Bottom Line When Selecting an E-Signature Provider
The interaction you have with the e-signature vendor as you meet with their sales, product, and support teams to discuss your needs, explore solution options and negotiate the best terms and conditions for your company will give you a good idea how of how they will treat you when you become a customer. You want to get the white glove treatment from a highly responsive team with deep subject matter expertise - before AND after you become a customer.
To learn more about the criteria that will make you successful with e-signatures, read this new guide from Technology Evaluation Centers: Key Evaluation Criteria for E-Signature Software—Making the Right Choice for Cost-Saving Efficiency and Superior Service.  
This post is part of a Buyer's Guide blog series: