Modernizing Fraud Management and Customer Experience: Insights from OneSpan & ForgeRock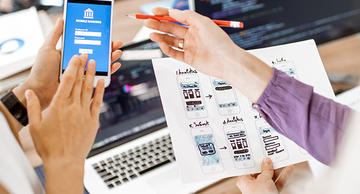 For years, global financial institutions (FIs) have been seeking a security and fraud detection solution that effectively and efficiently reduces account takeover attacks and related types of fraud in real-time while also improving the user experience and streamlining administration.
Fraud management and the digital user experience are intertwined. By modernizing them, financial institutions (FIs) can increase top line revenue, supercharge growth, and reduce their IT security administrators' manual workload. This blog analyzes the market forces driving modernization and explores how banks and other FIs can meet requirement to improve security and still simplify user interactions today.  
Modernizing Fraud Management and User Experience
Improving fraud management and user experience is an ongoing and integral part of the digital transformation and modernization initiatives that have been underway at banks for the past several years. According to the recent Gartner Hype Cycle for IAM Technologies, "Digital transformation has become a significant driver for many organizations." In addition to this, the 2019 Gartner CEO and Senior Business Executive Survey found that "82% of CEOs have a digital transformation or management initiative, up from 62% in 2018."
The key to modernizing fraud management and user experience is having the right tools and frameworks. Leveraging modern platform technologies makes it easier to adapt to new user requirements and fraudulent activity . Equally important is a modern authentication control framework – how an organization authenticates and protects consumers in a non-face-to-face interaction, such as online (on a browser and mobile devices).
With a spotlight on authentication, Aite Group states that, "Financial institutions, fintech firms, and merchants need to take a step back and review their authentication control framework. If it has been a few years since that framework was last reviewed, with the technological advances over that time frame, it will likely need updating."
Market Forces Driving the Need for New Fraud Protection and User Experience Solutions
Market Force 1: The Fast-evolving Fraud Landscape
The pandemic has shifted some of the focus for cybercriminals over the last year. Opportunistic attacks, such as targeting government stimulus payments, have increased. Despite this, account takeover fraud has remained a sizable threat for financial institutions and one that is expected to continue in 2021. According to Aite Group in Revisiting Your Authentication Control Framework:

"It's reasonable to expect that fraudsters will continue to expand their operations into application fraud and account takeover in 2021." And "Considering the likelihood that the government stimulus programs will eventually give way to organic economic growth resulting from a post pandemic economic recovery, it's also likely that the fraudsters' attention will once again return to targeting FIs and their clients."

The sophistication of account takeover (ATO) attacks has also evolved rapidly, a fraud trend which has been fueled by automation. The Sift Digital Trust & Safety Index shows ATO attacks occurring in well-defined frequency, which means that cybercriminals are increasing the use of bots and automation to outmaneuver trust and safety teams.
 
Market Force 2: User Experience (UX)
The trend to deploy digital-channel-friendly technologies has been increasing for several years, but the pandemic supercharged their use. According to The Financial Brand, 35% of customers adopted online banking in 2020, with 30% increasing their use of mobile banking since the beginning of the pandemic.

Improving UX has broader implications than to remove friction to increase engagement and use of services. In a recent Aite report on Key Trends Driving Fraud Transformation in 2021 and Beyond, researchers found that initiatives to improve UX were more likely to be advanced, prioritized and funded within the bank. Improving user experience is becoming a significant force in gaining approval for modernization projects.

"The ongoing emphasis on improving the client experience affects which transformation initiatives are prioritized. While loss prevention is the priority among fraud executives, the same perspective is not necessarily shared by the leaders of lines of business, channel- and product-strategy teams, and operations units, who are playing increasingly influential roles in securing funding for investments," writes the report's author, Trace Fooshee, Aite Group Senior Analyst.

The chart below shows the influence of improving client experience in getting investments funded.


 
Market Force 3: Addressing Security Risks at a Manageable Cost
Banks and other financial institutions need to address increased fraud risks through security technology that won't break the bank. This means adopting solutions that are easier to deploy and manage and that help keep OpEx in check.

The challenge is a rapidly expanding, and not easily differentiated, set of vendors and technologies to address key requirements like cloud delivery, improved customer experience, more MFA options, mobile security, fraud management, and truly simple administration. This challenge has many financial institutions looking for a single, integrated platform solution that can address multiple uses cases and requirements. Financial institutions also require a solution that can easily incorporate new technologies in the future.
Addressing the Challenges
When it comes to modernizing anti-fraud and UX technologies, banks and FIs face many challenges. First, the vendor landscape is filled with point solution providers whose technologies aren't optimized to work together. Added to this are challenges such as:
Initiatives to move security applications like authentication to the cloud
Demands to rapidly improve the digital customer experience with more user-friendly MFA options
Requirements to better secure the mobile channel
The need to improve accuracy in detecting and preventing potential fraud schemes
All while also being able to simplify administration and speed-to-results
OneSpan and ForgeRock's fraud management solution addresses these business needs through:
Streamlined authentication workflows: ForgeRock's visual configurator simplifies administration and speed-to-results in rapidly deploying new authentication technologies that improve the user experience.
Improved fraud management via a powerful risk analytics engine and machine learning: The risk analytics engine uses artificial intelligence to ensure better fraud prevention and improved UX by only stepping up security for high-risk, potentially fraudulent transactions.
Optimal user experience: Extensive multi-factor authentication (MFA) options like push notifications and biometrics reduce friction and increase digital channel engagement and use.
Advanced mobile security technologies: Mobile security technologies capture accurate risk data on both the device and mobile banking applications to improve the accuracy of the risk score and reduce false positives.
Extensive technology partner ecosystem and future-proof platform: As UX and anti-fraud technology requirements evolve, modernization becomes a matter of a few clicks as opposed to fork-lift overhauls of the authentication platform.
A Single, Integrated Solution for Multiple Uses Cases
One way to meet these challenges is through a single, open platform that allows financial institutions to deploy user-friendly security more easily, and effectively drive down fraud in retail and corporate banking channels.
OneSpan and ForgeRock's synergistic solution achieves this result. OneSpan brings Risk Analytics, Intelligent Adaptive Authentication, and mobile security. ForgeRock complements these through an award-winning Identity and Access Management (IAM) platform with drag-and-drop visual configurator and an extensive technology partner ecosystem.
The integration of OneSpan's solutions within ForgeRock's Identity Platform enables fraud and security managers to rationalize the implementation and use of authentication across business units. Where banks and other FIs may have multiple security and fraud solutions in place today, the OneSpan/ ForgeRock solution provides a complete solution from a single platform to address key areas of fraud and risk. Select use cases include:
User/Device Registration for New Account Opening: OneSpan's intuitive and user-friendly registration technology can be leveraged within the ForgeRock Identity Platform to quickly and securely provision a new user device .
Single User, Multiple Device & Mobile Application Digital Banking (via SSO): For existing customers, single sign-on (SSO) streamlines user login and management of monetary (ie. Funds transfer) and non-monetary (ie. Beneficiary change) transactions across devices and bank applications .
Strong Customer Authentication (SCA) Compliance for PSD2: More advanced, risk-based authentication helps banks and FIs meet compliance requirements and can even improve exemptions considerations. As banks and FIs are better able to manage fraud rates, their transaction threshold can increase, translating into better user experiences at higher transaction amounts.
Partner with the Industry Leaders
This compelling solution value, along with significant bank customer interest in the combined offering, led ForgeRock to award OneSpan their Global Partner Award for 2021.
Recognizing bank challenges and the joint value areas above, Ben Goodman, ForgeRock Senior Vice President of Corporate and Business Development, says: "Partnerships like the one with OneSpan are even more important, and the tight integration with ForgeRock Intelligent Access will allow our joint customers to quickly realize better security and user experiences for their customer journeys."
OneSpan's Vice President of Global Alliances, Xavier Juredieu, concludes that "With our combined technologies, customers get a single platform that adds extensive multi-factor authentication, fraud management and mobile security capabilities to efficiently manage and protect the entire digital banking journey."