My Journey Building an E-Signature Business: eSignLive President Speaks at Concordia University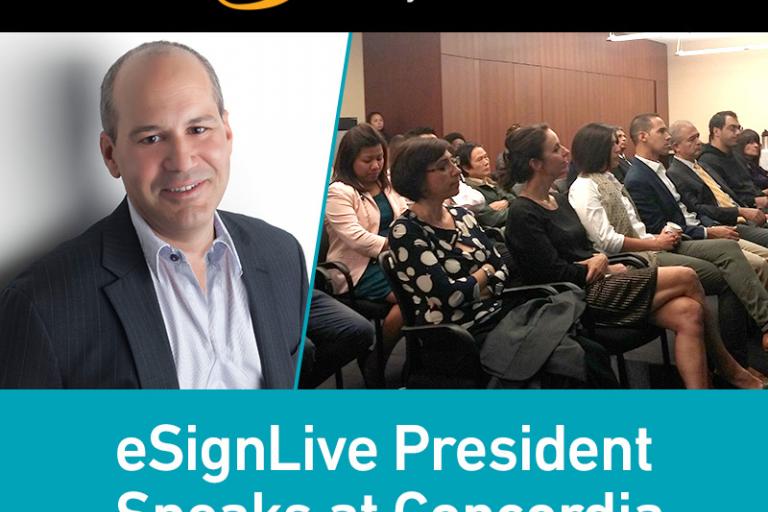 Twenty eight years ago, Tommy Petrogiannis graduated Concordia University and started a journey disrupting one of the world's oldest and most trusted traditions: using ink to sign paper documents. He spoke this week at Concordia University's 2016 Homecoming, an annual event where the university celebrates alumni by hosting special events and lectures such as the Distinguished Alumni Speaker Series. Tommy is the first graduate of the Faculty of Engineering and Computer Science to deliver a Homecoming speech. As the co-founder of eSignLive (formerly Silanis), a start-up that grew into a $113 M acquisition by VASCO Data Security last year, the Montreal native has navigated the 2000 dot-com bubble, 2008 recession and the economic effects of 9/11. From a humble start working nights while holding down a day job, he told the crowd how he and his team raised venture capital, fought off lawsuits, agonized over difficult decisions and built the company one customer at a time.  
EVERY DAY IS A LEARNING EXPERIENCE
Concordia is where Tommy internalized one of the core principles that would guide his career. "In electrical engineering, change was constant. Whatever you learned was obsolete in a year. School taught me to learn and keep on learning." Little did he know how much change and learning was just around the corner. "We started our business two years after graduating," he said. "GO Corporation came out with the PenPoint – a precursor to today's tablets. That was our original inspiration. It changed our whole concept of the computer." Tommy and co-founders Michael Laurie and Joseph Silvester soon quit their day jobs to start Silanis Technology. Their first client, Ontario Hydro, needed an alternative to routing engineering drawings across the province for signatures, a process that took 7 – 12 weeks. The trio's electronic signature software solved the problem. A year later, they landed their second customer: Walt Disney Imagineering. That sale taught them they didn't have a whole solution. Their software could only be used to electronically sign CAD files, but engineers needed to sign other documents as well, like parts lists and bills of materials. Back to the drawing board for three years.  

Tommy Petrogiannis, co-founder and president of eSignLive by VASCO   By the mid-90s, the company needed cash to grow. Tommy pitched 19 investors in Quebec and got 19 no's. At that time, there were no VC funds for software companies. But he kept pushing and along the way, met Jonathan Wener, now chancellor at Concordia. A mentor, Jonathan taught Tommy that in order to survive, he couldn't underestimate. "If you think you need $10, plan for $20. In a new market, it'll cost you twice what you expected for half the revenue." It was constant learning, Tommy said. "School taught us how to learn, but the real learning happened out in the real world." [promotion id="17194"]
1996: THE PENTAGON CALLS
"Back in the 90s, there were no e-signature laws. People would say, is it legal? I'd tell them it's not illegal. What an awesome closing statement." That meant Tommy could only target large organizations that required lots of signatures and approvals to make things happen. Organizations that wanted to move away from handling massive amounts of paper, printing and signing within their four walls. That's when he got a cryptic phone call inviting him to come to Washington, DC. Two days later, partner Michael Laurie walked into the Pentagon and closed the Joint Chiefs of Staff. The most security-conscious organization on the planet had just bought an enterprise license – and they are still a customer decades later.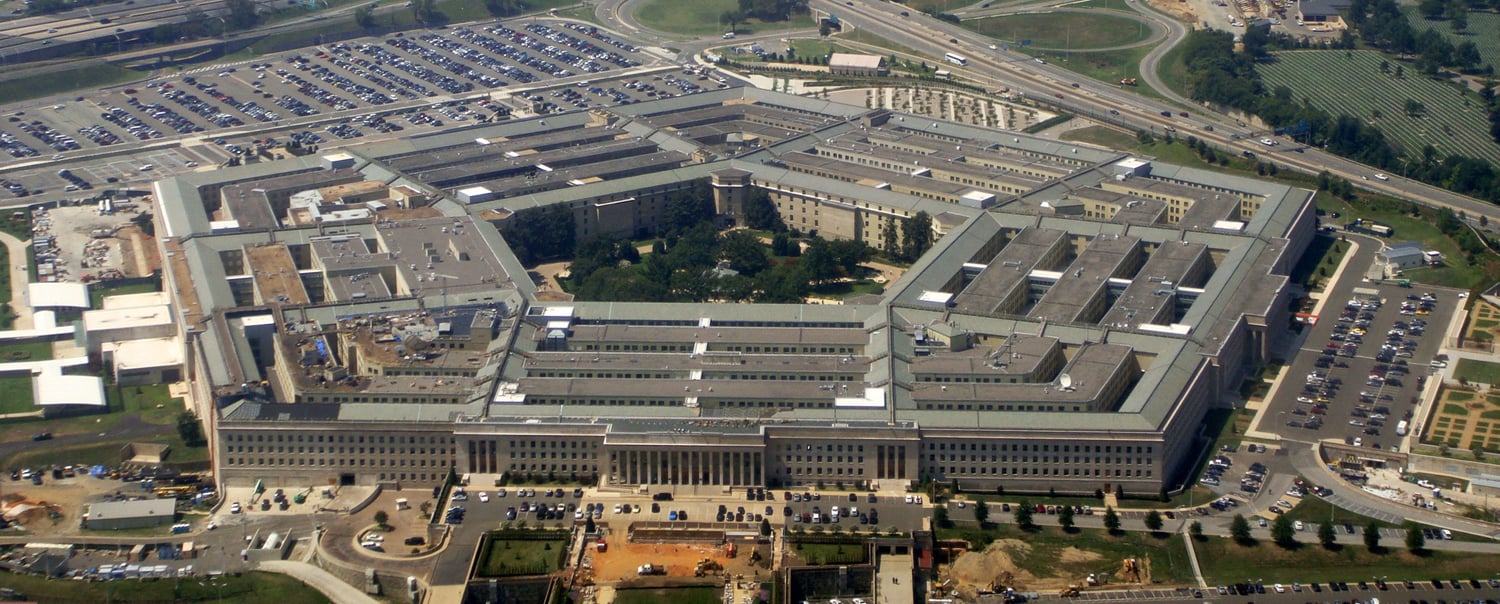 "YOU'RE GETTING SUED! THAT'S GREAT!"
By 1998, the company was growing and Tommy needed to raise cash again. In just two years, the market had totally changed. He went from being turned down 19 times, to having two offers on the table within two days of his first meetings. That's when a letter arrived threatening to sue for patent infringement. "Back then, people had told us you can't patent software," Tommy said. "And with the threat of a lawsuit, it wasn't a great time to raise cash." Jonathan Wener reframed Tommy's thinking. "Any company worth its salt will get sued. You're on the radar!" The only option was to find the "meanest badass lawyer" to defend the company. In the end, everything was resolved to Silanis' benefit. And in terms of patents, Silanis ended up developing a pioneering patent portfolio around electronic signatures, including a seminal patent cited as foundational to the e-signature sector.

A full house at Concordia's Homecoming 2016  
EVENTS THAT ROCKED THE WORLD
In 2000, former President Bill Clinton signed the Electronic Signatures in Global and National Commerce Act (ESIGN Act) into law and Tommy could finally stop saying his product was "not illegal". Now, electronically signed contracts were legal and the momentum was growing. Tommy put together another business plan to raise US$20 M from American investors. Then the dot-com bubble burst. Time to shift gears again. Within days, the team had completely rewritten their business plan. The goal was now C$10 M from Canadian investors. They raised it and later oversubscribed the round by 60% when American investors joined. Eventually, Tommy hired a CEO to take the company public in the UK. By that point, 50% of the company's revenue came from financial services sector. "Everything was great until 2008, the largest recession of my lifetime – another roller coaster ride. Half of our business disappeared overnight. We had to let the CEO go, re-adjust and change what we were doing." Then 9/11 rocked the world. At that time, a significant amount of the company's revenue was from the government sector – and government stopped buying immediately. It was a brutal lesson that led to three rounds of lay-offs over four months. Through those agonizing moments, Tommy learned that when things go bad, cut twice as deep as you think you should and re-adjust when the market bounces back.  
THE CLOUD CHANGES EVERYTHING
Through the market's ups and downs, innovation remained the one constant. For Tommy, the next big lesson was learning to obsolete yourself. "Apple and Samsung are great at that," he said. "Killing off earlier products so they can introduce the next generation. If you're selling a best-in-class product, naturally you want to keep improving that product. But the risk is someone's going to come along, innovate as rapidly and displace you." Tommy created a spin-off company and told them kill off the flagship product by making something better, cheaper, faster. "At the time, there was this disruptive thing called the cloud. We had to make our products run in this new environment. That meant changing from a software company to a service company." (Try a Quick Demo of the eSignLive software-as-a-service)  
THE NEXT BIG CHANGE?
When an attendee asked Tommy about the next big thing for digital signatures, he pulled out his phone. "We are becoming more and more digital. This is our extension of us. It is completely transforming how we interact. Digital is just starting and predictive analytics is a fundamental game changer."

Concordia University alumni: Connect with Tommy on Linkedin