Stay Ahead of the Curve: Digital Banking Winning Strategies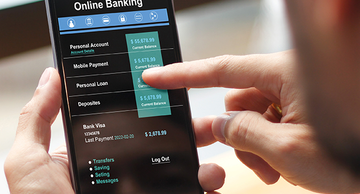 We regularly host webcasts on topics such as digital transformation, fraud prevention, and tech innovation for financial services. If you missed our recent webcast, The Race is On: From Traditional Banking to Secure Digital Business with our guest Aurélie L'Hostis, senior analyst at Forrester Research, here is the 5-minute summary. The full presentation is available on-demand.
The digital age has brought on a period of unprecedented transformation. In our recent webcast "The Race is On: From Traditional Banking to Secure Digital Business", guest speaker Forrester analyst Aurélie L'Hostis presented findings from the recently published report, The State of Digital Banking, 2019. According to L'Hostis, 70% of banks globally are either currently or constantly undergoing digital transformation. This can be attributed to a number of factors, including:
Digitally empowered customers
Latest technologies in banking operations and services
New regulations (i.e. Open Banking) driving competition and collaboration
Increase in cyberthreats
Even geopolitical events such as trade wars that push organizations to adapt and retool
Technology is changing how customers interact with banks. They are hyper-connected and willing to experiment, but want consistent and high value experiences across all banking touchpoints. What L'Hostis's research shows is that customers are using a mix of devices and channels for banking activities. Branch use is in decline and online banking growth has slowed, but mobile banking is experiencing rapid growth due to the more widespread use of smartphones and improved mobile banking offerings.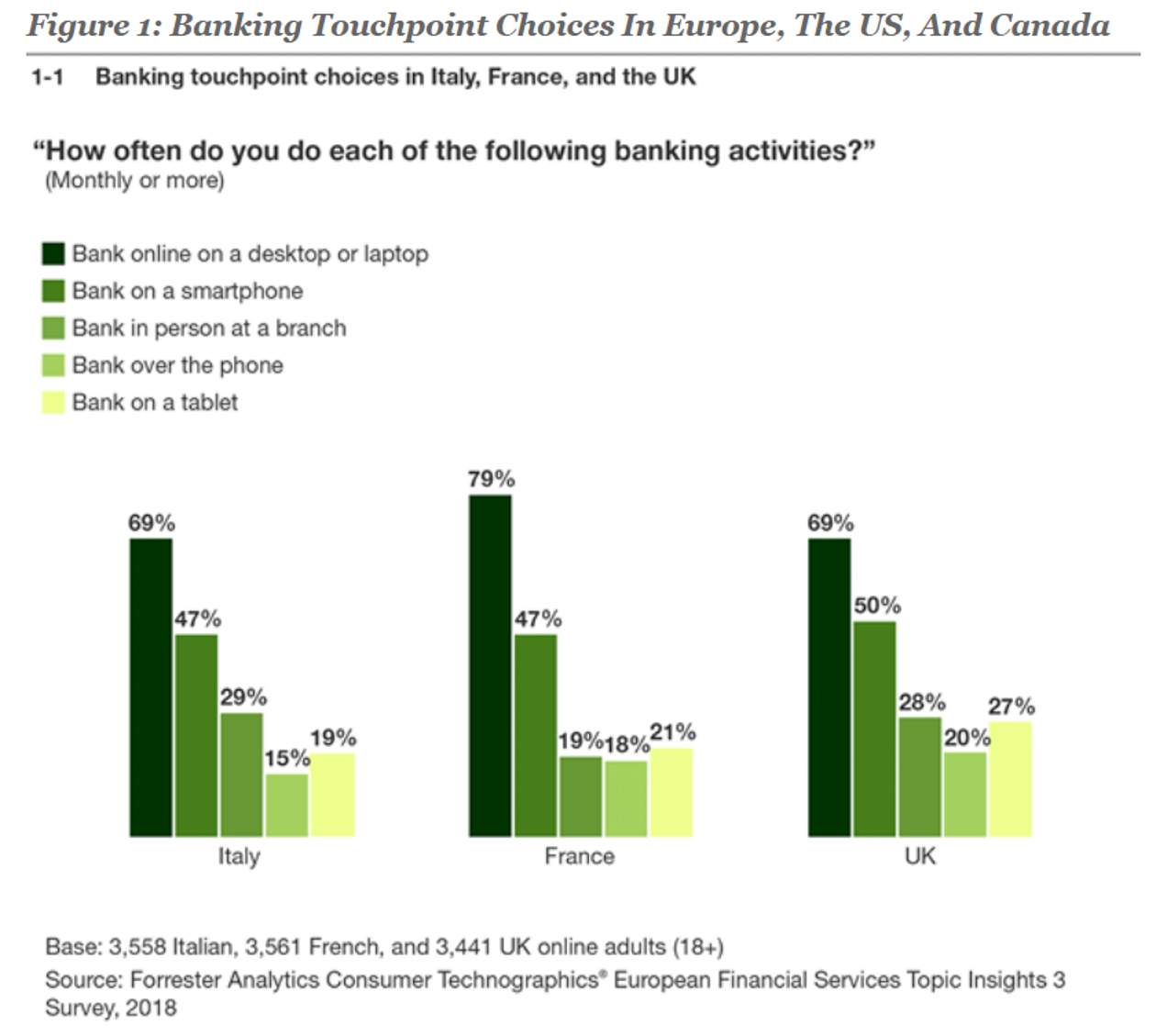 Source: The State of Digital Banking, 2019 (access the report here)
New players and non-traditional banks have been responding quite effectively to customers' changing expectations and in order to compete, traditional banks must become digital businesses themselves. However, a recent Forrester survey indicates that only 34% of banks see accelerating their digital business as the highest or most critical priority for the next 12 months. Further, when banking executives were asked to rank the primary drivers of their bank's digital transformation initiatives, cost reduction came up first, followed by improving customer acquisition and customer experience.
"As the returns on digital customer experience are plateauing and margin pressure on call business lines (such as lending) is increasing, banks are shifting their focus to reducing the cost to serve customers and operational efficiency. This is important because cost reduction is now competing with other priorities," said L'Hostis on the webinar.  
Challenges in Digital Transformation for Financial Institutions
As technology leaders advance their digital efforts, they face a multitude of challenges. With the rise of cyberattacks and open banking systems, Forrester's research indicates most are primarily concerned with the security of their customer interactions, legacy technologies, the implementation of new processes, and the impact of change on company culture. As such, many banks are embracing digital business transformation at varying speeds.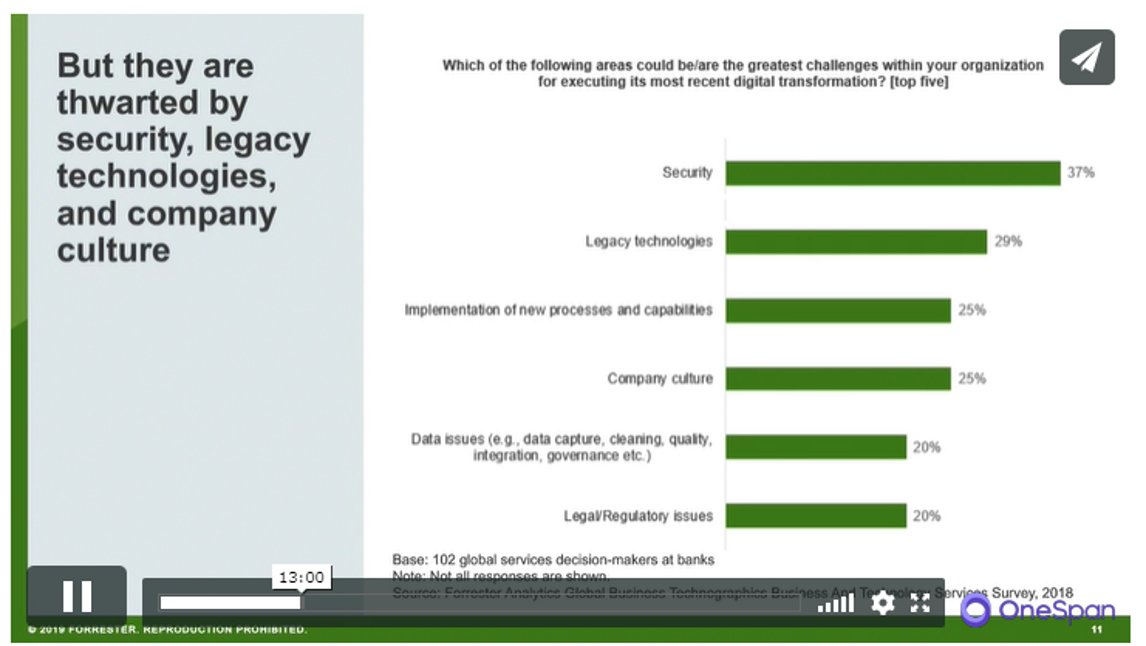 At any time, banks will find themselves in one of the three following stages of digital maturity identified in Forrester's report:
Bolt-on Stage: Optimizing digital touchpoints to deliver short-term tactical results
Transform Stage: Digital-first mindset at the organizational level, supporting multiple touchpoints and analytics
Disrupt Stage: Releasing innovative products and services integrated with back-end systems digital becomes a core competency in both internal and external processes Banks in this stage are completely re-thinking how they engage with customers, but also how their internal processes align to deliver value to customers.
"There are a number of incumbent banks that stand out as consistently innovative and embrace digital business transformation," said L'Hostis on the webinar. Citing examples such as BBVA in Spain, DBS Bank in Singapore, Lloyd's Bank in the UK, and USAA in North America, she explained that, "All of these banks embed innovation in their processes and culture, some have replaced their back-end systems, and all in the goal of creating more value for their customers."
Essential Technologies for Securing Digital Banking Experiences
During the webcast, attendees were polled on which technologies they plan to invest in, in 2020. The top response was "Digital Identity Verification" (40%), followed by "Electronic Signatures" (27%) and compliance and risk monitoring (16%). This was an encouraging response. All of these are key to secure and protect the customer's digital banking journey.
"I'm not surprised by these results," said L'Hostis. "One big initiative for many organizations at the moment is digital account opening and onboarding – and letting customers sign up for checking accounts using the bank's mobile app."
"Banks and financial institutions are trying to capture more applicants with capabilities like digital identity verification. Same for e-signature. To give customers the ability to apply for new products without having to visit the branch, this is something that most organizations are currently working on."
In addition to digital identity verification and electronic signature, machine learning-based risk analysis was the third key technology discussed on the webinar. Citing OCBC Bank, L'Hostis discussed the value of using machine learning to detect suspicious transactions and fight financial fraud in corporate banking.
Advanced tools and technologies such as an anti-fraud solution that leverages machine learning and data modeling make it possible to produce a transaction risk score in real time. That risk score can then trigger immediate action to help block fraud before it even affects the customer. 
To learn more about the role of digital identity verification, e-signature, and risk analytics technologies in digital transformation, visit these pages: