Streamlining Your Mobile E-Contracting Processes with E-Signatures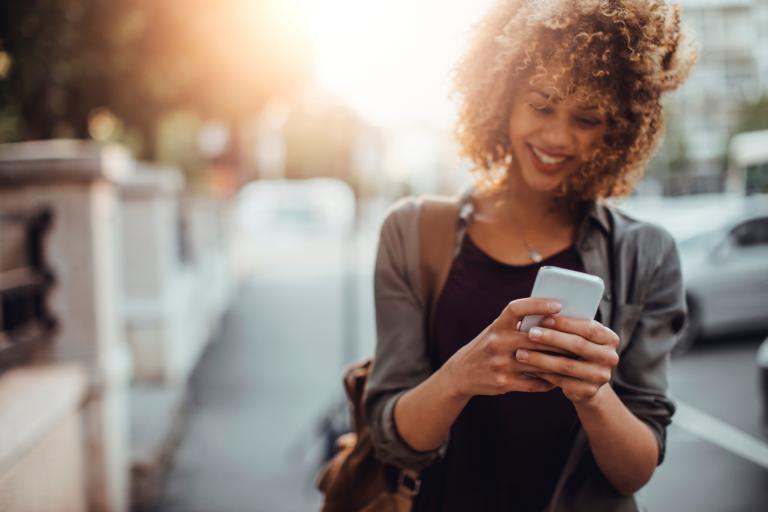 Originally published on the G2 Crowd Blog.  
Today's businesses can't afford to miss a beat when it comes to closing deals and increasing revenue. Paper has long been the culprit in slowing down business processes; so organizations are taking the necessary steps to eliminate paper by digitizing paper-intensive procedures. Reducing cycle times by minimizing manual paperwork brings the added benefits of cutting costs, advancing revenue, and raising productivity with automated workflows. Some organizations are taking this initiative a step further by making mobile a top priority to deliver exceptional experiences to their employees, partners and customers.
MOBILE ON AN UPWARD TREND
 It's no surprise that mobile has become an integral part of an organization's digital strategy. The convenience of engaging with customers anywhere, anytime on a tablet or smartphone makes mobile an attractive option to conduct business. Sales organizations, for example, are equipping their salespeople with tablets and smartphones to close deals on the spot when they're out in the field. Tablet adoption is on the rise, replacing clunky laptops with portable devices. According to The Sales Management Association, 40 percent of salespeople are currently equipped with tablets, 70 percent of executives in sales organizations using tablets are already realizing ROI, and more than 90 percent of sales organizations plan to invest more in tablets in the near future.  
What's more, there are over 5 million apps available that people rely on everyday – from banking apps to games, and business productivity tools. The phrase "there's an app for that" resonates with all of us.  
With increasing reliance on mobile devices, solution providers need to be cognizant that being mobile-compatible is crucial to achieving high adoption rates for their solution within organizations. At eSignLive, we recognize the importance of mobile and the need to sign documents such as NDAs, proposals, sales contracts and service agreements on the go.  
MOBILE E-CONTRACTING
  Enabling your workforce with mobile is key - your employees are increasingly mobile and personnel are working more often in the field, at home or while commuting. The shift to mobile means new challenges for delivering services to employees, partners and your customers. We'll look at solutions that can help further enable your mobile workers – whether they're in the office, at home or on the go:  
To securely prepare, send and sign documents on the go, eSignLive offers a mobile app to enable users to conveniently manage e-signature transactions from anywhere. Simply upload a document that requires a signature, add signature blocks to the document, then send it to your signer. With no login or software download necessary, your signer can access the document to sign from any mobile device.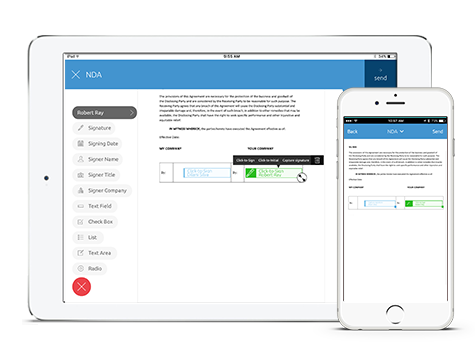 eSignLive also offers an optimized mobile signing experience that leverages the unique capabilities of mobile devices and HTML5 that responsively scales documents to the signer's mobile device screen. Signers can easily navigate and review contracts during the e-signature process.  
If your organization already has a mobile app, you'll likely opt to integrate e-signing capabilities into your existing mobile app. This is easily accomplished with the robust software development kit (SDK) which allows you to quickly add mobile e-signature functionality to your app.  
MOBILE E-SIGNATURE USE CASES
  Many organizations are reaping the benefits of going mobile with e-signatures. Here are a few use cases demonstrating how these businesses have transformed their operations using mobile e-signatures with eSignLive:
BMW Financial Services: Delivers a better customer experience


iPads are used at local BMW dealerships where customers e-sign retail finance contracts and end of lease agreements on the spot.
IBM: Transformed global field sales


IBM has transformed its field sales operation by equipping their global salesforce with iPads and a fully branded mobile app for all sales e-contracting.
Le Grand Hôpital de Charleroi: Shortens procurement approval times


This Belgian hospital uses the eSignLive mobile app on smartphones to shorten procurement approval time and accelerate delivery of mission-critical supplies.
RBC: Closes deals faster and saves millions


A top Canadian bank has mobile retirement advisors using iPads to e-sign account opening paperwork. The bank has reduced error rates by 75% and estimates it saves more than $8 million in administration costs annually.
As the velocity of business increases, e-signatures help facilitate the need to conduct business on the go. No matter what your signing use cases are, eSignLive simplifies the process of obtaining e-signatures where and when you need them. With a number of mobile e-signature options, eSignLive has solutions that securely and reliably move your business forward – anytime, anywhere, on any device.  
Visit the G2 Crowd Grid for E-Signature to find the right e-signature solution for your business.