Tips & Tricks: Validating a Signer's Identity Using Identity Verification Tools in OneSpan Sign
OneSpan Sign now includes Identity Document (ID) Verification as a signer authentication method to validate a signer's identity before they gain access to critical contracts and high-value agreements. ID Verification provides a higher level of signer identification to ensure signers are who they claim to be and support fraud prevention in your processes.
By combining enhanced ID Verification with electronic signatures, organizations can streamline a wide range of agreement processes in financial services, including account opening and onboarding, consumer loans, and automobile financing.
In the ID Verification process, signers authenticate themselves in real-time by taking a photo of their government-issued ID or ID document and a 'selfie'. Machine learning algorithms analyze the authenticity of the ID and extract biometric data from the selfie to compare it to the authenticated ID.  After successfully being authenticated, signers can access the document to sign and complete the process digitally.
In this blog we'll show you how to use ID Verification in a mediated agreement scenario, with a bank advisor sending an Account Opening form to a client. 
How to Use ID Verification in OneSpan Sign
Configuring a Transaction for ID Verification (Sender)
To begin, the advisor selects "New Transaction" and gives it a name.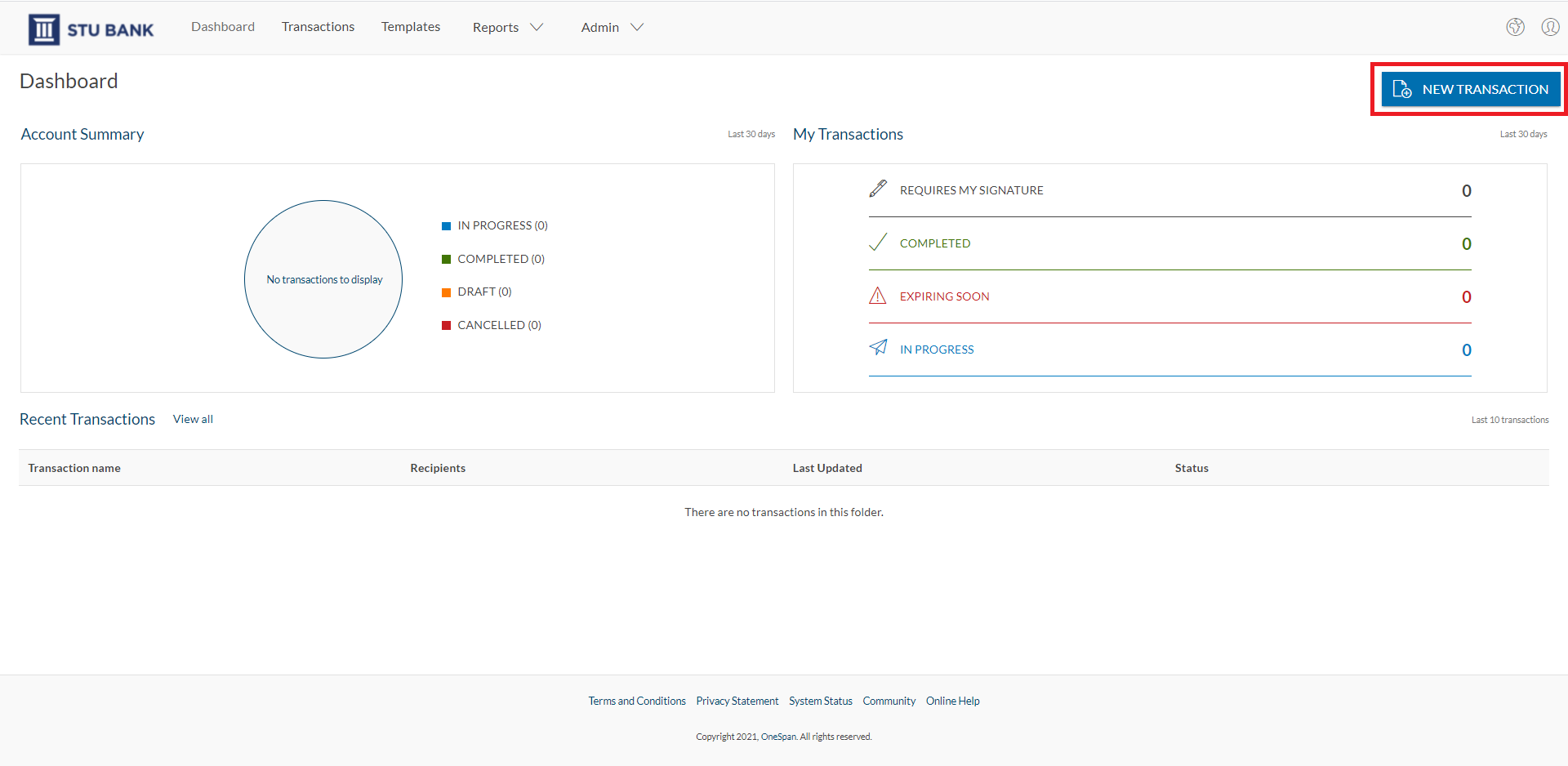 The advisor selects a pre-created template then clicks the "Create" button to proceed.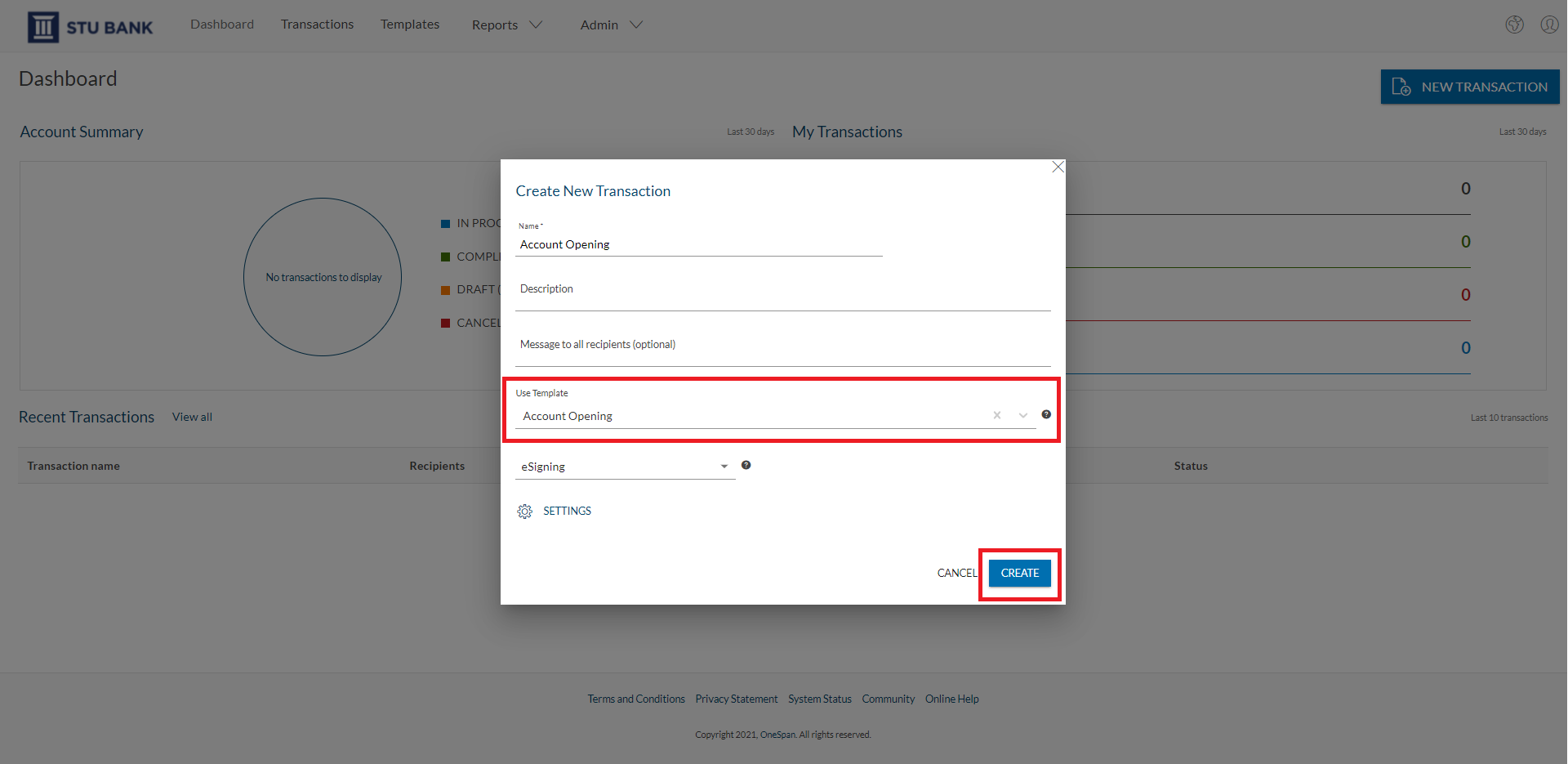 The advisor enters the details of the recipient who needs to e‑sign the Account Opening form.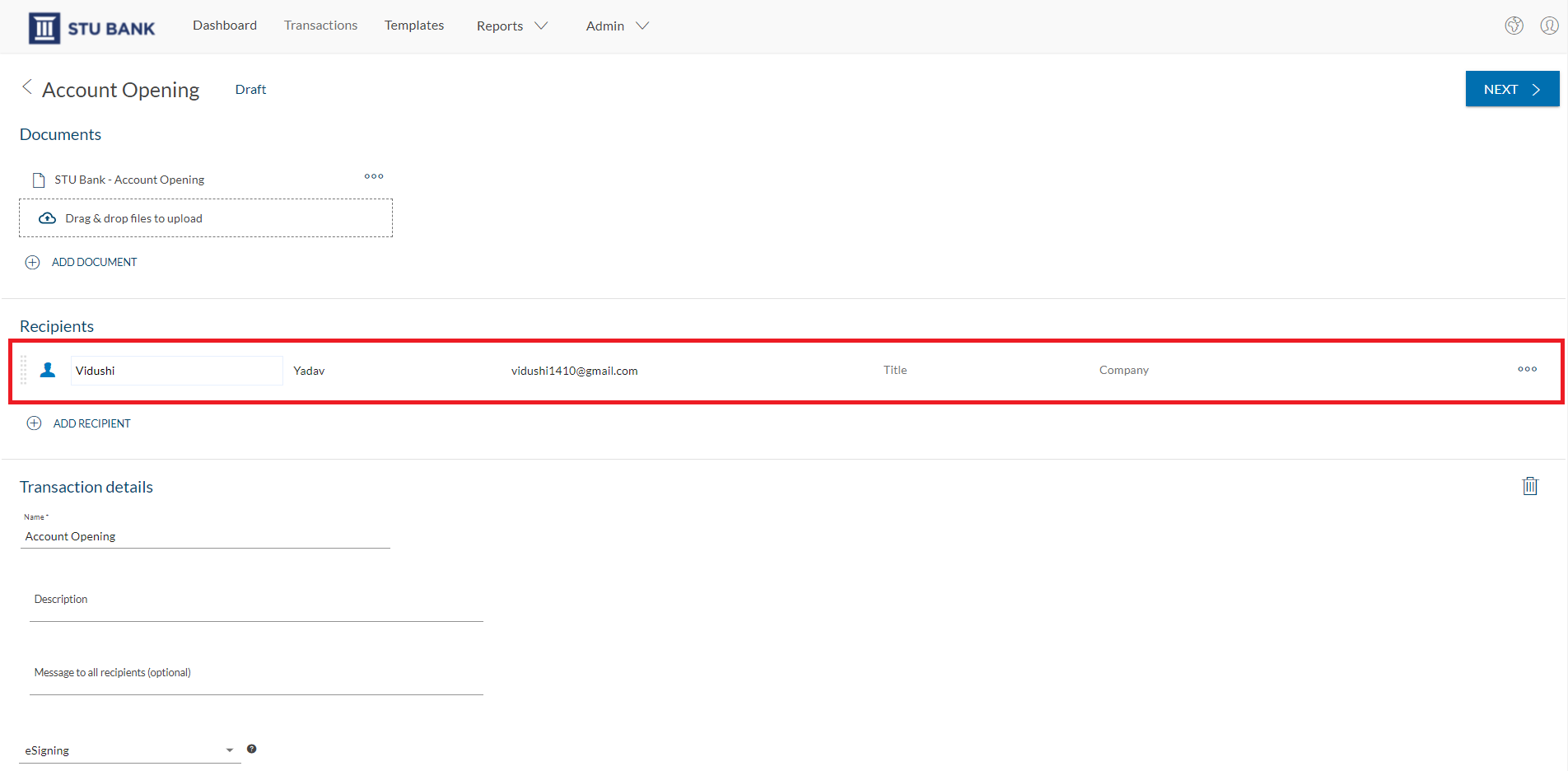 In the Recipient Settings section, the advisor selects "Authentication." A number of authentication and identification options are available in OneSpan Sign, such as Email, SMS, Q&A, Document Verification Only and Document Verification with Facial Comparison.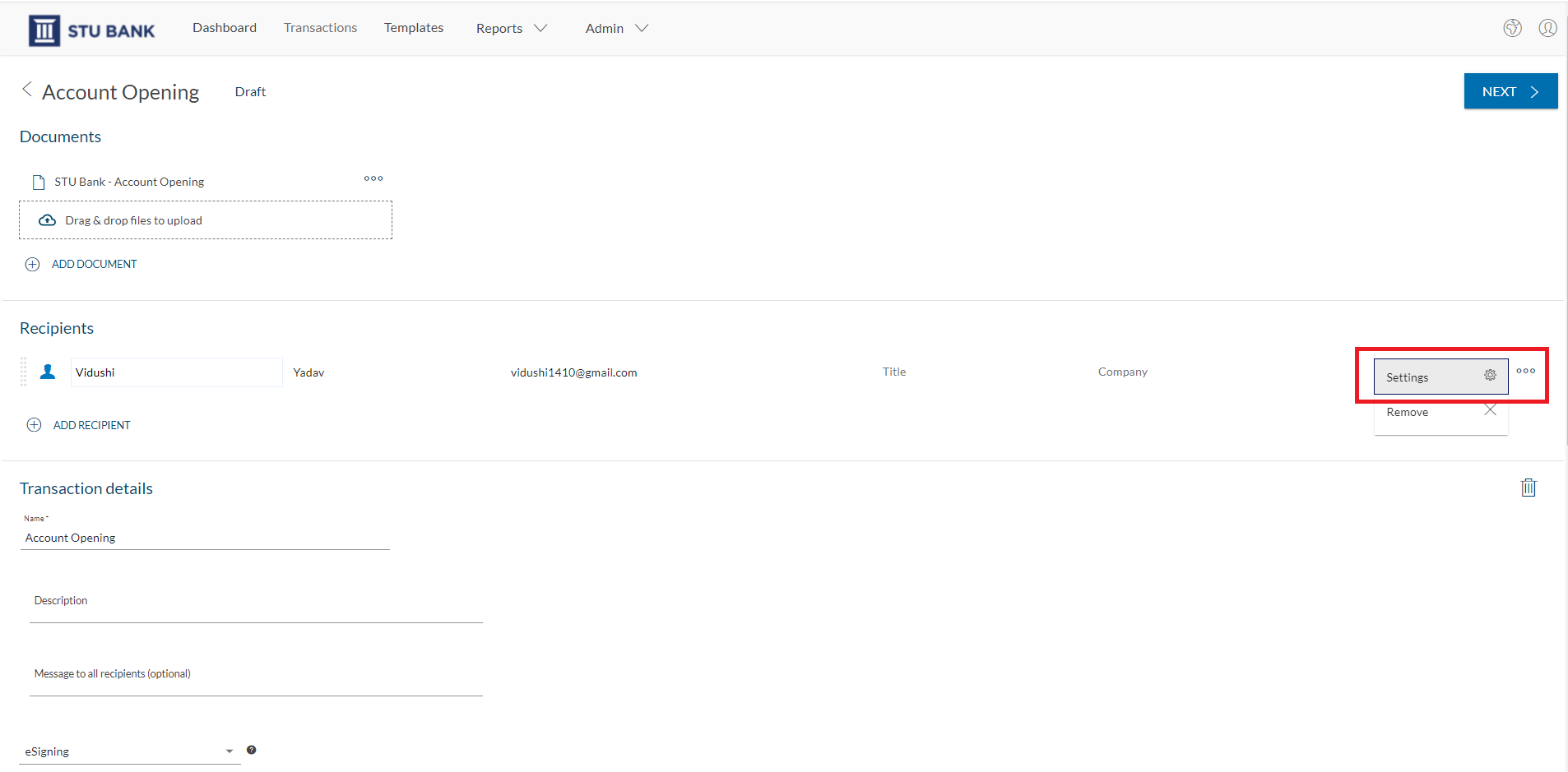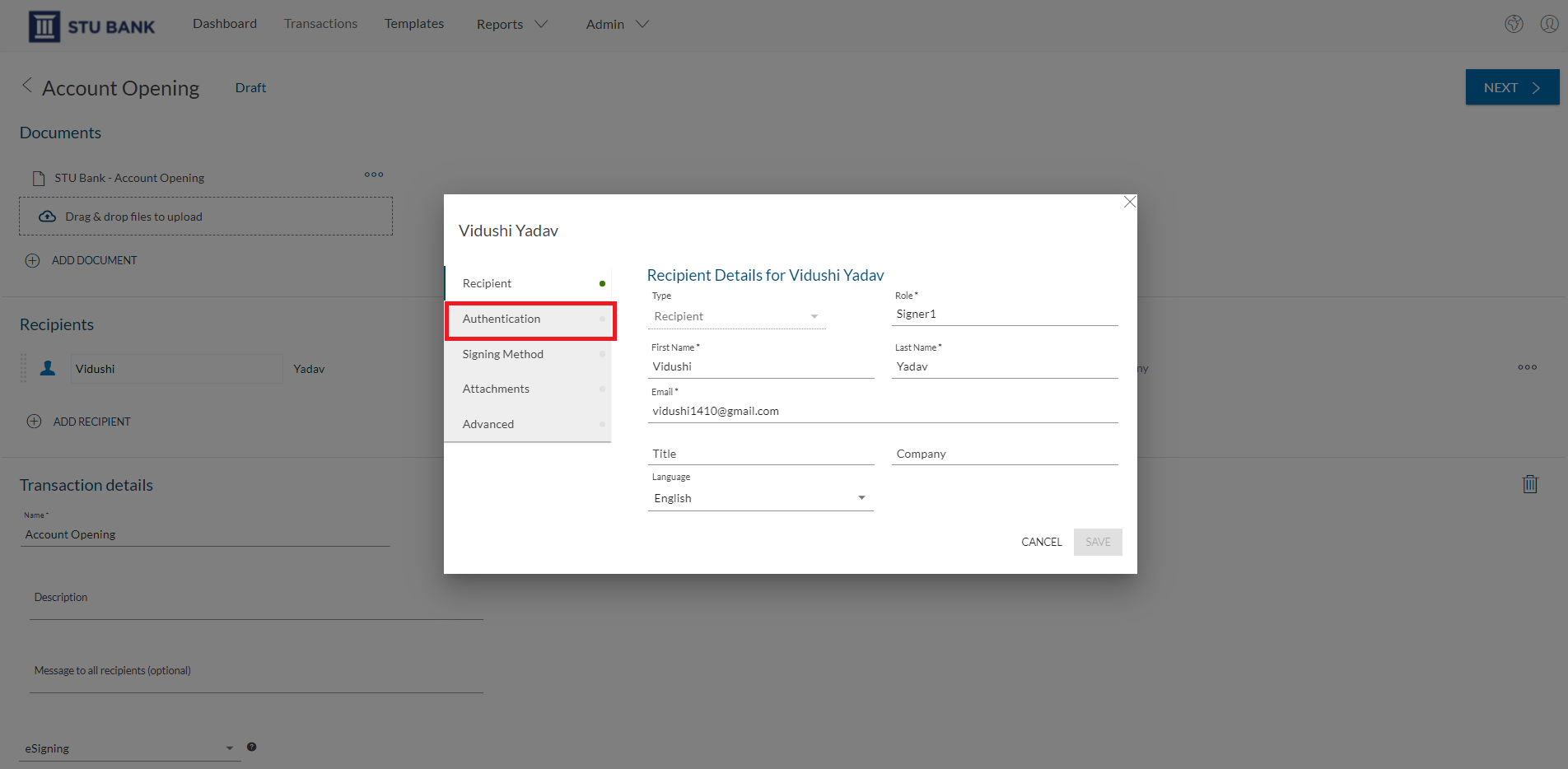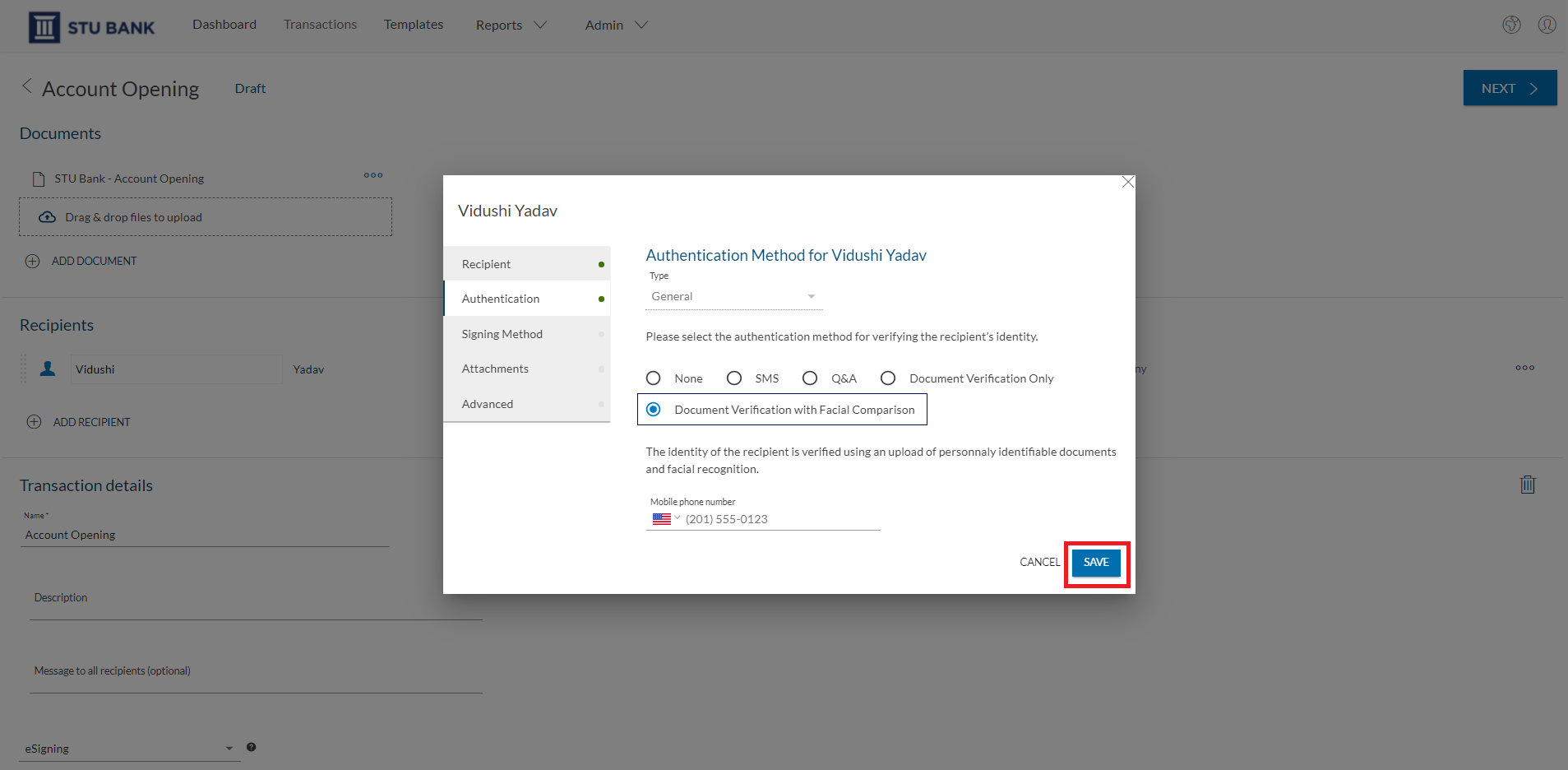 For ID Verification, the bank advisor has two options:
Document Verification Only allows the signer to validate their identity using their government-issued photo ID.
And Document Verification with Facial Comparison allows the signer to validate their identity using their government-issued photo ID and then take a 'selfie' of themselves for an additional layer of identity assurance.
In this example, the bank advisor will select "Document Verification with Facial Comparison", then clicks "Save."
They click "Next."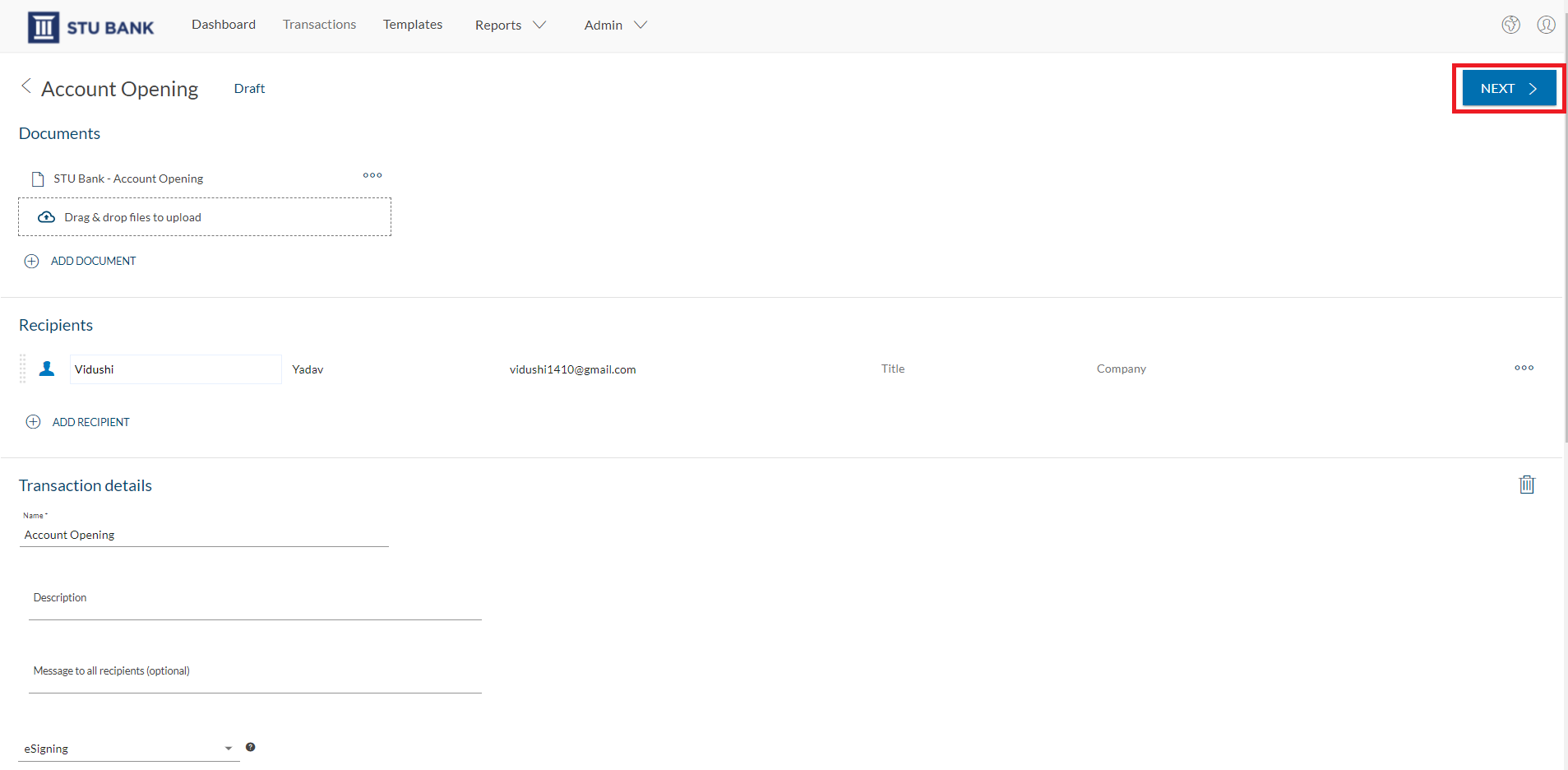 They confirm that all signature blocks are placed in the correct locations within the document.
The transaction is now ready and the advisor clicks "Send to Sign" to send the Account Opening form for signing.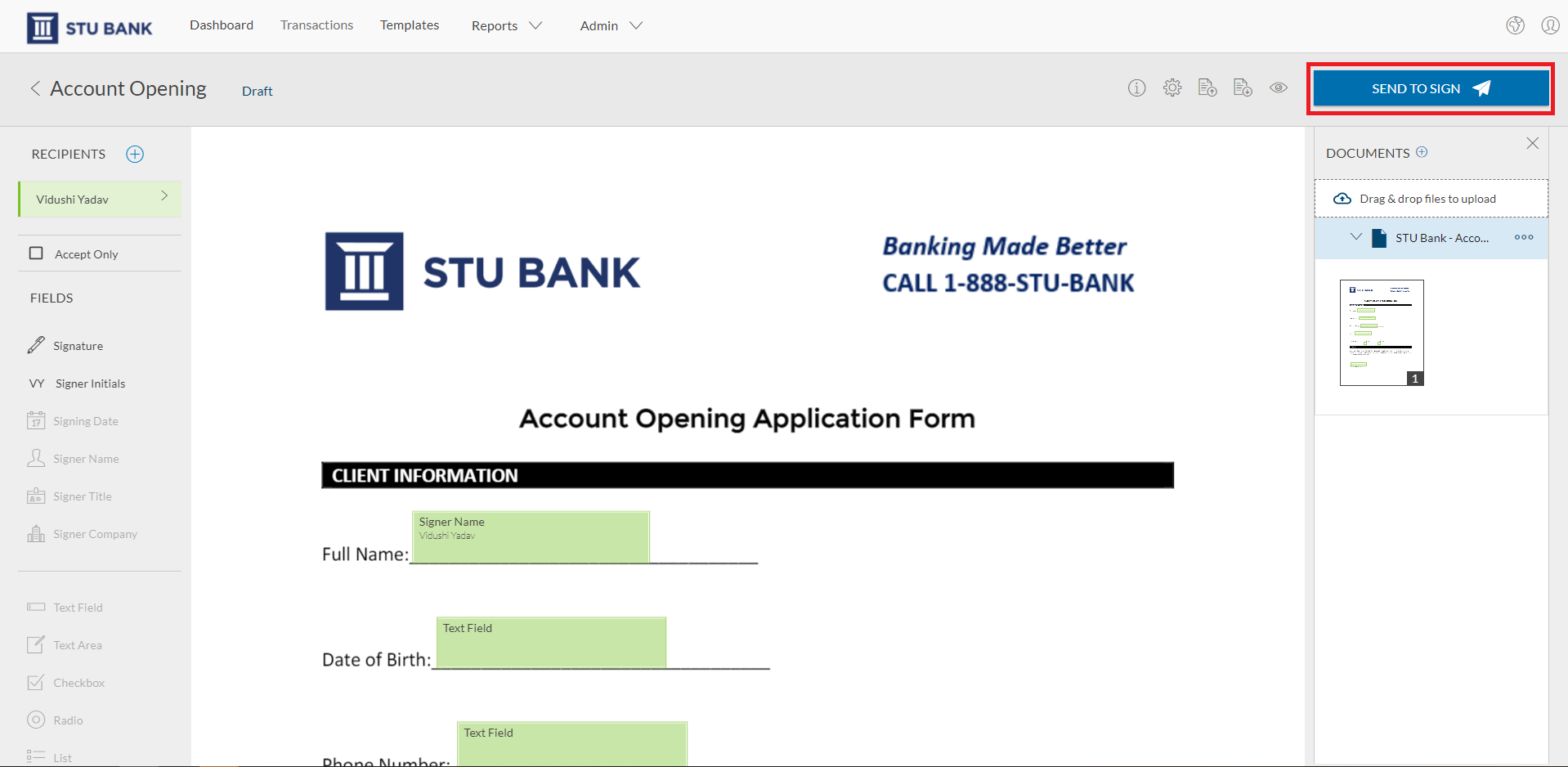 Validating Identity and Signing Documents (Signer)
It's time for the signer to validate their identity.
The signer accesses the transaction from their email and clicks "Go to Documents."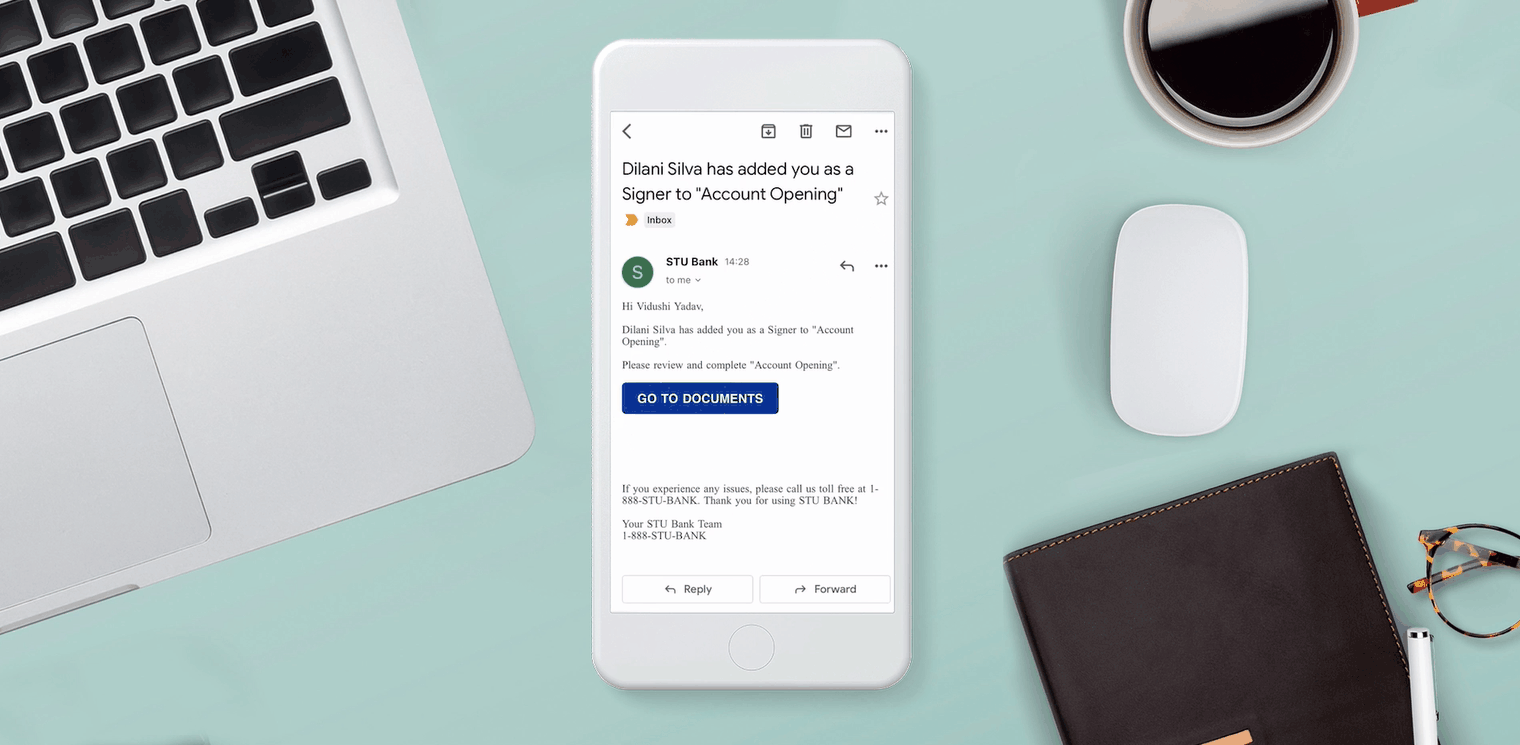 A screen appears requesting the signer to agree and consent to verify their identity.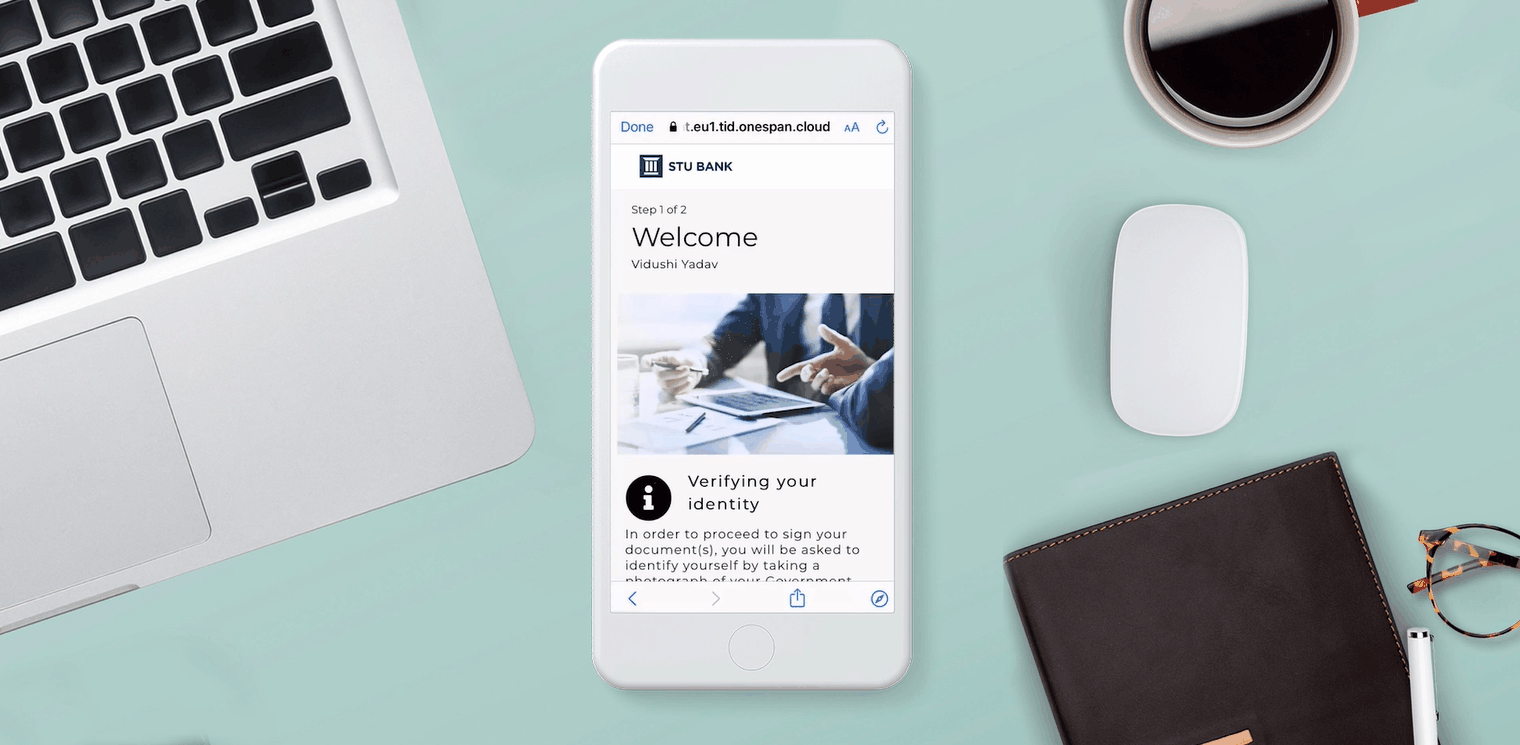 Next, the signer selects the document they'd like to authenticate along with the country of issuance.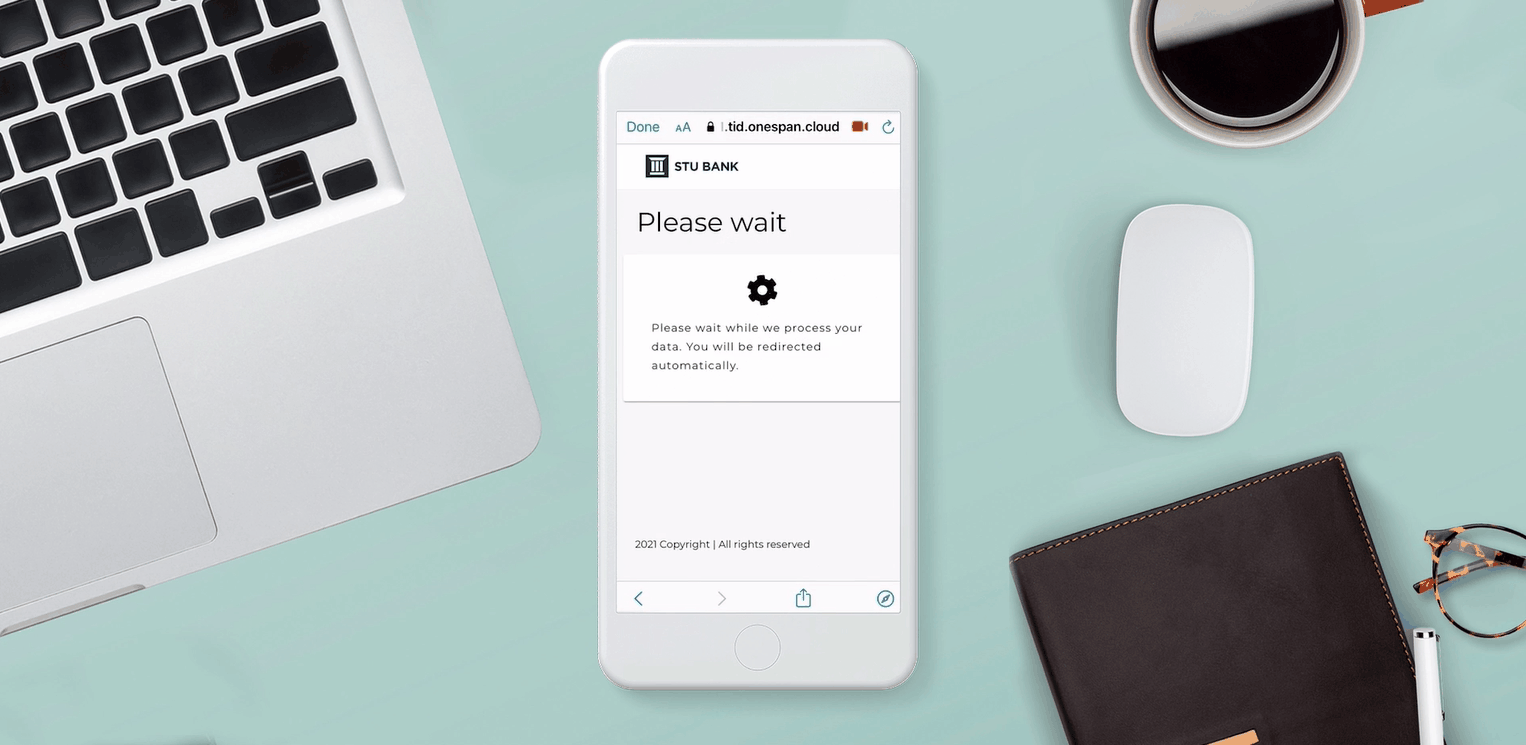 The signer takes a photo of their ID and then a selfie to establish that the person presenting the ID is the same individual whose portrait appears on the ID.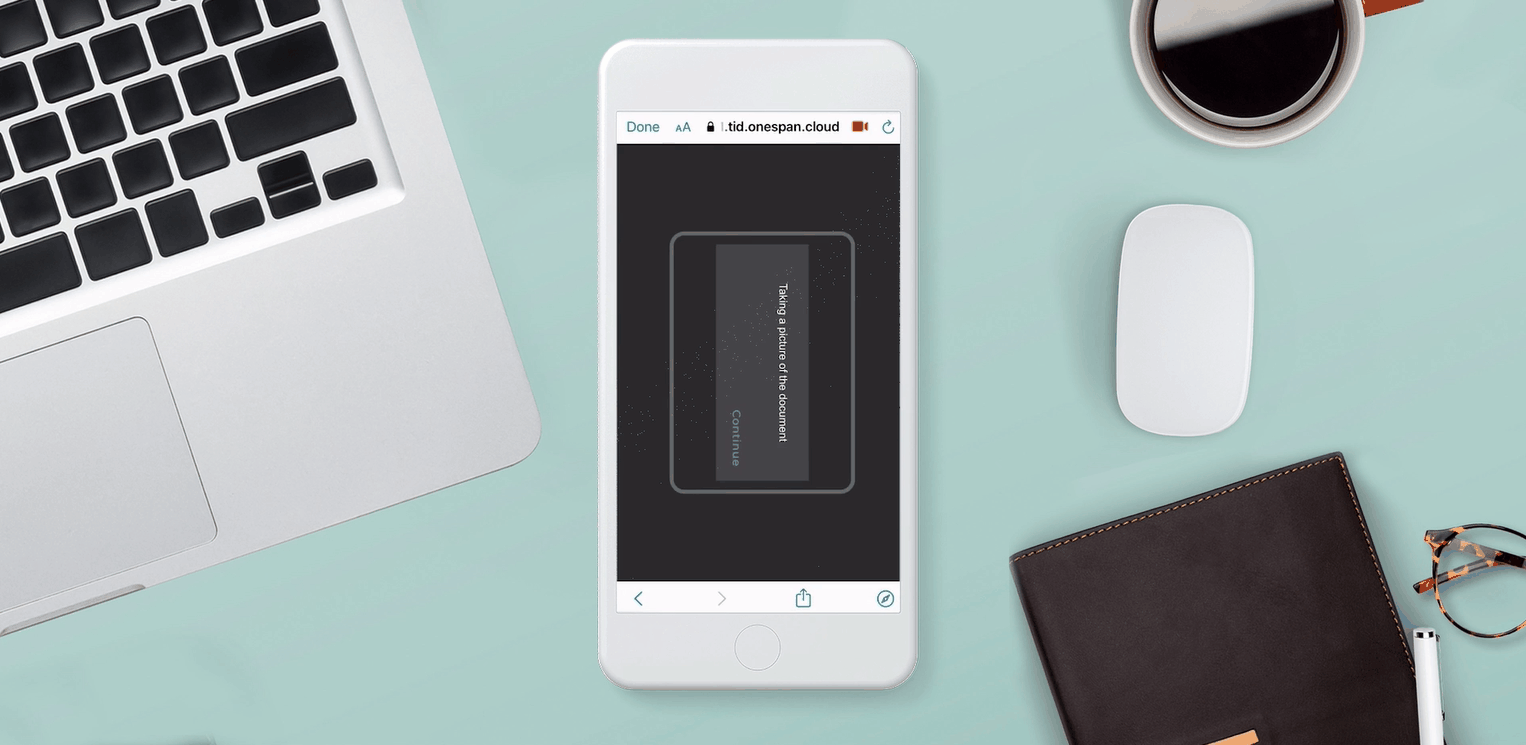 After the signer has successfully verified their identity, they click "Continue to Signing" to gain access to the document to sign.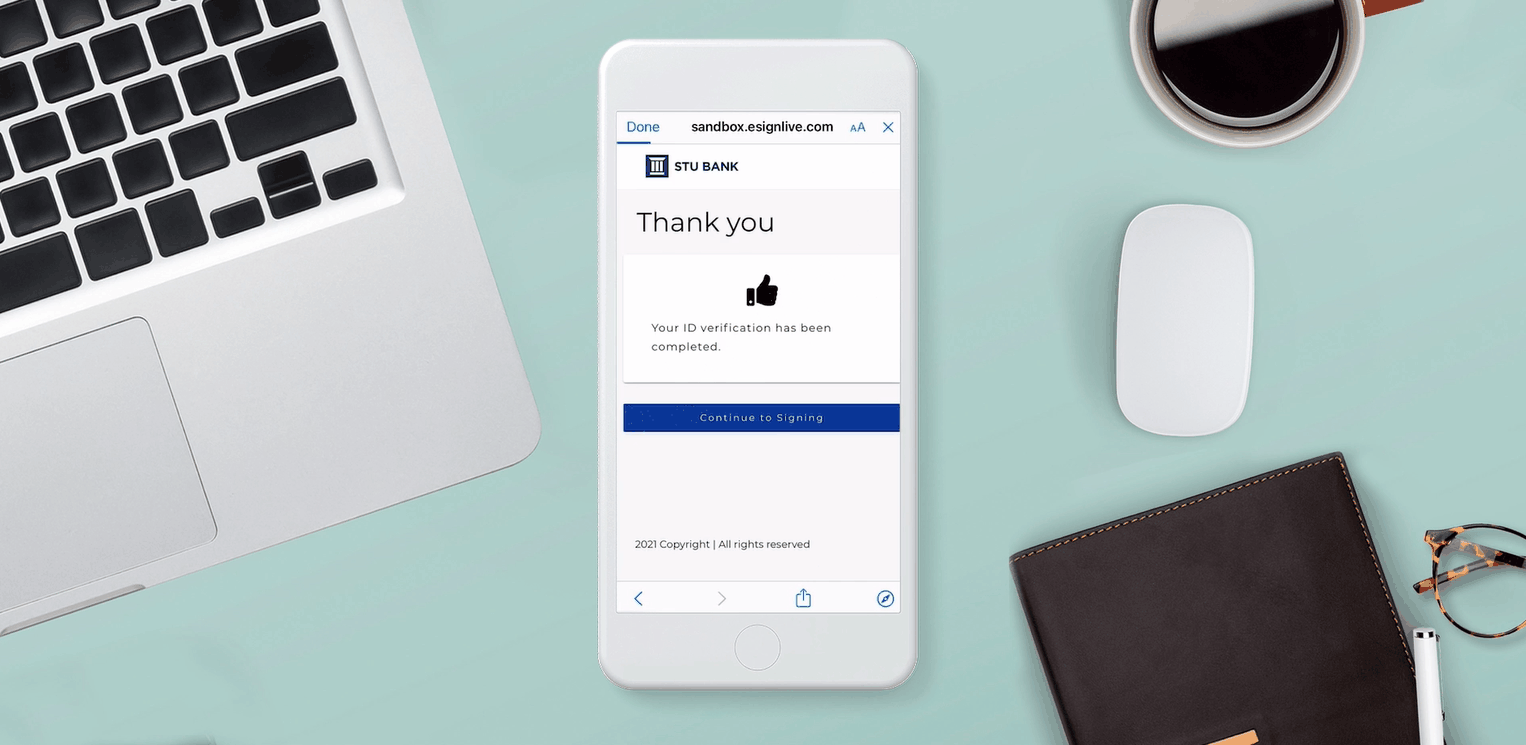 After the signing process is complete, a single, unified audit trail is created, capturing details of the entire agreement process – from ID verification and authentication to e‑signature. This provides a complete record of the process with strong identity assurance to help demonstrate compliance.
By using the ID Verification option in OneSpan Sign, financial institutions and other organizations can establish trust and deliver a better customer experience, without the need for in-person branch visits or manual ID checks.
Contact us today to start using ID verification with OneSpan Sign.
Watch the video tutorial below to learn how you can easily validate a user's identity using ID Verification functionality in OneSpan Sign. Visit our Support Center for more video tutorials about OneSpan Sign and the e‑signature workflow.
Video: How to Validate a Signer's Identity Using ID Verification in OneSpan Sign