Train, Train and Train Again: Building the Foundation for a Successful E-signature Transformation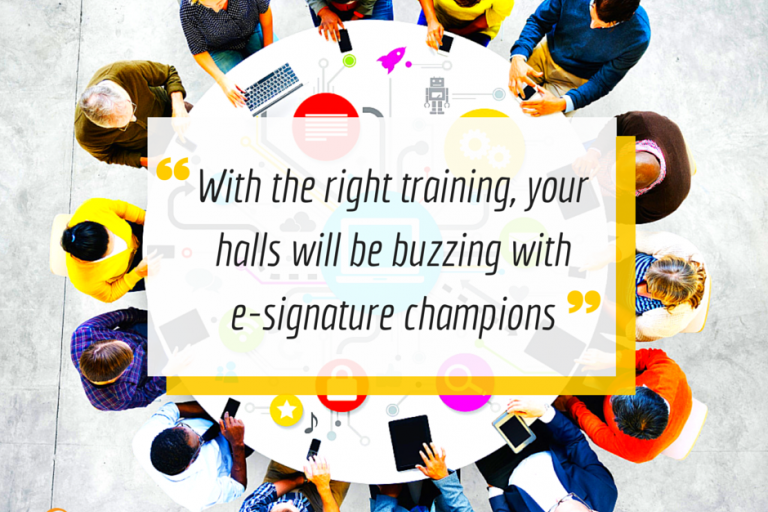 New technologies and processes can be daunting, particularly when they need to be incorporated into day-to-day operations. Champions, those who embrace and promote the benefits of the change, are essential to the success of moving to e-signatures.  But no matter how much hoopla there is around e-signatures, there still is a learning curve. People need to know how to use e-signatures correctly to witness the value.
If you have an existing Learning Management System (LMS), incorporate training into it. When developing this, take advantage of your e-signature partner to uncover implementations similar to your own. Work with them to build a training program that will turn naysayers into e-signature proponents.
You also need to hold each business unit accountable for performing and completing the training prior to going live. Make sure senior management from each business unit knows when to take action if the targets are not being hit at specific points on your timeline.  During my first enterprise deployment, I didn't understand how important this step is. After incorporating targets, it quickly became a requirement as I moved forward as it allowed us to praise and support our high usage champions and work with those who needed a bit more training to reach the same level of satisfaction.
Not everyone has an LMS. When not available, there are other ways to train users. I've done this quite successfully with companies from five to more than 700 employees.
You can use low cost software like SnagIt from TechSmith to record a video of your screen while running through the e-signature process.  You can even record a voiceover while going through the workflows. Remember to include help for all of your use cases. Back office personnel, those responsible for administration, need to be trained appropriately.
Whether you are using an LMS or are building your educational tools ad hoc, it is important to include training modules that include use cases and workflow examples from all points of view:  Bankers and staff team members are the first line of defense when a customer calls with a question about the e-signature process. I've heard many times that an employee "already knows." But you know what to assume makes of you and me.
Highlight the differences between the desktop and mobile versions of the e-signing process. After all, more than half of US adults own a smartphone. Tablets, such as iPads, are on the same trajectory, particularly at the enterprise level.   According to Gartner, "These devices are likely to be the most rapidly adopted consumer technologies in modern history."
Achieving (or surpassing) your adoption goals is essential to realizing ROI.  Banks have already proven that critical business processes can be transformed with e-signatures. For example, e-SignLive has been involved in successful deployments across web, call center and retail channels the highest adoption by signers – 99% online, 90% in-branch and 95% mobile.
With the right training, you too will have your halls buzzing with e-signature champions and wanting to use it in new and innovative ways.