Using Mobile as an Upselling Channel in Financial Services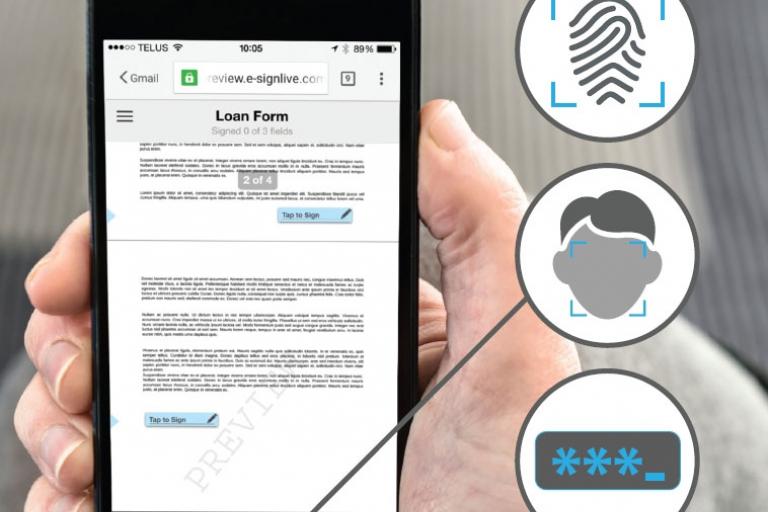 We rely on our bank's mobile app to check balances, pay bills and transfer money electronically. But mobile consumers want (and expect) to do more. The logical next step, then, is to enable consumers to conduct all of the services offered online (and at their physical branches), on their mobile devices. That's easier said than done. Most financial institutions have developed mobile apps that don't provide adequate mobile capabilities and access to all of the institution's services.
Without a feature-rich mobile app experience, consumers are forced to use a different channel (i.e., go into the branch, contact the call center), revert to traditional paper-based processes, or alternatively find a different provider. That's why financial services organizations are racing to figure out how to effectively use mobile as an upselling channel to capitalize on today's mobile-centric consumer.
Enter: "Smile & Sign"
We introduced our Smile & Sign mobile upselling innovation at the recent FinovateEurope 2017 fintech conference to solve this market need. Harnessing the power of biometrics and e-signatures, Smile & Sign empowers financial institutions to deliver a secure yet convenient experience to upsell products such personal loans, credit cards and other retail financing to existing customers directly from their mobile app.
Organizations can integrate these capabilities into their app using VASCO's DIGIPASS for Apps development toolkit, which now includes eSignLive's Mobile SDKs for iOS and Android. The joint solution leverages e-signatures to capture legal intent for document-based transactions, and something as simple as a "selfie" to validate the customer's identity before the signing process is complete. Financial institutions focused on reducing fraud while improving the customer experience will benefit from this solution.
VASCO & eSignLive demonstrated Smile & Sign at FinovateEurope 2017. We were one of 70 companies hand-picked to demonstrate our solution at the fintech event in London, UK.
Electronic signature laws and regulations around the world, including ESIGN in the US, eIDAS in the EU and the Electronic Transactions Act in Australia, establish e-signing as a fully legal option. The key to widespread adoption is striking a balance between security and delivering a frictionless customer experience. That's where eSignLive can help. We ensure that your mobile consumers can get through the account opening process in a way that's easy and straightforward, but with all the necessary security checks and balances in place so that the underlying digital transactions are secure and can be trusted.
What's Your Mobile Upselling Strategy?
Banks and credit unions are still in their early days of using the mobile channel aggressively for new customer acquisition and upselling. But with new innovations like Smile & Sign, the financial services industry now has the tools to think beyond the traditional transaction-based boundaries of doing business, and focus on opportunities that retain customers and increase share of wallet.
While we introduced Smile & Sign at FinovateEurope 2017 as a solution for the financial services industry, it is truly for any organization that relies on mobile as a key channel of engagement. Explore our mobile development tools to see how Smile & Sign can grow wallet share, strengthen customer relationships and boost the ROI of your mobile channel.