In this tutorial, we demonstrate how the OneSpan Sign (formerly eSignLive) electronic signature solution can be used by financial institutions, government agencies, insurance agencies, enterprises, and small businesses to digitally sign documents. This particular tutorial assumes that the signer is receiving the signature request invitation via email:
1. From your email invitation, click the link to go to OneSpan Sign and access the document.
2. Next, you may be asked to review and sign an e-signature disclosures and consent form. Click the checkbox to confirm that you have read the document and then move your cursor to click the Accept button.
3. You will then be directed to the document(s) that require you to insert your signature. A document preview will be displayed in the toolbar on the left hand side of the user interface. In the video example, there are two documents.
4. To e-sign the document, simply click on the Signature field. It works like a "Sign button". Next, complete any other required form fields. Then, click Confirm.
5. Review and sign any remaining documents in the transaction.
6. Congratulations! You have successfully signed your documents using OneSpan Sign!
Browse more video tutorials about creating electronic signatures for all your important documents in the OneSpan Resource Center:
Electronic Signatures vs Digital Signatures when Signing Documents
In the electronic signature market, there are industry terms that can appear synonymous to the layperson but actually have distinct meanings. Electronic signature and digital signature are two such terms. Electronic signatures are digital representations of the handwritten signature. They are used to capture the consent of the signer to agree to the terms of the contract or document. It is the wet-ink signature in digital form.
A digital signature is something different. Digital signature refers to the encryption/decryption technology used in e-signature solutions to prevent tampering and ensure the integrity of each signature.
A simple shorthand to remember is that an organization should be leveraging electronic signatures built with digital signature technology.
Why Use Electronic Signatures?
Superior Experience:With full customization, you can deliver a fully branded signing experience to your customers. From beginning to end, the customer will interact with your custom branding, your style, and your colors. This is crucial for creating continuity within the process, ensuring high adoption and completion rates, and building trust.
Process Efficiency: Create end-to-end digital processes with electronic signatures and leverage reusable templates and other automation features to create further efficiencies in your signature workflows. Plus, a user-friendly drag and drop document builder will help you quickly assemble and streamline your document workflows. Whether onboarding new employees or issuing insurance policies, send and get documents signed in real time.
Easy to Integrate: Using our open APIs and fully supported SDKs, you can more quickly integrate OneSpan Sign into your key business applications and workflows. Enroll in a free developer account and begin the integration in minutes.
 
Paid Plans and Pricing for OneSpan Sign
There are two flexible pricing plans for the OneSpan Sign signature platform designed to align with the needs of your organization:
Professional Plan: This plan is best used in non-integrated and user-initiated use cases. Use a web browser to access the OneSpan Sign application to upload documents, add recipients, drag and drop signature fields to the document, then send the document for signing. It includes everything you need to start signing unlimited documents with electronic signatures in minutes through a SaaS e-signature app.
Enterprise Plan: The Enterprise Plan is for organizations seeking to integrate OneSpan Sign with their core business applications. This plan is well suited to building end-to-end digital processes with electronic signatures.
Learn more about pricing plans for OneSpan Sign.
Electronic Signature FAQ

Are electronic signatures secure?
Yes. Security is front-and-center to everything we do at OneSpan. OneSpan Sign follows numerous regulatory, industry, and IT standards on security and data protection when you create signatures for your signed documents. What's more, OneSpan Sign also meets the standards set by organizations like FedRAMP, HIPAA, GDPR, SOC 2 Type II, and ISO/IEC 27001, ISO/IEC 27017, ISO/IEC 27018.
---
Are electronic signatures and e-signature tools legal?
Generally yes. Over 60 countries have passed legislation establishing the legal admissibility of electronic signatures for digital documents. Notable examples of e-signature laws include:
Electronic Signatures in Global and National Commerce Act (the ESIGN Act): United States
Uniform Electronic Transactions Act (UETA)
eIDAS Regulation (European Union)
There are dozens of other legislation in effect around the world. Learn about electronic signature laws in your area in our eSignature Legality Guide.
---
What mobile devices can my customers use to add signatures or sign PDF documents?
OneSpan Sign functionality is compatible with the iPad, iPhone, and other Mac iOS devices as well as Android and Windows devices. Whether smartphone, tablet, or laptop, OneSpan Sign allows your signers to sign wherever, whenever, and however it is most convenient for them.
In addition, OneSpan Sign supports the following web browsers:
Google Chrome
Edge
Safari
Firefox
---
What file types and applications are supported by OneSpan Sign?
OneSpan Sign supports the following:
PDF Files (*. pdf)
Microsoft Word Documents (*. doc or *. docx)
Open Office (*. odt)
Text (. txt)
Rich Text Format (. rtf)
Learn more in our Developer Community.
---
Are there issues uploading an image of your signature to an electronic document?
You can create a hand-drawn signature in OneSpan Sign during the signing ceremony. By clicking the pen icon, you can draw your signature with your finger or stylus on your trackpad or touchscreen. Alternatively, you can upload a .jpg or .png image file of your signature and tie it to your user profile. All future signatures from this account will leverage this image by default.
---
Are all electronic signatures the same?
There are generally three types of electronic signatures used in e-sign software solutions recognized around the world: simple, advanced electronic signatures (AES) and qualified electronic signatures (QES).
The simple signature is merely a digital representation of a hand drawn signature. It has no underlying security technology verifying the signer's identity. An AES includes digital signature encryption, authentication, and other standards that can ensure the authenticity of the electronic signature. This is the most commonly used and supported form of e-signature.
Finally, a QES includes all the same security standards as the AES with the added requirement that the signature must be accompanied by a digital certificate issued by a certificate authority from a third-party trust service provider. Such trust services regulations are in place to provide the maximum assurance that the signature is legitimate.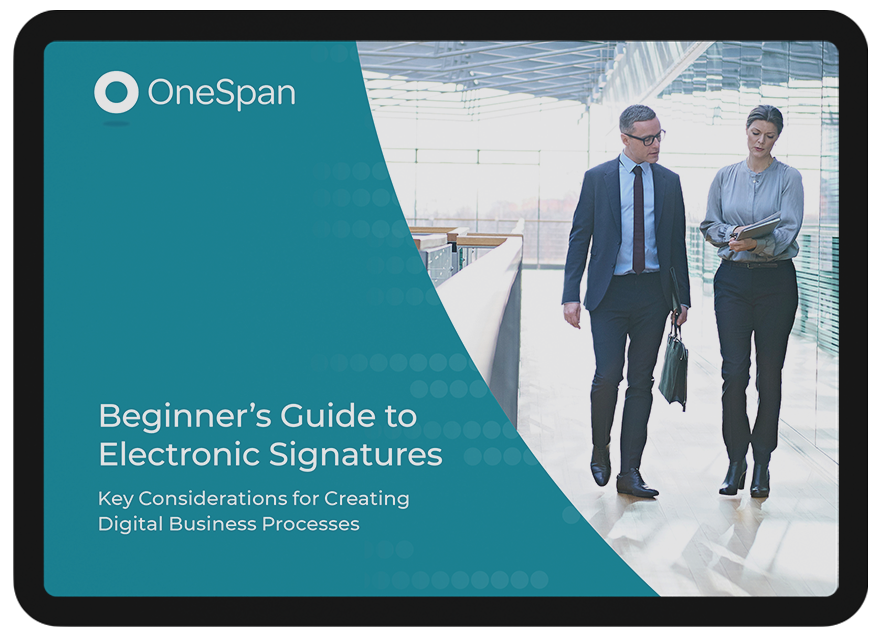 The Beginner's Guide to Electronic Signatures
This essential briefing introduces important legal concepts and key considerations when creating digital business processes with e-signatures.
Download Now