Creating a Digital Culture that Drives Transformation in Banking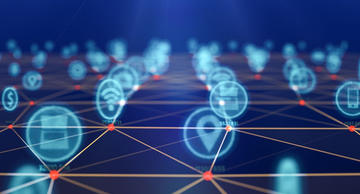 For digital banking transformation to be successful, there must be alignment at all levels of the organization. Technology is the foundation for this transformation, but even in the digital age the human element cannot be ignored.
Digital culture comprises the shared values and behaviors that define how things get done in your organization. For most traditional banks, going "digital" starts with giving your employees and business leaders the decision making ability to innovate and challenge the status quo to meet customer expectations. When done right, a customer-centric digital culture can drive the transformation needed to stay competitive in today's evolving banking landscape.
Meeting Consumer Demands
Now that most financial institutions have addressed the essential business continuity needs in response to the pandemic, there is a readiness to tackle the next set of challenges that touch the digital customer experience, including improving digital sales and digital services capabilities. The good news is that banks and other financial institutions are using this time of disruption to reinvent themselves and accelerate their own digital transformation agendas to ensure that they stay relevant during and after the pandemic.
In the past, we would often hear banks say that "identity verification must be done in-person" and "we are unable to accept e-signatures". Today however, we're operating in environments with temporary reductions in branch access and the need to pay extra attention to serving the end customer in whatever channels are available and most convenient to them.
It's clear that consumer behaviors have changed and will continue to change over time as we adapt to the "new normal". Channels that were predominantly face-to-face, such as wealth management, have seen a significant increase in clients that prefer digital interactions. Celent's 2020 Covid-19 Banking Insight Study indicated that bringing new digital channel capabilities live was a top priority to address the evolving needs of consumers.
Building a Genuine, Digital Culture
Driving major changes in a traditional bank requires reimagining how it has operated for decades. This starts with employees who are empowered to evaluate the status quo and do not have to deal with bureaucracy to identify opportunities or new technologies and submit ideas. Unfortunately, a lack of innovation remains problematic and is a limiting factor across traditional banks and other financial institutions.
During the onset of the pandemic, banks with a genuine digital culture were able to empower banking employees to address timely questions such as:
How do we create alternative workflows for manual, paper-intensive agreement processes that typically require in-person signatures?
How do we verify a customer's identity for a remote interaction, such as a digital account opening or account maintenance request?
How do we protect the bank and our customers from fraudsters who are capitalizing on the pandemic and the increased use of digital channels to commit application fraud and account takeover fraud?
These are all important questions that are driving digital imperatives inside of financial institutions to ensure they can adapt to the evolving needs of consumers. Banks that have a customer-centric digital culture are able to unblock bureaucratic gates that often slow down free-flowing ideas and innovation.
Reliance on Physical and Digital Channels
The pandemic has strengthened consumer demand for online and mobile banking interactions due to the reluctance to visit branches and contact overburdened call centers. However, Tiffani Montez from the Aite Group explains that consumers still rely on physical banking channels for certain types of interactions.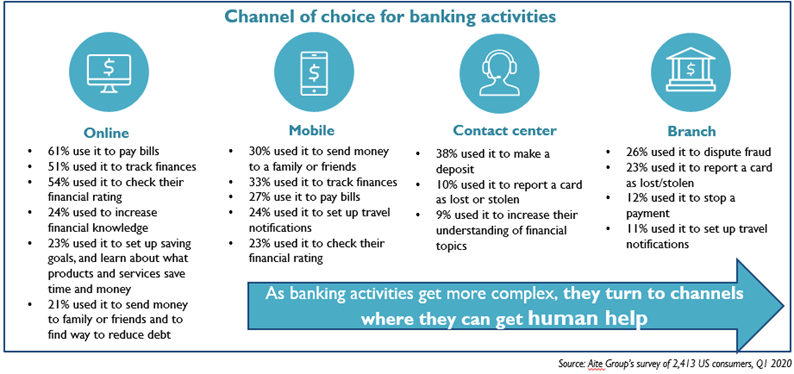 It's important to remember that digitization doesn't necessarily mean humans are removed completely from the process. As banking transactions get more complex and/or if the customer requires immediate resolution or answers, customers tend to switch channels and perform these activities in the channels they can get human help. In other words, the online and mobile channels may be where they go regularly to do things like pay bills or track their finances, but when it comes to more complex activities, like reporting a stolen credit card, disputing fraud, stopping a payment, or opening a loan or mortgage account, they'll default to an assisted channel where they can get help from an advisor.
The branch of tomorrow will certainly look different from the branch of years past. Even after the pandemic subsides, consumers may prefer to avoid physical contact or touching commonly used surfaces in the branch. How is your bank planning to transform the branch experience to meet the evolving needs of your customers? Are your employees empowered to drive the necessary change to deliver these types of next-generation experiences?
The digital culture you create is governed by the values and behaviors that define how things get done in an organization. Banks that have a genuine digital culture are able to provide the guidelines that enable employees to advance the organization's goals and strategy. If you're planning to improve the way you do business in today's digital world, you must adopt digital technologies like e-signature and digital identity verification to fill gaps in your digital business processes and capabilities while also adopting a new company culture as well. Create a culture that clears the way for employees to drive change and innovation toward a successful digital transformation, because it won't be long before being a fully digital organization is table stakes.