How to sign a PDF: e-signature vs. digital signature
The best way to sign a PDF online or Word documents is with a secure electronic signature solution utilizing digital signatures.

Though sometimes erroneously used interchangeably, electronic signatures and digital signatures are related, but distinct, concepts. An electronic signature is a digital representation of a signer's intent to be bound by the contract or agreement being signed.

A digital signature, however, refers to encryption/decryption technology that many electronic signature solutions, including OneSpan Sign, is built upon. Alone, a digital signature does not capture consent and will not be admissible in a court of law. A digital signature instead secures the data involved with a signed document and can also be used to ensure the authenticity of the document.

In short, a user can sign a PDF file using an electronic signature, and that e-signature will leverage digital signature technology.
Benefits of signing PDFs with electronic signatures from OneSpan
Fill & Sign Forms Online:
Using the OneSpan Sign mobile app, you can deploy electronic signatures in your organization within 24 hours and request signatures right away.
Great User Experience:
Users can sign how they like on their preferred device. Whether tap-to-sign or a digital handwritten signature on a tablet, smart phone, or desktop computer, the flexibility of the user experience ensures high adoption and satisfaction. It can be as simple as clicking a sign button.
Enhanced Compliance:
OneSpan Sign electronic signatures are built with compliance and verification in mind. Using comprehensive audit trails, one-click verification, and user authentication, your organization will be able to ensure and prove the validity of any signed PDF.
Process Efficiency:
Digitize and streamline your existing paper workflows with electronic signatures. A full, end-to-end digital signing process yields a superior user experience and eliminates the risk associated with document errors, like missing information. 
Sign a PDF with e-signatures online: step by step guide
Follow the video tutorial below to learn how to sign a PDF online from your email using OneSpan Sign. See how easy it is to sign!
As a signer, you will receive an email request for your signature. Click the link to access the document from your email using Chrome, Firefox, or any other web or mobile browser you prefer.
Read the E-Sign Disclosures and Consent document. Click the checkbox and then the Accept button.
You will be directed to the documents that require your signature. The menu on the left-hand side will indicate how many documents need to be signed.
To e-sign the document, simply click on the signature box.
Click the confirm button.
Congratulations! You have successfully signed the document with OneSpan Sign!
Browse more video tutorials about signing PDF documents online in the OneSpan Resource Center:
E-Sign questions? we have answers
Is it safe to sign a PDF?
Yes. OneSpan Sign electronic signatures deliver document security and integrity by applying a tamper-seal after each signer has signed the document. This ensures that no one can modify document fields or signatures between signers. This is paired with a sophisticated audit trail that allows you to view the entire signing experience for each signer.
 
How do I fill out a PDF form?
Building or uploading a document in OneSpan Sign is fast and easy using a drag and drop document builder platform. It allows you to quickly assemble the form fields and signature fields you need for your agreements. This process can also be expedited and automated with the use of templates. Templates are ideal for frequently used documents, like NDAs and boilerplate contracts.

View the step by step tutorial for building templates on our Resource Center.
 
How can I upload an image file of my signature?
You can create and save an image of your signature as part of a simple and straightforward process. This signature tool allows you to save an online signature under your account profile and apply it when signing documents in the future.
From the My Account screen accessed from the top menu in the platform, select Signature from the left-hand toolbar
Click the pen icon
Draw your signature using your mouse, touchpad or trackpad, or stylus
If you make a mistake, click Clear to wipe the block
When satisfied, click Save

To learn more, watch the video tutorial on our Resource Center
Can I use OneSpan Sign on a Mac, Linux, iPad, iPhone or Android smartphone?
Yes! OneSpan Sign allows users to add signatures, create signatures, and/or sign PDFs online using their preferred device and operating system.
 
Can I use OneSpan Sign offline without an Internet connection?
Yes! The OneSpan Sign mobile app offers offline capabilities, allowing users to fill & sign their documents whenever they choose. The solution functions exactly as it would with internet connectivity, and once the mobile device once again connects to the web, OneSpan Sign will automatically synchronize with the platform and upload the transaction where it can be sent normally.

To learn more about this process, watch the video tutorial here.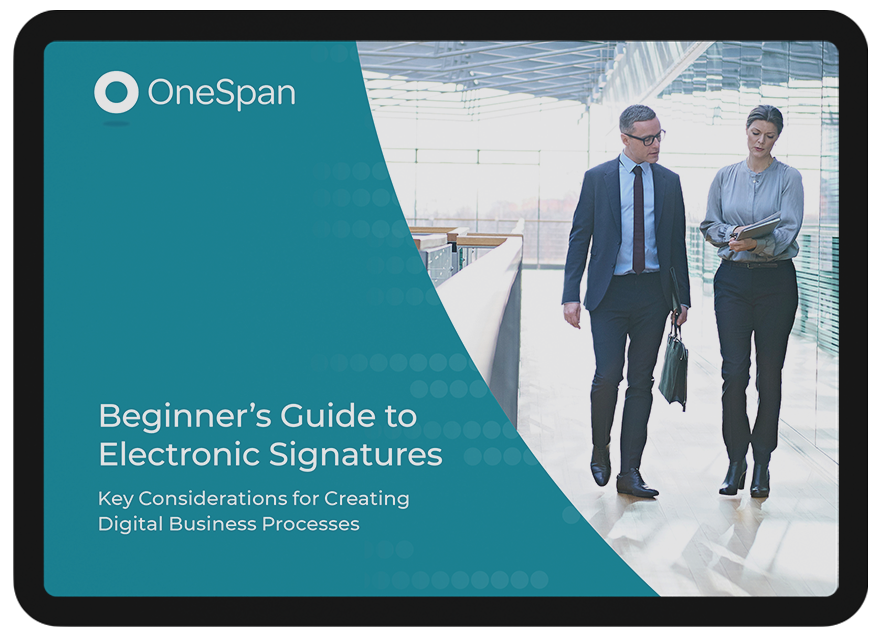 The Beginner's Guide to Electronic Signatures
This essential briefing introduces important legal concepts and key considerations when creating digital business processes with e-signatures.
Download Now