E‑Signatures and Remote Business: How to Get Started
We regularly host webcasts on topics such as business digitization, authentication, and digital identity verification best practices. If you missed our recent webcast, "E-Signatures and Remote Business: A 'How-to' for Getting Started" here is the 4-minute summary. The full presentation is available on-demand.
Organizations across the globe and in every industry faced similar challenges at the onset of the COVID-19 pandemic. To ensure businesses survived the crisis, efforts focused on accelerating digital transformation initiatives to facilitate and protect both customer- and employee-facing processes. Electronic signature solutions emerged as a key tool to ensure business continuity and facilitate remote interactions in the new normal. Both internal and external use cases can see benefits from increased automation and e-signature workflows applied across B2B, B2C, and B2E environments. In the first installment of this webinar series, we presented an overview of strategies and best practices for e-signature workflow optimization and provided a springboard for getting started with e-signatures within your organization. Here we'll provide an overview of the biggest takeaways from the webinar.
Top E-Signature Use Cases
A shift from the traditional ways of working was needed to adapt to the changing needs of employees, partners and customers. Some e-signature use cases became essential to this effort. In banking, lending, and insurance, digital account opening has taken center stage. By enabling customers to complete application processes via remote channels, institutions benefit from time and cost savings while improving customer experience and satisfaction levels. In healthcare, e-signatures facilitate the completion of patient onboarding and consent forms, and government agencies can benefit from the efficient delivery of essential services to citizens without interruption in times of crisis. Regardless of industry, ensuring your organization is equipped with the correct tools for remote workforce enablement is crucial for the success of your digitization projects.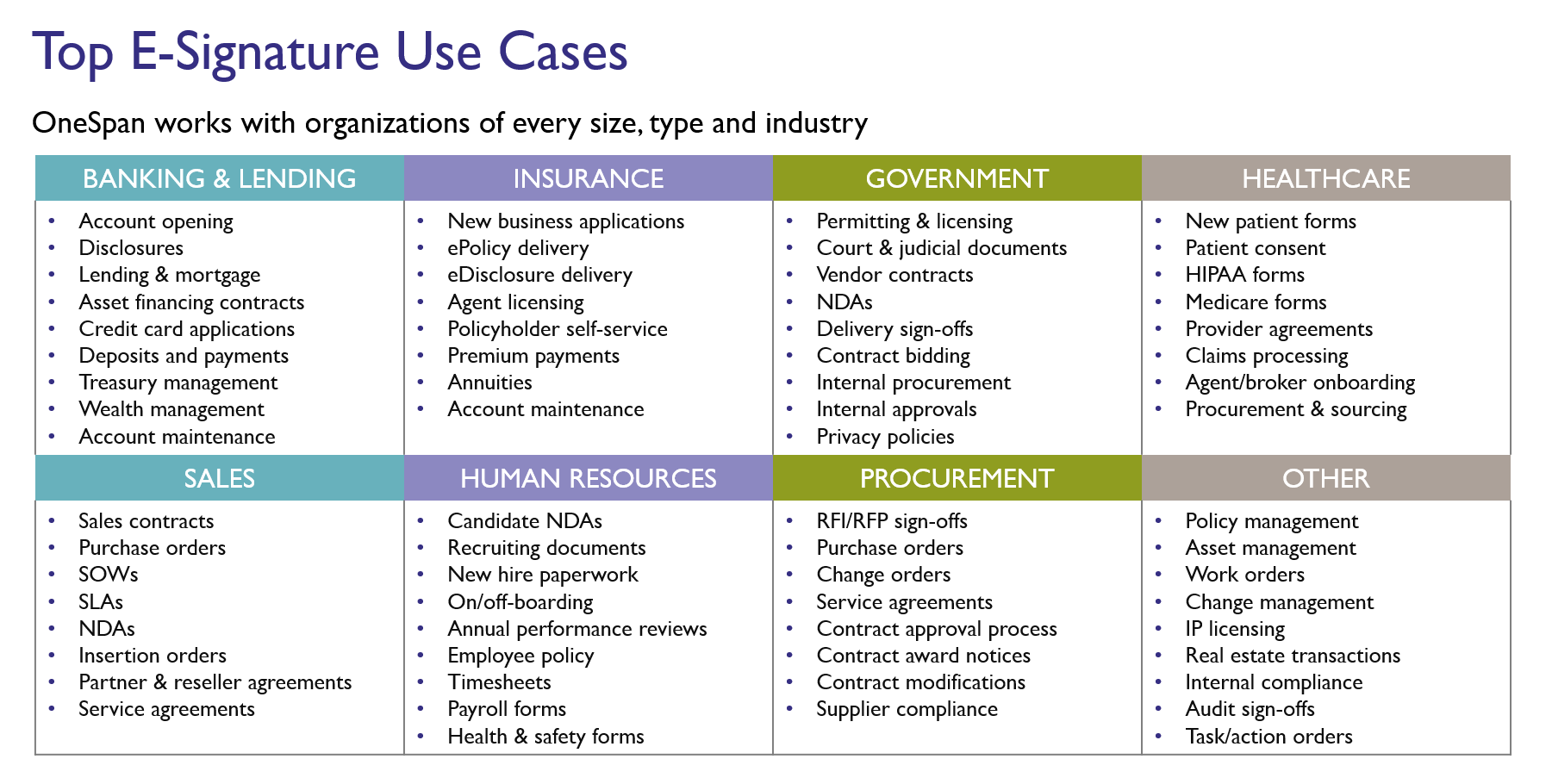 Here are a few real-world use cases that can help demonstrate how to get started with e-signatures across internal and external workflows. As you move from B2E to B2B and B2C use cases,  transaction volumes increase, so a key feature to look for when choosing an e-signature solution should be the ability to scale across the entire organization in anticipation of future digitization needs and to maximize value enterprise-wide.
HR Onboarding (B2E)
For HR departments, new employee onboarding is a slow, paper-heavy process full of back-and-forth messages, time spent waiting for signatures, and follow-ups. By adopting e-signatures, the onboarding process can be streamlined, eliminating cumbersome manual steps like document printing, filing, and scanning. Templates can be used to reduce time spent prepping document packages, and lengthy policy and code of conduct forms can all be digitized and easily archived. Bulk sending can further eliminate the need to create and send separate transactions individually to new employees, and the OneSpan Sign dashboard enables the tracking of transactions in progress. This ensures an orderly progression through the workflow and aids in the task of managing multiple workflows at once.
Sales Contracts (B2B)
Administrative tasks and endless paperwork bog down your salesforce, tying them up in lengthy sales cycles that take time away from prospecting new customers or focusing on value-added customer relationship activities. Automating the e-signature process and using layouts, pre-set templates, and data capture options like radio buttons, drop-down lists, and text blocks, can all help eliminate steps and save time in the preparation of frequently used sales contracts. Integrations with Salesforce and Microsoft Dynamics 365 further help sales teams complete and send sales contracts directly through these systems to streamline the paperless experience.
Wealth Management (B2C)
Advisors and customers can become frustrated with manual paper-based processes that are inconvenient to complete in a post-pandemic reality. To enable you to continue to deliver personalized financial services via remote channels, e-signatures cut down on document errors, missing data or signatures, and overall poor customer experience. Convenient mobile signing from anywhere creates a secure transaction accessed using authentication methods, like a security code sent via SMS or a Q&A challenge that can be individually set for each customer. Digital audit trails further demonstrate compliance by showing every step taken during the signing process, and digital signatures guarantee the integrity of the e-signed document.
Conclusion
When starting out with e-signatures, keep the big picture in mind with an eye to the future. For decision-makers, once the value of e-signing is recognized in one area, you'll want to extend the ability to electronically sign documents to other departments for maximum ROI and efficiency gains.  
This webinar was part 1 in the series "Building for the Future: E-Signatures Pave the Way for Digital Transformation". Read parts 2 and 3 for more on how esign can transform remote business.
For more eSignature use cases across B2E, B2B, and B2C environments including live demos, please watch the recording of our webinar, "E-Signatures and Remote Business: A 'How-to' for Getting Started." For more on how OneSpan Sign can support digitization projects, please read our Beginner's Guide to Electronic Signatures and download the E-Signature Readiness Checklist to determine the best way to get started with e-signatures for your organization.