How to Optimize E-Signatures in your Digital Agreement Processes – Electronic Signature Use Case Refresher
We regularly host webcasts to share best practices for digitizing remote business processes. If you missed our recent webcast, "How to Optimize the Value of E-Signatures in your Digital Agreement Processes" here is the 4-minute summary. The full presentation is available on-demand.
How can I ensure my business survives and meets the changing demands of an increasingly remote world? A not-uncommon question organizations everywhere had to consider as the pandemic dictated new habits and professional realities that are here to stay. We are now in the age of the virtual everything - one where we continue to  limit in-person meetings, and strive to keep remote units functioning cohesively. Employees, partners and customers are all looking for easy and efficient methods to continue to conduct business and daily activities in a safe and secure manner.
Fundamental in the digital transformation toolbox of any organization, regardless of its size or industry, is an electronic signature solution. Automated workflows streamline the process to sign documents, meaning less energy is wasted processing errors, waiting for approvals, and handling physical documents, leaving more time to deliver optimal customer and employee experiences. Both internal and external use cases  benefit from e-signatures across B2B, B2C, and B2E environments.  
In the first installment of this webinar series, we presented an overview of strategies and best practices for optimizing your digital agreement processes and provide a springboard for getting started with e-signatures within your organization. Here are the paperless signing process essentials. 
Top E-Signature Use Cases
We're shifting our traditional ways of working to adapt to the changing needs of our employees, partners and customers. In banking, lending, and insurance, digital account opening has taken center stage. By enabling customers to complete application processes via remote channels, financial institutions benefit from time and cost savings to processes, such as loan applications, all while improving customer experience and satisfaction levels. In healthcare, e-signatures facilitate the completion of patient onboarding and consent forms, and government agencies benefit from the efficient delivery of essential services to citizens without interruption in times of crisis.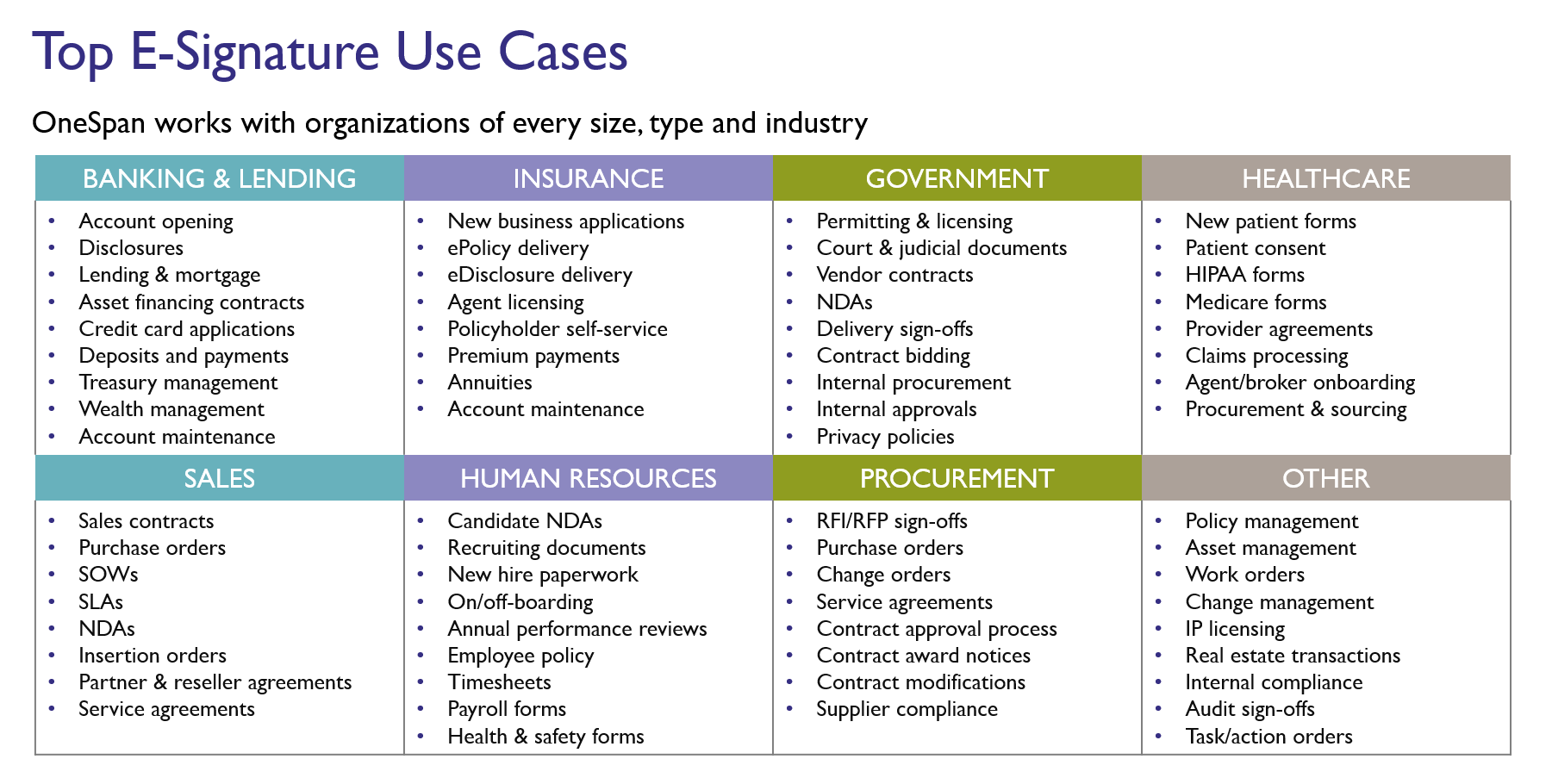 Here are a few real-world use cases that can help demonstrate how to get started with e-signatures across internal and external workflows. No matter your initial use case, always keep the big picture in mind. Any e-signature solution you choose should be scalable across the entire organization, so you can anticipate future digitization needs and maximize the adoption value of e-signatures enterprise-wide. 
HR Onboarding (B2E)
Creating a memorable experience for new employees is critical for long-term retention, loyalty, and workplace satisfaction. For HR departments, new employee onboarding is a slow, paper-heavy process necessitating frequent follow-ups, time spent waiting for signatures, and a repetitive cycle of printing, scanning and archiving. By adopting e-signatures, your organization can automate and streamline the onboarding process, eliminating cumbersome manual steps and reducing errors due to lost or misplaced documentation. Templates can be used to decrease the time spent prepping document packages, and lengthy policy and code of conduct forms can all be digitized and easily archived. Bulk sending of electronic documents can further eliminate the need to create and send separate transactions individually to new employees. For example,  the OneSpan Sign dashboard enables senders  to track the status of all transactions  in progress. This ensures an orderly progression through the workflow and aids in the task of managing multiple transactions at once, increasing the overall productivity level of  HR teams.
Vendor Agreements (B2B)
Vendor agreements are a time-sensitive process, necessitating collaboration across internal departments and external parties. With the potential for multiple pain-points and a high level of internal controls, you want to ensure the process will meet your corporate standards and hold up when under scrutiny or in an audit. E-Signatures help accelerate the time-to-contract process, simplifying complex document workflows using features like group signing, which creates a predefined group of individual signers that can sign on behalf of the whole, or the ability to reassign signing privileges to the correct individual within an organization who has the appropriate signing authority. All electronic evidence is captured in a tamper-proof audit trail, making it easy for auditors and compliance officers to review the actions taken during the signing ceremony.  
Wealth Management (B2C)
Advisors and customers can become frustrated with manual paper document processes that are inconvenient to complete in a post-pandemic reality. To enable you to continue to deliver personalized financial services via remote channels, e-signatures can cut down on document errors, missing form data, and overall poor customer experience. Signing on a mobile device allows customers to sign easily and conveniently from anywhere, on any device, never having to set foot in a branch. Transactions can be secured using different levels of authentication tied to each action, such as a one-time passcode sent by SMS or a Q&A challenge that can be individually set for each customer depending on the nature of their relationship with the institution. Cutting down on arduous document preparation time and management frees advisors to focus on more value-added activities like fostering the essential relationships with clients to continue to deliver a trusted experience.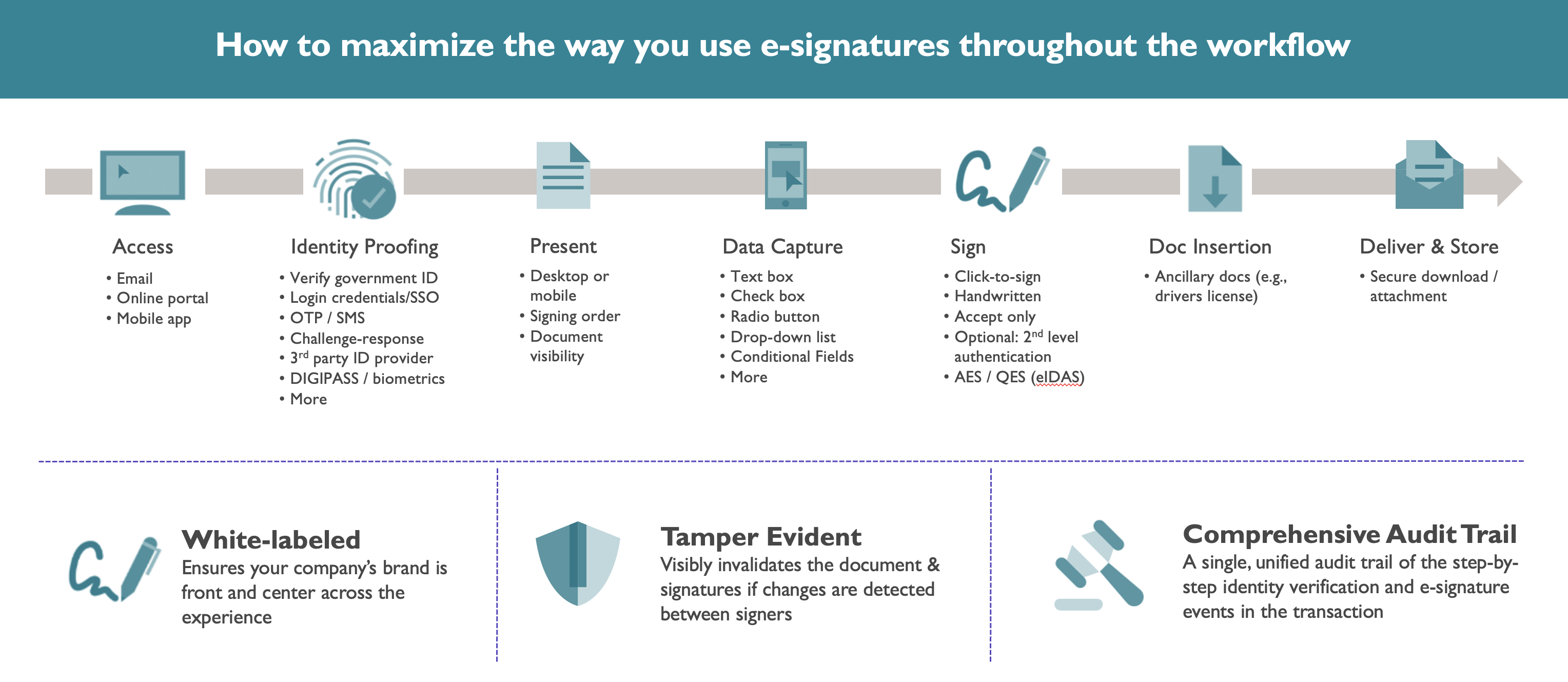 Conclusion
Signing is ubiquitous; it's everywhere within your organization. Wherever you choose to get started with e-signature software, once the advantages of e-signing over handwritten signatures are recognized in one area, you'll want to extend the benefits to other use cases and departments for maximum ROI . With secure and trusted transactions, the result is a more seamless, user-friendly experience for customers, partners, and employees that will drive higher completion rates and efficiency gains throughout each stage of your digital agreement processes. 
Already using e-signatures within your organization and want to know where to go from here? This webinar was part 1 in the series "E-Signatures and Digital Agreement Processes". Read parts 2 and 3 for more on how e-signing can transform remote business.
For more eSignature use cases across B2E, B2B, and B2C environments including live demos, please watch the recording of our webinar, "How to Optimize the Value of E-Signatures in your Digital Agreement Processes". For more on how OneSpan Sign can support digitization projects, please read our Beginner's Guide to Electronic Signatures and download the E-Signature Readiness Checklist to determine the best way to get started with e-signatures for your organization.