How to Better Engage Customers Digitally using Virtual Mediated Agreements and Video Collaboration Tools
We regularly host webcasts sharing best practices for digitizing remote business processes. If you missed our recent webcast "How to Balance the Need for Human Intervention in your Digital Agreement Processes", here is the 4-minute summary. The full presentation is available on-demand. 
We are fully immersed in the "anywhere economy". Consumer expectations now demand convenient, secure, remote experiences that allow them to engage with organizations at any time, from any device, and with as much or as little assistance as they need.  
For forward-thinking decision makers, this presents a unique opportunity. How can we create personalized, high-touch experiences for consumers who prefer virtual interactions – without losing the human touch? The answer lies in combining the value of human and digital assistance functionality in your workflow.  
In the second installment of this 3-part webinar series, we share the top solution criteria for modernizing your digital agreements so you can humanize how you interact with customers via virtual channels.  
Consumer Preferences Have Shifted 
All industries are looking to offer services that keep up with consumer demand for remote digital experiences. Across all age-groups, the rising comfort level  with digital tools and technology means that there is a growing desire to interact with companies via video using laptops or iOS and Android mobile devices while conveniently at home or from anywhere they choose.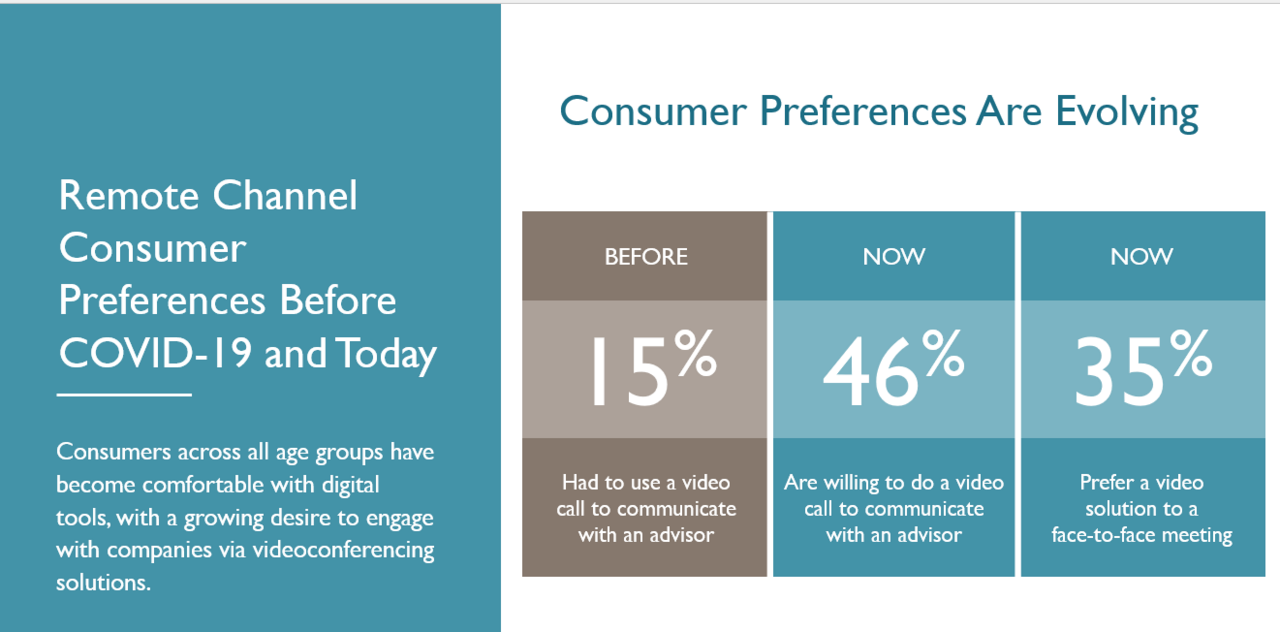 Accenture, "2020 Accenture Global Banking Consumer Study: Making Digital Banking More Human", 2020
Of course, these conveniences also present new challenges; the need to correctly verify you customer's identity remotely is paramount to ensuring you engage with the appropriate individual for the transaction. In addition, consumers still value the ability to reach out for human help during remote processes if an interaction is especially complex or high-value. 
Blending both digital and human experiences through multiple touchpoints therefore becomes extremely advantageous and can be a valuable differentiator. By offering a high-quality, highly engaging customer experience that simultaneously facilitates the job of employees, the concept of human vs digital instead is envisioned as a holistic approach that combines both human and digital interactions. 
What Are the Benefits of the Human-digital Hybrid Model? 
Creating a human-digital hybrid process provides significant value to all parties, including the service provider, team members, and the customer: 
For the Organization: Besides increases in productivity and efficiency, organizations also gain the ability to scale and compete across use cases via digital channels. This drives differentiation and innovation and the opportunity to connect with and deeply engage more customers with high-touch, highly personalized interactions. 
 
For the Employee: Advisors can build and strengthen their customer base and answer questions in real-time. Increased responsiveness helps drive new business and frees up more time to focus on the customer relationship. Back-and-forth communications are reduced, as are the risks of missing or incorrect data capture. 
 
For the Customer:  Clients get an elevated experience – convenient, flexible, attuned to their needs and comfort level. High levels of personalization contribute to a greater perception of value from your organization and its services in the eyes of customers. Clarifications and questions can be addressed in real-time and complex agreements can be completed together onscreen.  
Assessing your Options: How to Choose a Video-Based E-Signature Solution 
Not all video collaboration software is created equal. Some may offer little more than messaging, file sharing, and video conferencing software. While many others aim to re-create the face-to-face in-person signing experience virtually, finding the correct solution that combines both a seamless and secure user experience can be a challenge. Moreover, a robust collaboration platform requires more than screensharing and video calls or video meetings. 
So, what are the must-haves when weighing options for a virtual conferencing platform that elevates your digital agreements and injects human intervention into your virtual processes? Here are some elements to consider:  
Security: This is the most critical element to keep in mind when engaging with customers remotely. Your solution should allow for a wide range of identity verification and authentication options to minimize risk and ensure you're interacting with the correct individual. No unauthorized persons should ever be able to gain access to the transaction signing ceremony or sign on behalf of others. 
High Level of Control: Only share what needs to be shared. A virtual signing session allows you to explain, guide, review, and sign agreements in real-time with your customers. The host leading the session should have the ability to restrict any content not relevant to the agreement being put forth for signature. This ensures web browser tabs, emails, or other potentially sensitive documents stored on your desktop are not accessible or accidentally shared with the other party while passing over control in the course of the signing ceremony. 
Compliance: Highly regulated industries like financial services, insurance, and government require strict compliance measures. Electronic evidence summaries maintain the integrity of an e-signed document and can be accurately reproduced to provide evidence in a court of law if a legal dispute ever arises. Verify that accurate attribution of the data is captured in the audit trail, from each user's IP address, geolocation of the signers, and correct signing order to safeguard compliance. 
Ease of Use: Time is of the essence. Your solution should be quick and intuitive, so customers don't waste time toggling between apps and downloads with separate e-signature, videoconferencing, and co-browsing features. A video-based solution can help facilitate the speed and completion of digital agreements by providing invaluable assistance when walking customers through complex transactions or onboarding new clients. This high-value differentiator can elevate your customer experience in a highly personalized manner.  
Conclusion
Virtually mediated agreements can help humanize your remote processes and allow your business to keep up with the changing pace of consumer preferences and behaviors. A seamlessly integrated solution combining e-signatures, videoconferencing, and co-browsing features in a secure and easy-to-use platform can put your organization at the forefront of innovative customer experience, create invaluable time-saving efficiencies for your employees, and serve as an important differentiator.  
Ready to expand your e-signature projects to other lines of business and build towards a Center of Excellence? This webinar was part 2 in the series "E-Signatures and Digital Agreement Processes". Read part 1 and part 3 for more on how e-signing can transform remote business.