Finance a Purchase in 10 Minutes: Buy Way's Digital Transformation Example
Buy Way, the largest Belgian fintech and retail finance company, has been leading the way in transforming the customer experience in consumer finance. With 25 years of experience providing consumer credit at retail point-of-sale (POS), Buy Way partners with more than 550 retail stores in Belgium and Luxembourg. The Buy Way story stands as one of the prime examples of digital transformation success in retail finance. As part of a multi-year digital transformation, the company has also developed the online channel to make financing available to consumers where and when they need it.
Having invested over €10M between 2017 and 2019 to modernize their IT infrastructure with digital technologies, Buy Way has transformed their business as a result moving to a completely paperless finance process.
Peter Goossens, Buy Way's Operating Director notes, "We have automated 70% of loan processing which now goes to straight-through processing without human intervention, allowing for cost reductions, among other benefits. But most importantly, our contracts are 100% compliant with no more missing pages or signatures."
In addition, they cut processing time from 20 days to 10 minutes and reduced customer abandonment to less than 1% with electronic signatures.
This rapid and successful digital transformation was the topic of discussion in our webinar, The Modernization of the Retail Finance Industry. To learn how Buy Way did it, read on for a 5-minute summary of the discussion. You can hear the full version of Buy Way's presentation in this on-demand webinar or this video interview.
How Buy Way Transformed their Business with New Technologies
Buy Way's digital transformation strategy began in 2017 at a time when clients would spend an average of 45 minutes with the store manager for everything required to complete the application and get a credit decision. This business process included completing the paper application, faxing it over to Buy Way's head office, and signing the approved application in ink.
Once the consumer left the store with their purchase, an additional 20 days was needed to formally close the financing contract. The signed contract had to be mailed to Buy Way's head office where a checklist of more than 100 items had to be verified by the Buy Way compliance team. At any point, the contract could be sent back to the store to amend missing items such as spelling of names, missing pages, or signatures. In some cases, a contract could be nullified depending on the missing item, which represented a significant cost to both sides as the consumer would have to make a trip back to the store to sign an updated contract. This traditional business workflow required key digital solutions to update the business model and ensure customer satisfaction.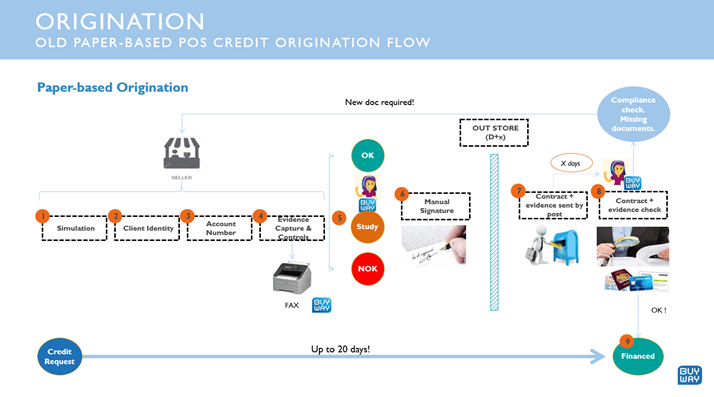 After implementing their new digital platform to streamline processes through capabilities such as electronic signature, Buy Way cut the process to 10 minutes. The benefits of digital transformation were a significant win for both parties, enhancing the customer experience and meeting customer expectations while also reducing errors, risks, and inefficiencies for Buy Way.
The digitization process and digital transformation initiative involved a lot of technology. Buy Way provided identity card readers to some of the stores, which reduced the time consumers spent at the counter. Where this was not feasible, Buy Way provided stores with tablets, which allowed for pictures of the consumers' identification cards to be taken. The images were then verified using Optical Character Recognition (OCR) technology to facilitate the data transfer. This allowed for automatic processing, avoiding the need for humans to perform the error-prone task of manual verification.
Electronic signatures enabled consumers to sign in real-time with the tap of a button on their smartphones. The type of e-signature used was an Advanced Electronic Signature, which did not require the consumer to have a personal digital certificate issued by a central Certificate Authority, a factor that further improved ease of use.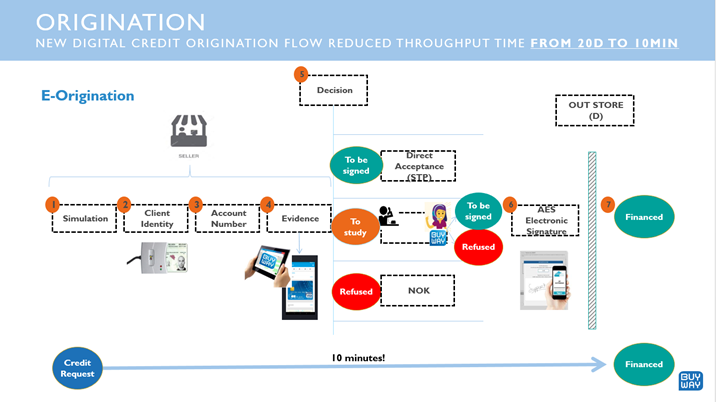 Change Management: Building Omnichannel Capabilities for Business Growth
In an increasingly competitive retail finance industry, customer acquisition and retention relies heavily on consumers being able to have access to financing through a variety of channels. Buy Way recognised the importance of offering e-signatures as part of their customer-centric digital strategy for both in-store and online transactions as a way to enhance the experience of consumers, no matter what channel they prefer to use. This helped guide their digital transformation efforts.
In 2017, POS represented 95% of Buy Way's new customer acquisition. Only 5% of customers came in through the digital channel. Most interactions during the customer lifecycle happened via call centres or emails, with little automation or self-servicing. This presented an obstacle to growth.
Flash forward to present day, where digital is now the primary channel for Buy Way. With a proven transformation process, the company continues to adapt to the changing retail landscape by placing greater emphasis on digital, but also by strengthening POS capabilities through improved KYC, a simplified signing process, and enhanced customer support and interaction. Combined, these enhancements ensure customer acquisition and retention, while minimizing credit application abandonment rates to less than 1%.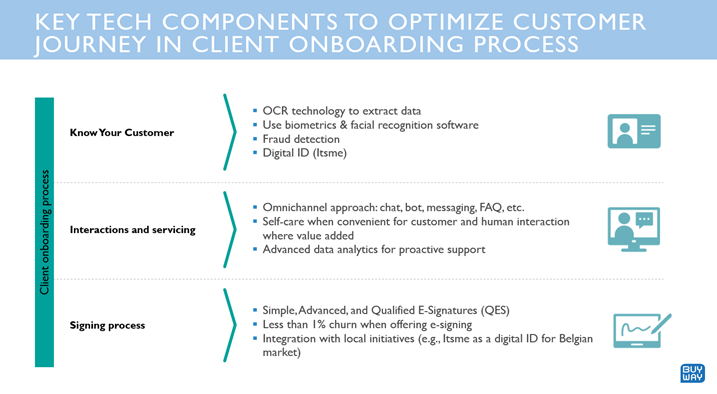 Legal & Compliance Considerations for Your Business Goals
One of the most significant digital business hurdles to overcome when modernizing the retail finance process is legal compliance.
"Determining the type of e-signature to use was a big decision internally," says Goossens.
In 2017, facing contradictory legal opinions, Buy Way took a leap of faith and integrated the OneSpan Sign Advanced E-Signature into their credit underwriting process.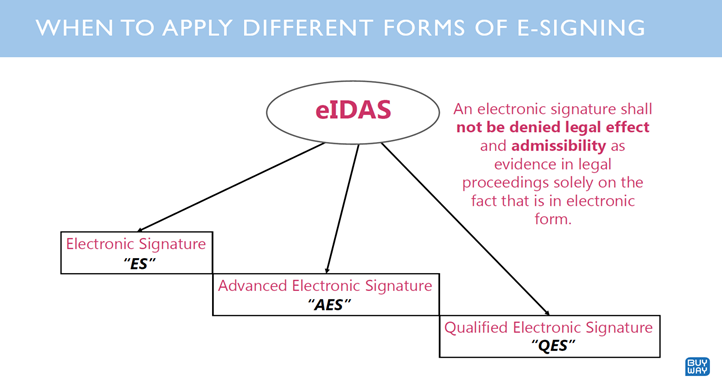 Unlike the Qualified E-Signature, the Advanced E-Signature does not need a personal digital certificate to prove the consumer's identity. They are authenticated with another verification method, such as a one-time passcode sent via SMS to the consumer's phone.
A Qualified E-Signature has a higher level of identity assurance because the consumer's identity is confirmed by a 3rd party with whom the consumer must meet in person to see their government-issued ID. But this poses a significant hurdle to the customer who has to book an appointment to get a digital certificate on a USB key, and then bring it to the retail store or have it with them when they shop online.
The transition to using Advanced E-Signature technology was the best decision for Buy Way. Electronic signatures were deemed legally effective and admissible in legal proceedings, giving way for continued adoption by the industry. Buy Way was able to meet all compliance standards consistently, which improved the validity of all digitally signed contracts. And when the pandemic hit, Buy Way was already well positioned as the market saw massive adoption of digital signatures.
Different cases may require different e-signature methods. Legality, cost, and customer experience are some of the factors to consider when choosing the right digital tools. The OneSpan eSignature Legality Guide can help you determine which is right for you.
Digital Transformation Examples: The Power of Integrating with OneSpan Sign
By integrating with OneSpan Sign, Buy Way has been able to position itself as an industry leader in digital transformation, launching a channel-agnostic, customer-focused loan origination platform that has propelled forward the retail finance sector. What guided them along the way was keeping themselves accountable to ensuring the platform achieved three things: greater convenience for customers, omnichannel capabilities, and compliance.
Buy Way continues to pave the way for continued innovation in the digital age by expanding e-signatures to new use cases, and finding new benefits and efficiencies. This includes extending the use of e-signatures to B2E (e.g., internal policies) and B2B (e.g., NDAs with vendors).