The Rise of Human‑Assisted Remote Banking Services
We have entered the "remote-first" era where digital banking has become the primary methods to apply for new bank accounts and conduct financial transactions. But even with all of the advances in digital banking, consumers still expect more. Friction happens early and too often in the process. And as banking activities get more complex, research from the Aite Group has shown that consumers tend to turn to channels where they can get human help and assistance. But how can that be achieved in a remote, non-face-to-face world?
Consumer needs are changing
Banking historically involved a human element. "Digital" has taken away the human touch from banking experiences. Just in the last year, we've seen consumer habits and behaviors change and evolve, and the financial services industry is trying to figure out how to serve consumer needs in our new reality – both in the short- and long-term. They are addressing questions like:
What does the future of in-person banking look like?
How do we reimagine the branch experience and incorporate touchless technologies and processes?
What's the best way to verify identities of consumers who are increasingly remote?
What's the role of banking advisors and tellers in remote banking channels?
Human-digital blended experiences
Despite a surge in digital banking, banks still believe customers value the human connection in financial services. How this will look like will be much different in the coming years. High-value, high-risk, and complex transactions and agreements (think account opening, wealth management, insurance, and automobile financing) will continue to require human interaction and assistance. That's why a human-digital hybrid approach to banking will be an important combination.
U.S. Bank's EVP and Consumer Chief Digital Officer explained to Banking Dive that, "...customers will continue to use digital, but when that moment is there, when they need a human, we'll be able to connect them to a human being," he said. "That's our approach in terms of how we're thinking about digital and that human connection."
Virtual customer engagement: the next frontier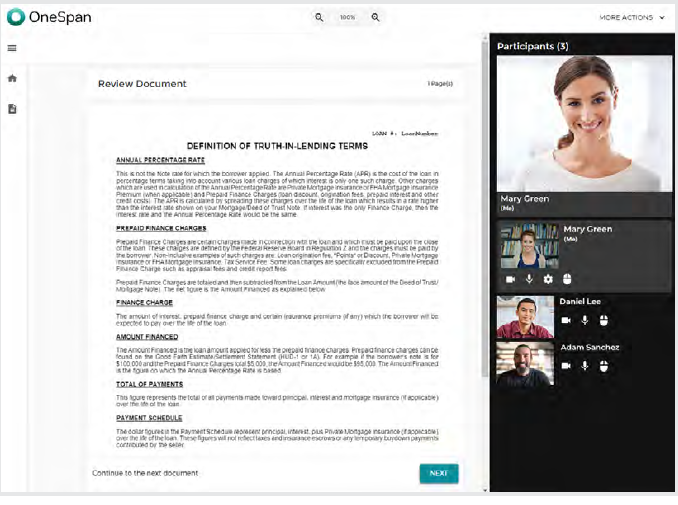 Choppy digital account opening experiences can lead to abandonment rates over 50%. With missing and incorrect information (e.g., Not in Good Order documents) and back‑and‑forth phone and email conversations between advisors and customers, it can sometimes take days to open an account (in a world where it should take minutes).
That's why we developed the OneSpan Virtual Room. We believe that banks and other financial institutions that can deliver remote solutions with a personal, human touch will win in the marketplace. That's why our solution was designed to deliver secure, video-enabled customer interactions to get high-value financial agreements electronically signed in real-time. Virtual Room delivers e-signature, videoconferencing, identity proofing, guided workflow, recording, and audit trail capabilities – all in a single solution.
The value of human-assisted e-signatures for high-value agreements
We believe that bringing the human element to remote agreement processes can help recreate the power of the face-to-face meeting, and as a result, improve digital customer engagement and drive higher completion rates. Why? Because banks get the opportunity to replicate the in-person experience and walk customers through lengthy agreements and product applications, verify their identity, and collect signatures and approvals – as if they were in-person with their customers.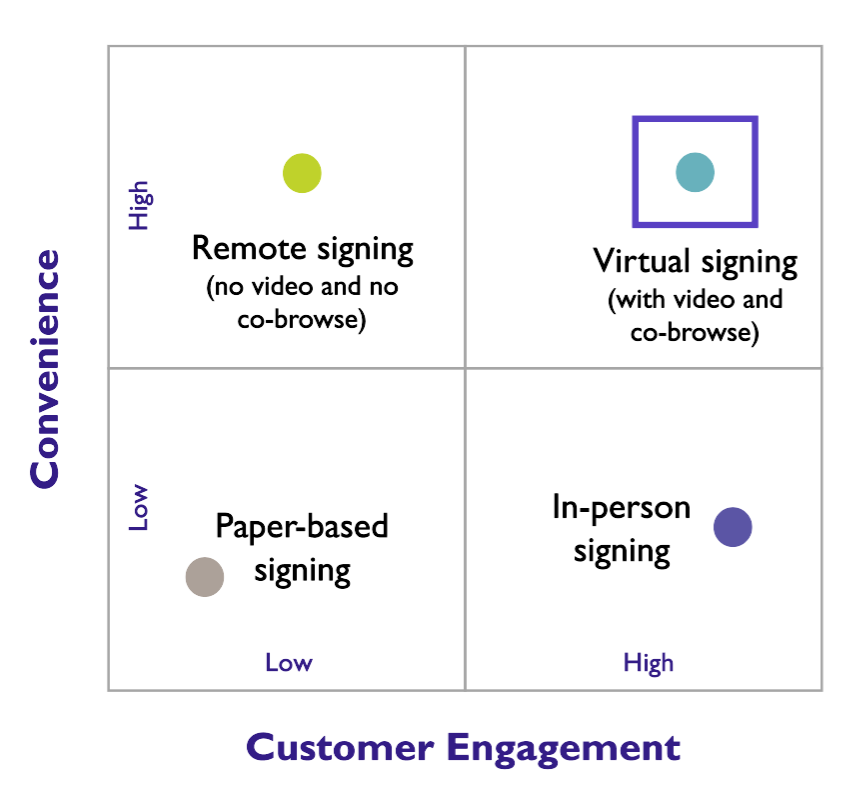 Delivering better digital experiences by adding remote capabilities like human-assisted, virtual signing can help banks and insurers engage with customers and provide them with a "white glove" experience to address their questions in real‑time. It won't be suitable for all e‑signature use cases, but it is an opportunity for financial institutions to maintain the human touch and strengthen customer relationships in the absence of in-person, face-to-face channels.
It's a win-win for all parties involved: the consumer gets the financial help they need quickly, conveniently, and safely and the bank gets access to a new channel to securely engage with customers and win them over — virtually.
OneSpan is here to ensure that banks and other financial institutions can not only address immediate customer acquisition and retention needs, but emerge stronger and better enabled to tackle evolving consumer needs. Learn more about Virtual Room in the webinar presented by OneSpan and Aite Group, The Rise of Human-Assisted Remote Banking Services.
Learn More About Virtual Room