E-Signature Tips from IBM & the U.S. Joint Chiefs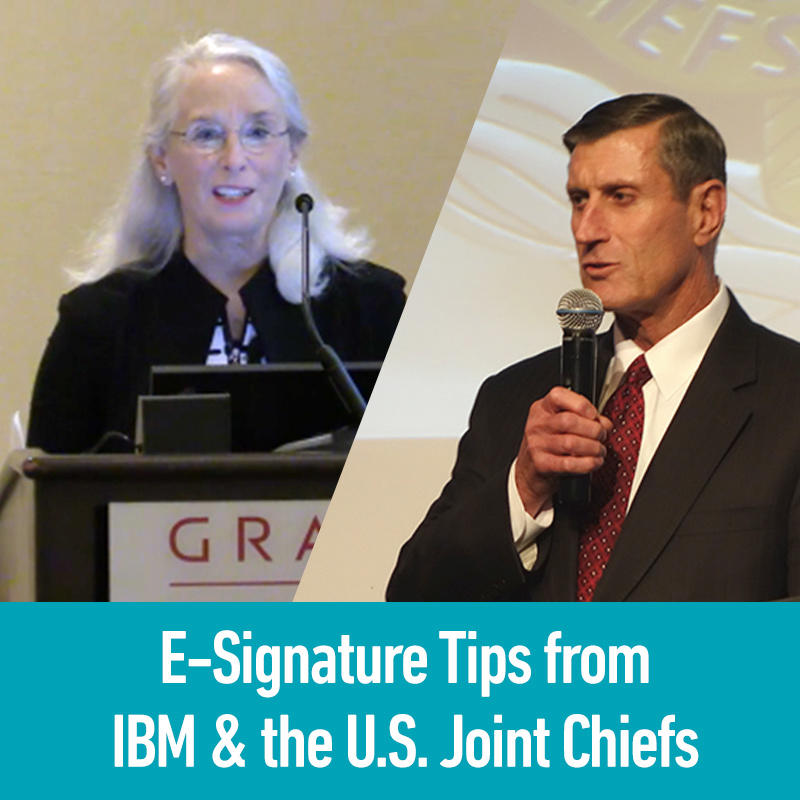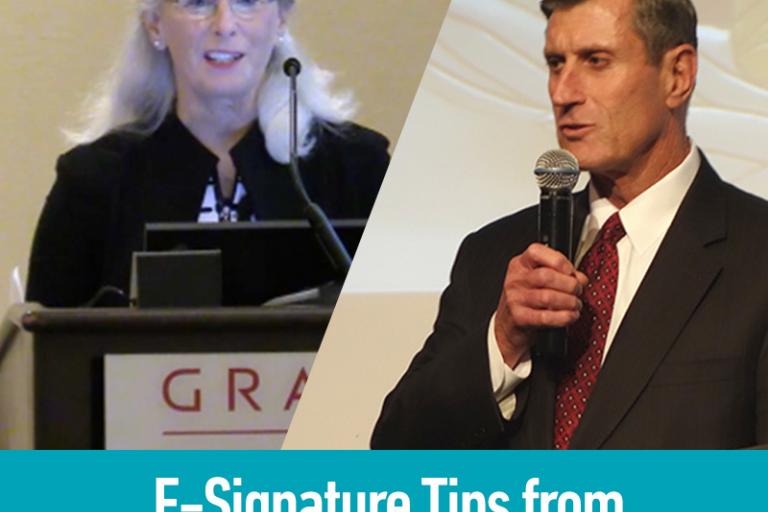 Senior leaders at IBM & the U.S. Joint Chiefs of Staff (JCS) shared tips for how to secure buy-in and increase adoption of e-signatures, during e-SignLive's annual user conference in Washington DC this September.
JCS
As the longest running deployment of e-signatures in U.S. government, the Joint Chiefs of Staff have been using e-SignLive since 1996 to speed up decision-making processes among its 30-member staff and the President of the United States. With thousands of documents making their way to the President's office for signing, security and non-repudiation was a priority, making it challenging to get the initial buy-in for change.
IBM
IBM is in the midst of one of the greatest business transformations in modern history. During her presentation, Anne Miller, an Executive Consultant with IBM, explained how the tech giant is fundamentally changing how they innovate and operate by leveraging digital technologies to make it easier for their customers to do business. For example, to simplify contracting, IBM has reduced the number of pages in contracts from 40 down to four pages, while enabling customers to quickly and conveniently sign contracts electronically using e-SignLive. But like JCS, they too faced some initial challenges convincing people to move away from the pen and paper signing method they were so comfortable using.
So how did the most security-conscious organization and largest technology brand in the world create the case for change and encourage adoption of e-signatures? 
Getting the Buy-In for Change
Articulating a clear and compelling value proposition for e-signatures and getting buy-in from key stakeholders, such as legal, compliance and security, are the first steps, according to Denis Savage, Comptroller (CFO) of the Joint Chiefs of Staff and Anne Miller of IBM. Once onboard, these stakeholders become advocates for your project, helping you to drive it forward, handle set-backs, and respond to nay-sayers. Bringing in e-signature experts from the vendor's side to answer stakeholders' questions was also key to securing buy-in at IBM, added Miller.
Addressing Security Concerns
Engaging IBM's Security and Compliance team early on in the process was essential for addressing security concerns at IBM, said Miller.  As key members of the pilot team, they led a detailed assessment of the technology to ensure it met IBM's high security standards. The Joint Chiefs of Staff's biggest requirement around security was ensuring that the e-signature solution used digital signature technology to secure and authenticate both the signature and contents of the signed document to ensure non-repudiation, said Savage. And because JCS's e-signature initiative began before the introduction of Common Access Cards (CAC) and Personal Identity Verification (PIV) smartcards at the Department of Defense, having a solution that enabled the staff to add their squiggly, cursive signature to the document was important for identifying the signer.
Handling Resistance from Users
Both Miller and Savage reiterated the need for a clear communications plan and champions to reassure users that the e-signing process is secure and results in non-repudiation (that is, the signer cannot effectively deny having applied their signature; in other words, the enforceability of the signed contract). Miller also emphasized the importance of making it as easy as possible for the change to occur. Adoption follows, she added, once your target audience both understands the capabilities and benefits of e-signatures, and when the experience is easy.
The Benefits Are Worth the Effort
While it's not always easy to get buy-in from key stakeholders to move to e-signatures and reassure users of the value, the benefits far outweigh the effort. Since deploying e-SignLive nearly 20 years ago, the U.S. Joint Chief of Staff have seen significant time and cost savings. For example, acquisition packages are now signed and returned in one month instead of 12 months, thereby giving valuable time back to staff. They estimate that it now costs them $700,000 in salaries to process acquisition packages instead of $7 million, and at a hard cost savings of $1 million.
IBM, on the other hand, has dramatically simplified its contracting process with clients, resulting in a faster, smoother client experience. IBM's Sr. VP of Sales, Colleen Arnold, adds, "The convenience of digitally signing IBM contacts on any device, combined with the work we've done to radically simplify our contracts, is a force multiplier for speed and the client experience."
To learn more about IBM's e-contracting use case, watch the Digital Transformation at IBM - An E-Contracting Success Story webcast. In it, Anne Miller provides additional context on how the IBM salesforce (equipped with iPads and a customized app) delights clients with an efficient, secure and paperless e-contracting process.