ISMG Survey on Remote Bank Account Opening: Customer Experience and Fraud Prevention Are Top of Mind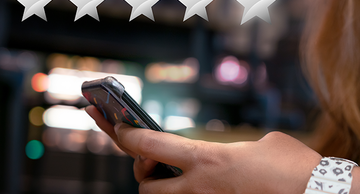 The digital revolution has completely shifted the way consumers want to access banking services from financial institutions. The decision of who to bank with has become about ease of doing business. Especially so for processes like account openings – which ironically are the first touchpoint for a new customer, and yet have traditionally been cumbersome and time consuming.   
In response, more banks and financial institutions (FIs) are offering a remote bank account opening process as part of their online and mobile banking channels. Whether a checking account, savings account, investment or other account, the number of accounts opened from smartphones is growing. Billions of dollars are being invested in digital challenger banks, which are focused on rapidly growing their customer base. Similarly, incumbent banks need to improve the digital customer experience in this area to attract new generations of customers who will drive growth.
Yet as the demand for digital account opening increases, banks and other FIs must also reduce fraud and losses related to application fraud, account takeover, and synthetic identities. The key is finding that critical balance between convenience and security — and continuously refining it. 
To capture the industry's top 2020 challenges, opportunities, and investment strategies relative to digital account opening, OneSpan ran a survey in partnership with Information Security Media Group (ISMG), the world's largest media organization devoted to information security and risk management. In this blog, we present the top findings. To read the full report, download The State of Digital Account Opening Transformation.
Remote Bank Account Opening: Industry Survey
Between Q4 2019 and Q1 2020, the ISMG survey generated more than 100 responses. Results reveal a banking industry in which account opening digital transformation continues to accelerate:
68% revealed this is an active initiative at their institution
65% will introduce new technology, from digital identity verification to e-signature
64% have increased budgets dedicated to these initiatives in 2020
When asked about the reasons for pursuing digital account opening, the responses were unequivocal – to improve the customer experience and reduce fraud. In addition to the 80% seeking to improve the customer experience and streamline the digital process for new applicants, 72% of respondents indicated that they also sought to cut down on incidents and losses related to fraud.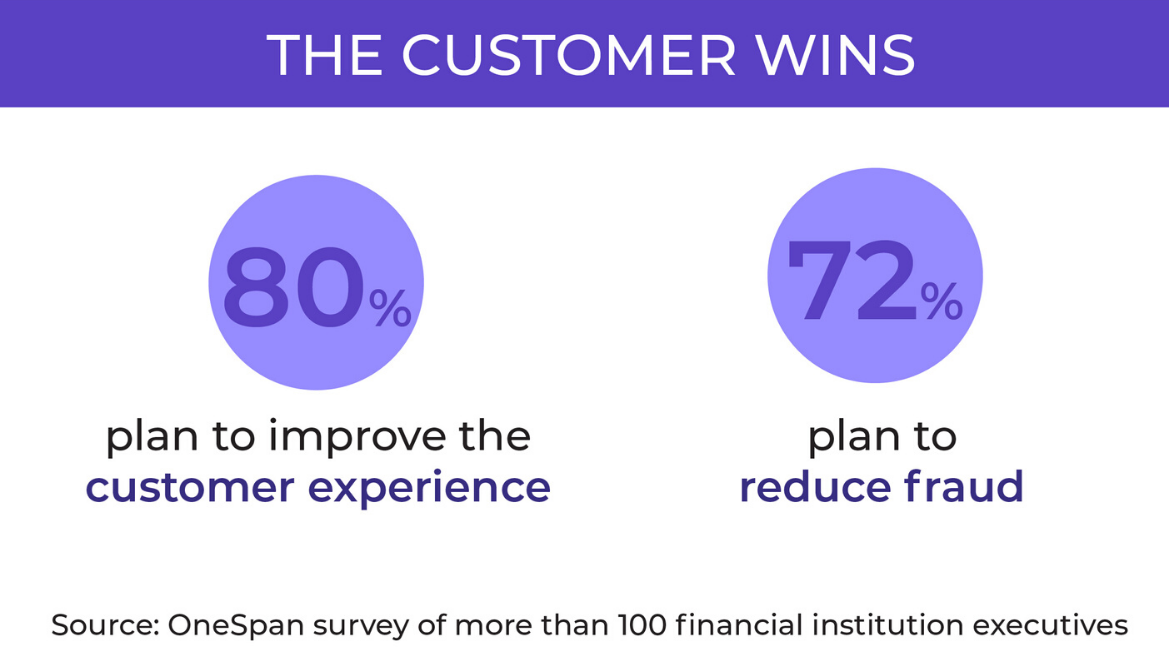 Three Levels of Digital Account Opening Maturity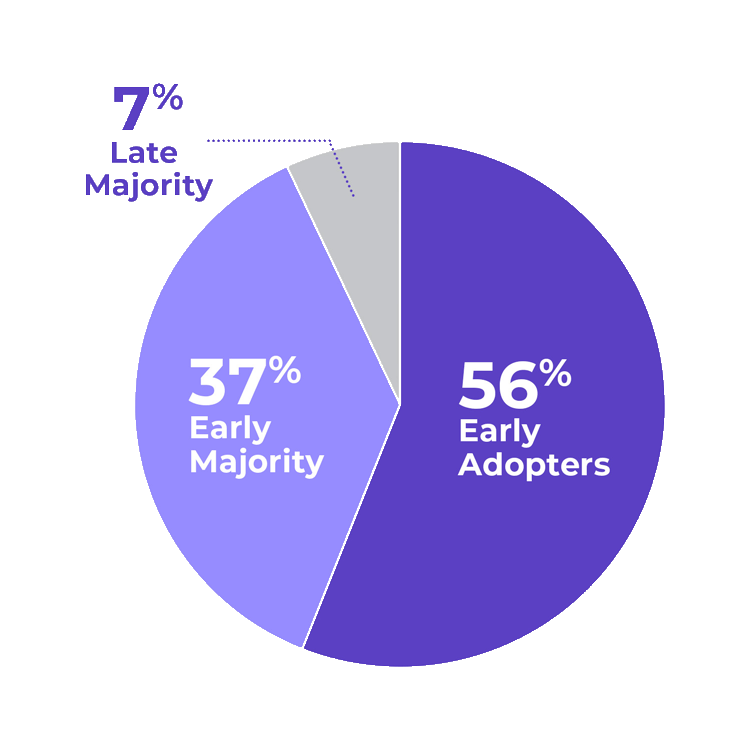 As part of our survey analysis, we see the market in three categories. Each is at a different stage in their digital account opening transformation:
56% are "Early Adopters" – FIs that have embraced digital account opening
37% are "Early Majority" – FIs that have begun the transformation
7% are "Late Majority" – FIs that have not yet started to offer digital account opening
Among other findings, early adopters stand out as embracing digital banking services: 56% of respondents say their account opening processes today are "completely convenient and 100% digital." When a new customer opens an account, the early adopters are embracing modern means to verify identity, including:
Early adopters also proactively prevent fraud, with 51% saying they do an excellent job onboarding and verifying digital identities and have few, if any, fraud incidents.
However, the story changes significantly for the early majority segment. For these FIs, 59% say their primary method for opening new bank accounts remains in person, at the branch. And 37% say applicants can start the account opening process online or via mobile, but then must come into a physical branch to verify their identity. This segment is also experiencing fraud during the digital account opening process between 6 – 25% of the time.
Finally, the late majority represents the 7% of respondents who can be described as behind the times. These FIs say customers must come into the branch for a 100% manual, paper-based account opening process. They are also among the 51% who say their digital account opening process is not secure and results in many fraud incidents.   
Digital Account Opening Investment Priorities
The most encouraging news from survey respondents is that 99% will have level or increased budgets dedicated to digital account opening in 2020.
The majority of survey respondents (72%) acknowledged the need to invest in remote account opening technology. Of these investments, banks expect to make primary investments in tools, training, and partnerships. Looking at tools, 65% of FIs plan to implement new technologies, including:
Other innovative solutions in which banks and FIs will invest include biometrics, behavioral biometrics, and facial comparison as part of digital identity verification, to further streamline the customer experience and help prevent fraud.
In closing, the entire banking relationship starts with the digital account opening experience, and designing a secure and easy mobile account opening process has become a top focus area to win the race to acquire new customers. Download The State of Digital Account Opening Transformation to compare your investment strategy against the latest data, learn where you stand among industry peers, and make the most informed decisions.