The Making Online Banking Initiation Legal and Easy (MOBILE) Act Is Now Federal Law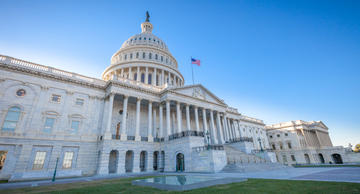 Federal legislation makes digital identity verification for onboarding financial customers legal in all 50 states
This past May, the Making Online Banking Initiation Legal and Easy (MOBILE) Act officially became law on May 24, 2018, authorizing a national standard for banks to scan and retain information from driver's licenses and identity cards in order to onboard customers online, via website or device.
The MOBILE Act was originally proposed in 2017 with bipartisan support. It allows financial institutions to fully deploy mobile technology that can make digital account openings across all states seamless and cost efficient. It also specifies that the digital image would then be destroyed after account opening, in order to optimize customer data security. As an additional security measure, section 213 of the MOBILE Act mandates an update to the system to confirm matches of names to social security numbers.
"The additional security this process could add for online account origination was a key selling point with the Equifax data breach fresh on everyone's minds," Scott Sargent, counsel in the law firm Baker Donelson's financial service practice, recently commented on AmericanBanker.com. 
Though digital banking and an digital account opening process has already been within best practice for financial institutions in recent years, the MOBILE Act officially overrules any potential state legislation that, up to this point, has not recognized digital images of identity documents as valid.
The MOBILE Act States:
"This bill authorizes a financial institution to record personal information from a scan, copy, or image of an individual's driver's license or personal identification card and store the information electronically when an individual initiates an online request to open an account or obtain a financial product. The financial institution may use the information for the purpose of verifying the authenticity of the driver's license or identification card, verifying the identity of the individual, or complying with legal requirements."
Fully Digital Account Opening with ID Verification & Electronic Signature
Today, many consumers want (and expect) the ability to open accounts online or using their mobile device – without stepping foot inside the branch. This first touchpoint with the applicant can have a profound impact not only on the likelihood of converting them into a customer but also on their ongoing perceptions of and relationship with the bank.
The MOBILE Act and the repeal of Dodd-Frank allows banks to create an entirely digital account opening process by harnessing the power of mobile to digitize the upfront identity verification process. This eliminates the need to visit the branch for in-person verification of government-issued ID documents. Some states already allowed banks to accept a scanned driver's license as proof of identity, but the Dodd-Frank repeal legalizes this practice at a federal level. From there, customers may fill out the necessary forms online or via mobile, and sign account opening documents using an electronic signature to finalize the process.
Electronic signatures may also play a role in verifying key customer information. Prospective clients must provide their name, date of birth, and Social Security Number when attempting to open an account. Upon doing so, the bank office must send this information through a program called Consent Based Social Security Number Verification (CSBV). A function of the Social Security Administration, the CSBV verifies the authenticity of the potential client's supplied credentials. Prior to the Dodd-Frank repeal, e-signatures were not able to initiate this process. The client would be forced to download, print, and sign the hard copy of the form. Then, they must scan and upload the form to their computer. Finally, they must then email the form to a third-party provider or upload to a third-party portal. With the Dodd-Frank Repeal, the CBSV Service is now directed to accept electronic signatures for this proves.
The CBSV process has long been an important step in defending against fraud attempts, and now with the Dodd-Frank Repeal, it can do so while also providing convenience and efficiency for the bank.
Automate account opening process with ID verification and e-signature from OneSpan on Vimeo.
Growing Your Digital and Mobile Channels
The recently passed MOBILE Act is a boon for both financial institutions and end users. The legislation:  
•    Enables and encourages financial institutions to meet their digital transformation goals
•    Makes the process safe with digital ID verification capabilities and other security measures
•    Reduces time, manual Know Your Customer (KYC) duties, and costs to financial institutions when onboarding new customers
•    Provides the convenient, on-demand experience that customers want and expect  
The Facts:
•    61% of people use their mobile phone to carry out banking activity [1]
•    77% of Americans have smartphones [2]
•    50 million consumers who are unbanked or underbanked use smartphones [3]
The MOBILE Act does not require any regulatory implementation. Banks can access this real-time electronic process directly or through vendors.
Learn how OneSpan, with the support of identity verification partners like Mitek, can help your bank or financial institution make bold advances in digital account opening and onboarding initiatives - and keep every step in the digital journey seamless and secure.
References:
1.    MEF Mobile Money Report; Mobile Ecosystem Forum. February 5, 2018
2.    Mobile Fact Sheet; Pew Research Center. January 30, 2017
3.    Consumers and Mobile Financial Services 2015; The Federal Reserve System. March 2015
 
Extracts of this blog post were originally published on the Mitek identity verification blog.
About the Author:
Mike is a founding member of Mitek's Identity business and is currently responsible for revenue and growth in North America. Prior to Mitek, Mike lead business development and growth efforts for leading SaaS companies like Ariba, Adobe, and Arena Solutions. He holds a B.S., Architectural Engineering from California Polytechnic State University-San Luis Obispo.