Supporting the U.S. Government's Digital Transformation for 20 Years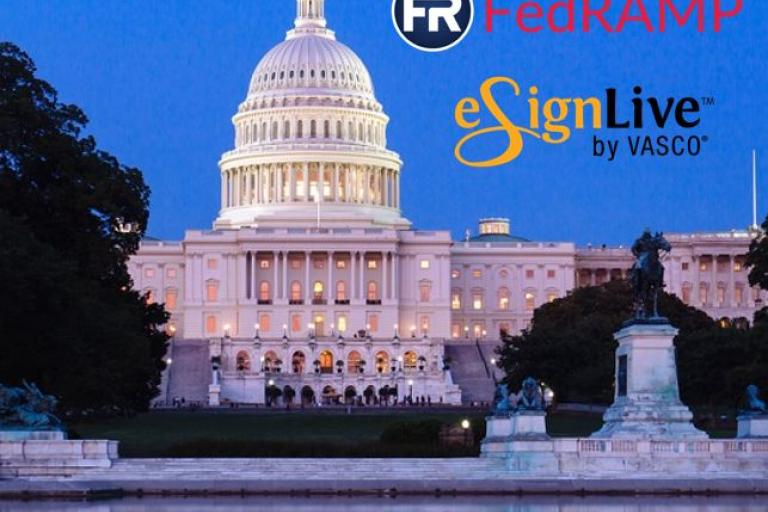 This year marks eSignLive's 20th year delivering e-signature solutions to the U.S. Federal Government. Not many software organizations today can claim such a significant achievement and milestone. Our very first government customer, the US Joint Chiefs of Staff (JCS) in 1997, is still an eSignLive customer today, and we're proud of our track record in providing the longest standing implementation of eSignatures in the U.S. government.
DocuSign's recent FedRAMP announcement included a claim by the company's CEO that they are the first and only FedRAMP-authorized e-signature and DTM provider in the marketplace. While this is an important step for them to enter the federal market, we wanted to set the record straight. eSignLive by VASCO became the first e-signature solution granted the Authority to Operate (ATO) under FedRAMP in 2016.
We partner with Cloud Services Provider, Project Hosts, to deliver cloud-based access to eSignLive in a secure, FedRAMP compliant cloud – hosted on Microsoft's world-class Azure cloud infrastructure – for all levels of government. Find eSignLive in the FedRAMP Marketplace.
A 20 Year Track Record in Federal Government
eSignLive has been supporting government organizations in their digitization efforts for over 20 years. In fact, government was one of the first industries that led the digital charge and adopted e-signatures at a time when the technology was still unfamiliar. Today, the use of e-signature has skyrocketed with the rise of the cloud and mobile offerings, and it is recognized as a core technology that enables the creation and delivery of digital transactions. We continue to partner with government as their needs and demands have evolved over the years – including providing support for robust authentication methods such as signing with government-issued Common Access Cards (CAC), PIV smart cards and derived credentials (watch video).
Since the first implementation of e-signatures in U.S. government in 1997, eSignLive has helped hundreds of government agencies across the Department of Defense (DoD), federal government, and state and local government digitize and automate their manual, paper-based processes in support of their digital transformation strategies.
Today, our proven FedRAMP-authorized solution meets the highest cloud security requirements and is in use by government organizations such as the U.S. Census Bureau, U.S. Small Business Administration (SBA), USDA Natural Resources Conservation Service (NRCS), and GSA, who selected eSignLive because of its long-standing partnership with the U.S. government, and its robust audit, security and authentication features. The FedRAMP Program Management Office (PMO) itself also uses eSignLive for internal signing authorizations.
Moreover, our solution and its compliance with FedRAMP security requirements extends to connectors for third-party apps such as Salesforce, Salesforce CPQ, Nintex Drawloop, Dynamics CRM, SharePoint, and nCino for government organizations that want to leverage e-signatures within the apps they know and use every day. [promotion id="21005"]
E-Signature Adoption at all Levels of Government
Digital is at the core of any process, transaction and decision. eSignLive is proud to be a long-standing partner of the U.S. government, and continues to support the quest for a fully digital and paperless environment. Use cases for e-signatures are endless and span G2G (government-to-government), G2B (government-to-business) and G2C (government-to-citizen) applications, including:
Contact us to learn more about eSignLive solutions for government: https://www.esignlive.com/FedRAMP/