Are People Talking About You? It Matters.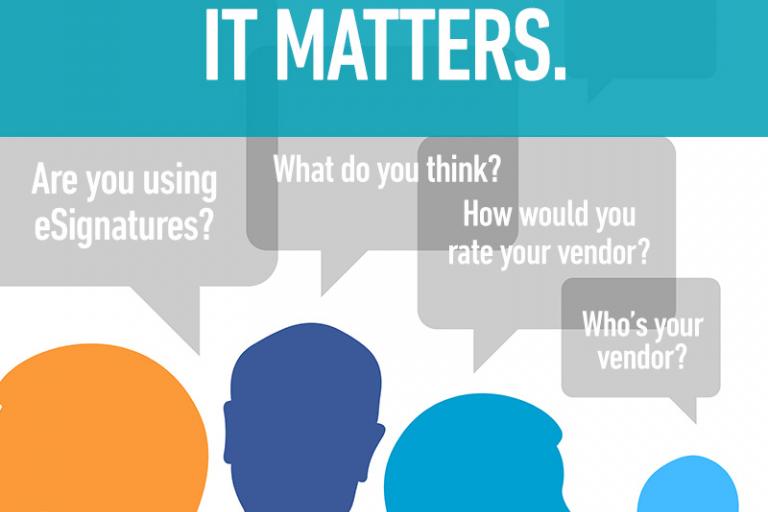 As the e-signature market matures and vendors consolidate or are acquired – think DocuSign's recent acquisition of ARX and Citrix's acquisition of RightSignature – customer satisfaction is more important than ever. It seems every vendor is promoting their commitment to customer service and experience. But while vendors market themselves as mavens of customer service, the reality often falls short.
B2B buyers know this, and are turning to online review sites and social media to sort marketing hype from reality. While no one expects a vendor to be perfect all the time, user reviews expose a vendor's track record. In his blog, Hootsuite CEO Ryan Holmes writes about customers using social platforms to air complaints, saying, "Fading away are the days of waiting in long lineups or on clogged up customer support phone lines to get what we want from big companies who just don't seem to care about the little guy. Thanks to social media and constantly evolving technologies, people are finding new ways to speak out." From start-ups to multi-nationals, B2B buyers will look at these types of reviews for patterns – things like repeat comments on vendors' bait-and-switch pricing, unresponsive phone support, or discovering post-purchase that there are per-use charges for options like SMS authentication, which some vendors offer free. This gives buyers an indication of how they will be treated after becoming a customer.
But while it might seem that frustrated users would be the most vocal reviewers, we've found it's actually the opposite. We've had hundreds of customers take the time to go online and share positive experiences. Business software review site G2 Crowd stated in their 2015 E-Signature Grid report that, "The Silanis team and its expertise was a benefit for reviewers, who described them as knowledgeable and willing to go the extra mile for customers."
B2B Buyers Look to the Crowd for Software Evaluation
Whether they've had a good or bad experience, a Dimensional Research survey on customer service and lifetime customer value found that "58% of people are more likely to tell others about their customer service experiences today than they were five years ago". And the more users talk, the more prospects listen. In fact, a Demand Gen survey shows that 97% of B2B buyers see user reviews as the most credible influence on a purchasing decision. Clearly, organizations that are looking to adopt digital business processes – or even expand an existing e-signature deployment to other departments – are turning to their networks, industry peers and user reviews not only to find out which vendors others are using, but also about a vendor's reputation. Organizations pay attention when our customers take the time to write online reviews such as these:
"The top notch customer service was an important factor in deciding to go with Silanis over a different company."
"The sales team is genuinely interested in solving problems and is unmatched to any other vendor I've been in contact with."
"Knowledgeable and professional staff. You can have confidence they will get the job done for you."
Consistently Strong Customer Support Generates Word of Mouth
These reviews bring to mind a quote from author and top marketer Shiv Singh: "The purpose of a business is to create a customer who creates customers." That's the beauty of a great customer service experience. People are going to share it. And in turn, create a larger, like-minded community of e-signature enthusiasts.
A crowdsourced E-Signature Grid was just released by G2 Crowd. It ranks e-signature vendors based on more than 1,300 user reviews with opinions on everything from features to quality of service. To see how e-signature vendors rank on customer service, tech support, training, responsiveness, pricing and more, download the report for free.
Click on the image below to see how e-SignLive stacks up to the competition in real-time.