Close Deals Faster with Mobile In-person Signing
Before the era of the tablet, sales professionals would drag their laptops, paper contracts and marketing collateral when meeting with prospects to seal a potential deal. Times have changed. Today's sales professionals prefer carrying a tablet when they are out in the field closing deals.
According to The Sales Management Association, 40 percent of salespeople are currently equipped with tablets, 70 percent of executives in sales organizations using tablets are already realizing ROI, and more than 90 percent of sales organizations plan to invest more in tablets in the near future. 
It's no surprise that tablet adoption is on the rise in sales organizations. Tablets are replacing clunky laptops due to their portability; and sales organizations that have already adopted tablets have realized benefits of increased productivity in the sales force. These mobile devices have transformed the way sales organizations interact with their customers.
For sales agents looking to capture a customer's signature quickly and easily while in the field, eSignLive offers an in-person signing feature in its iOS mobile app. In-person signing is used for sales agents conducting the signature process face-to-face with a customer.
How to use in-person signing in the eSignLive iOS app:
  1) Add your documents and signers to the transaction.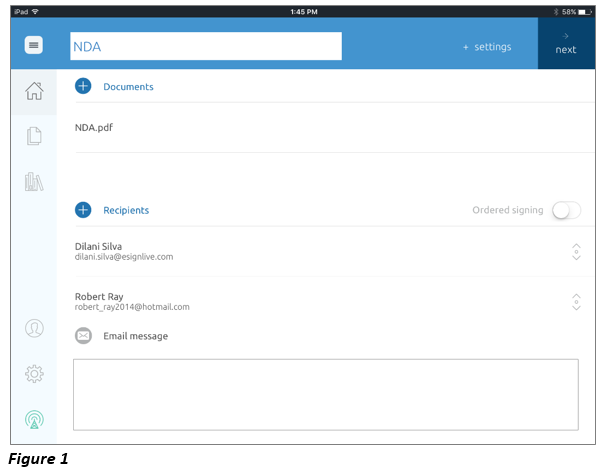 2) Once your documents and signers are in place, select "+Settings" and enable the in-person signing feature.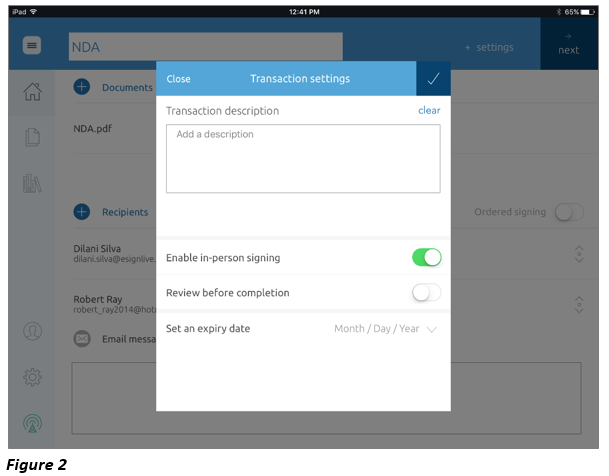 3) From the Prepare page, drag and drop the signature blocks to the desired locations in the document. Select "Send".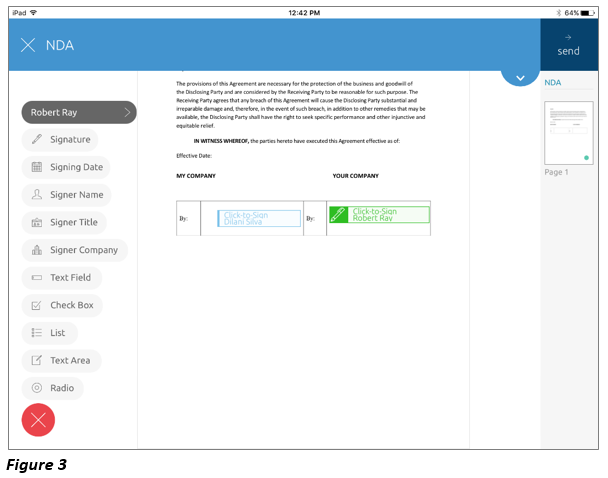 4) The customer will be asked to review the document before signing (Figure 4). Once the document has been reviewed, the customer simply taps to sign the signature block to e-sign the document. Once the document has been signed, secure electronic copies are available for download (Figure 5).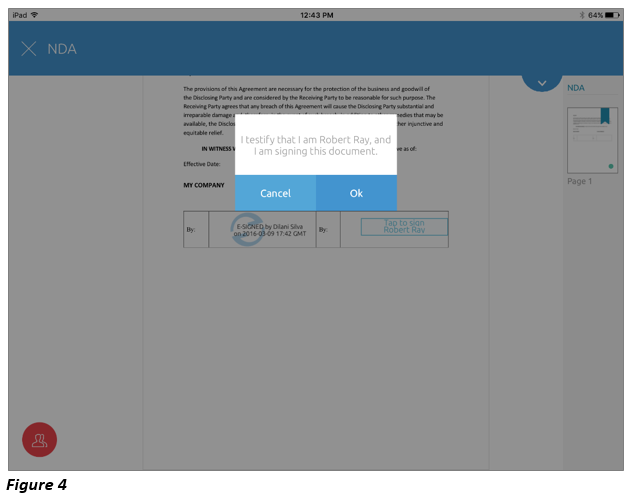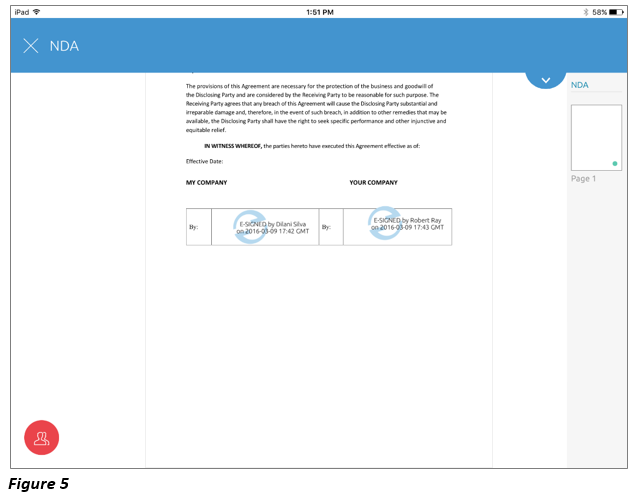 Use Cases of In-person transactions at retail:
Loans: A loan officer meets with a client at a bank branch to fill out an application and supply supporting documents such as proof of employment. The loan officer has his iPad handy to capture his client's signature. A top US Bank has upgraded 3000+ retail locations to enable e-signing on a tablet in the branch.
Benefit: With e-signatures, the bank has dramatically reduced the need for manually processing paper forms, helping the bank to eliminate errors such as missing signatures and achieve cost savings.
Remote account openings: A top North American bank has equipped their representatives with iPads to complete remote account openings at airport kiosks through a dedicated app. As long as there is an internet connection, remote customer onboarding can successfully take place outside the bank branch. The bank's representatives can quickly pull up account openings forms on their iPad, have the customer review the form, and capture the customer's signature in-person.
Benefit: The bank has experienced success by supporting its mobile strategy with electronic signatures and can now easily and quickly onboard customers in the field.
Interested in trying the in-person signing feature in the new eSignLive iOS app? Download the app from the Apple App Store and start going mobile with e-signatures today.Visit our website for more information about this easy-to-use mobile app for electronic signatures.  
NOTE: Since publishing this blog post, the eSignLive mobile app is now available for both Android and iOS.