eSignature Summit Inspires Innovation in Government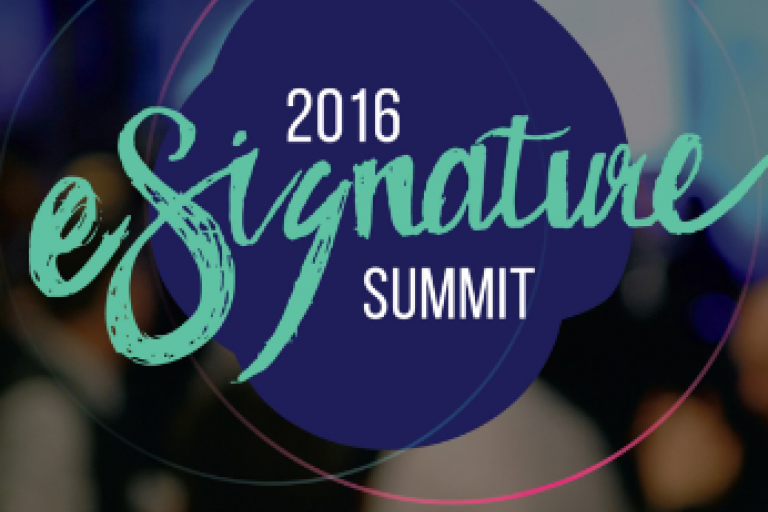 On May 2, 2016, eSignLive and FedSCOOP held the 2016 eSignature Summit for Digital Government for federal agencies focused on innovation in government. The speaker line-up brought together thought leaders from GSA, USDA, USAF, GPO, Army, NIST, Salesforce, Microsoft and more. Focused on cloud, mobile and e-signatures (digital signatures), these thought leaders are creating a connected digital government, enabling agencies and departments to migrate paper-intensive processes so they can be e-delivered and e-signed anywhere, anyplace. We share the highlights from their sessions below. We also invite you to watch the video recording.
Shared Services as Innovation
Guest speaker, GSA's Beth Angerman, understands the challenges of innovating in government. She started the day by telling her Uber driver that she was on her way to give a speech on innovation in government. "That's going to be a short speech," he said. While innovation in government is slower than the commercial sector, people like Beth, one of DC's Top 50 Women in Tech, are racing to make changes. As the head of GSA's Unified Shared Services Management Office, Beth's goal is to move government away from siloed systems and customization. With a shared services model, she said, federal agencies that use common systems for common outcomes can standardize and do more with less. "It's time to focus on data instead of transactions, and technology instead of paper," she told attendees. She encouraged the audience to take small steps towards going digital. It doesn't have to be a total transformation – learning as you go is part of the success formula. In June, her office will issue a playbook to educate agencies on shared services implementations.  

eSignLive: The Only FedRAMP Compliant E-Signature  
According to Gartner Research, moving to the cloud remains a top investment priority for government CIOs. Panelists from the Army, NIST and Salesforce seconded this, offering insights around cloud services, security, costs and vendor transparency. Agencies are looking to the cloud for agility, innovation and speed. Despite the promise of cloud, however, there are challenges. The panel spoke about overcoming the risk-averse nature of federal agencies concerned with losing control of servers and security. In the words of Bob Torche, TAMIS Project Manager with the Army, the key is security commensurate with risk. He explained how NIST and FedRAMP have outlined the framework for federal cloud services. "Migrating from on-premises to cloud starts with one simple question: 'Are you FedRAMP?' Each agency has different controls that sit on top of that, but FedRAMP is the trust layer that everything gets built on," he said. "I trust our vendors, like eSignLive, Amazon and other service providers that have gone through FedRAMP and met the requirements. I don't have the time and resources to worry about whether a vendor has a security concern. Until it's proven otherwise, if it's FedRAMP certified and it has a DISA certification, I trust it."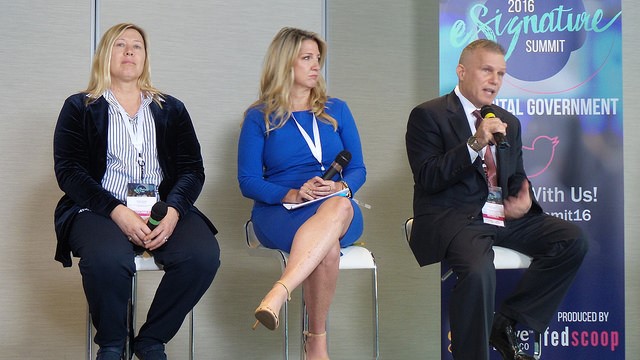 Panelists speak about "Reducing the Cost of Government with Cloud". From left to right: Kelley Dempsey, Sr. Information Security Specialist, NIST; Lisa Demille, Sr. Director, Sales Engineering, Salesforce; and Bob Torche, TAMIS Project Manager, U.S. Army.
Authentication & Derived Credentials  
Mike Laurie of eSignLive joined John Hannan, CISO with the Government Publishing Office and Michael Magrath of VASCO to speak about authentication for e-signatures. "People always ask, how do you know who signed the document?" The answer is, eSignLive supports digital certificates stored on CAC and PIV cards for non-repudiation. That is fine for the workstation, of course, but challenging for the mobile user. John and Michael pointed to mobile derived credentials as the solution. A derived credential is a software token derived from the digital certificate. Commonly referred to as a "virtual CAC/PIV", the token is stored directly on the mobile device. Embedding it directly onto the device provides the multi-factor mobile authentication required to safely do business via mobile – while making for an easier mobile experience. To learn more about e-signature authentication, see the Authentication for E-Signature Transactions white paper. [caption id="attachment_15968" align="aligncenter" width="731"]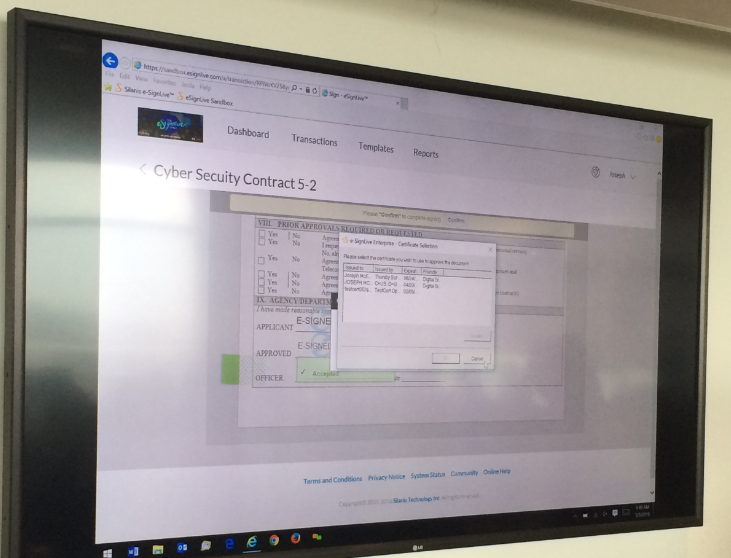 Demo shows how to e-sign documents with CAC / PIV smart card for non-repudiation.[/caption]
Challenges & Successes in Mobile
Were you aware that most agencies already own 80% of the technology they need to enable true remote productivity? So how do agencies enable their information workers to use any device to get access to the information they need, from anywhere? As one of the event's highest rated sessions, the mobile discussion included Air Force CTO Frank Konieczny speaking about future plans for the 30,000 iPads the Air Force has been using since 2012. "There are lots of devices in the Air Force, all the way down to sensors on the runways and mobile monitoring on the bases. As we bring more mobility into the Air Force, there are more devices than phones and tablets. Think about Fitbits. We connect them into the phones that also connect into our systems, which is another way for intruders to get in," Konieczny said. According to Susie Adams, CTO, Microsoft Federal, "One of the challenges is, everything's a sensor. If you're going to adequately protect, you have to look at these devices differently. Look at the risk posture of individual devices. Who is accessing that device, where are they using that device from, then take all the info and give the device a risk score. Has that user's identity been stolen – has it logged in from 4 different countries in 4 minutes?" Try eSignLive for iPad now.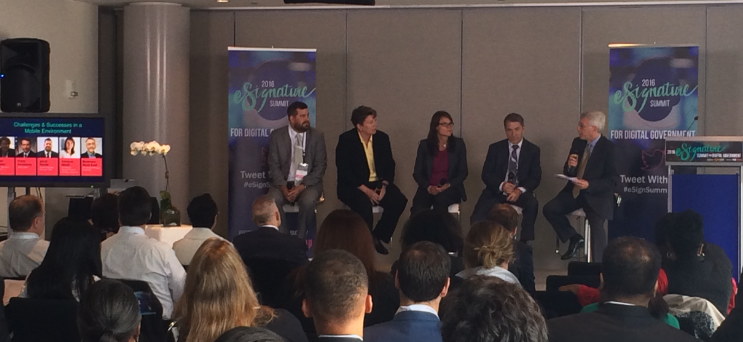 USDA CIO of Rural Development
Francisco Salguero, CIO, USDA Rural Development, closed the event with an inspirational view into the changes his agency is making in modernizing their infrastructure and bringing in technologies such as e-signature to reduce any amount of paper they manage. That's a tremendous amount of paper, considering the agency will administer $38 billion in loans and grants this year. Using e-signature is a question of allowing employees to actually help people instead of pushing paper, he said. Francisco also shared stories of other agencies within USDA using e-signatures, such as the Animal and Plant Health Inspection Service (APHIS). APHIS has been using eSignLive for over a year now, and they are looking to expand their e-signature use to Salesforce and the FedRAMP cloud. "It's tempting to take the path of least resistance. Yet the overall benefits cannot be ignored. Find a strong business partner who can work with you to move forward and use e-signature. Be a change agent. Be open to taking risks, leveraging R&D and taking advantage of shared services to make significant strides forward. It's an advantage we cannot ignore."
E-Signature Ambassador Award
Congratulations to Bob Torche on receiving the E-Signature Ambassador Award from eSignLive. His work with eSignLive e-signature has helped take soldiers out of harm's way. They no longer need drive Humvees through a war zone to deliver the paperwork required to order munitions in the field. In addition to bringing web-based e-signatures to TAMIS, his next goal is to enable soldiers to order munitions with their personal or government issued device.