How E-Signatures Support Transparency in Government Processes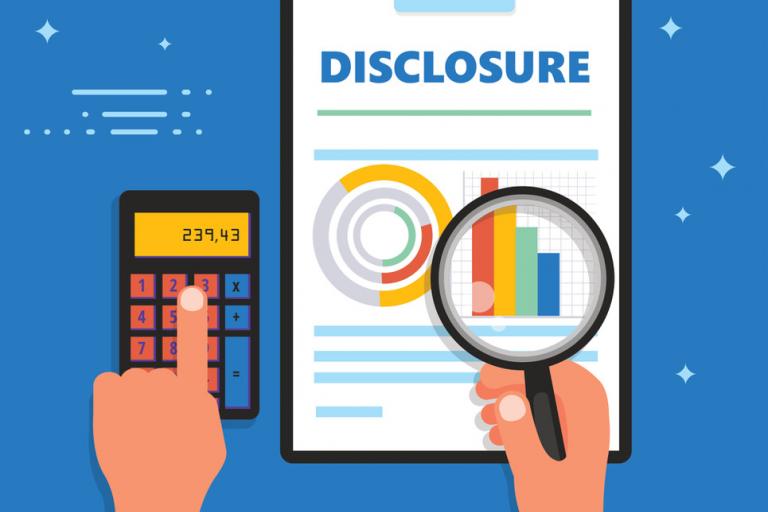 We all want, need and appreciate transparency. However, when it comes to many transactions — for example, decoding the fine print when buying a car or figuring out the extra charges on a cell phone bill — complete disclosure is a hard thing to come by. The good thing is, when it comes to government there are laws passed by legislatures and enacted to keep everyone honest. For instance, the Freedom of Information Act is a federal law that allows for the full or partial disclosure of previously unreleased information and documents controlled by the United States government. Our laws govern a wide array of disclosure, from vendor and business information, to financial data. Examples include the Federal Funding Accountability and Transparency Act of 2006 and the Chief Financial Officers Act of 1990. Both of these federal laws cover financial disclosure by government. Disclosure laws, regulations and standards apply at all levels of government. To ensure transparency in government business processes, government entities track and log information at multiple steps in their processes and workflows. These processes in turn result in documents and records that require signatures. Signatures are an important process in government that help ensure auditability and accountability in decision-making. E-signatures are foundational to keeping these workflows, data and records digital. [promotion id="22994"]
Use Case: JCS Comptroller's Office
In 1996, the U.S. Joint Chiefs of Staff (JCS) became the first federal agency to deploy e-signatures. Within the JCS, e-signatures were extended to the Joint Staff Comptroller six years later. The Comptroller's Office manages Joint Staff financial resources, as well as financial resources provided by other agencies for Joint Staff use. Security, accountability, transparency and compliance with U.S. General Ledger Guidance, the Chief Financial Officers Act and the Government Management Reform Act are crucial.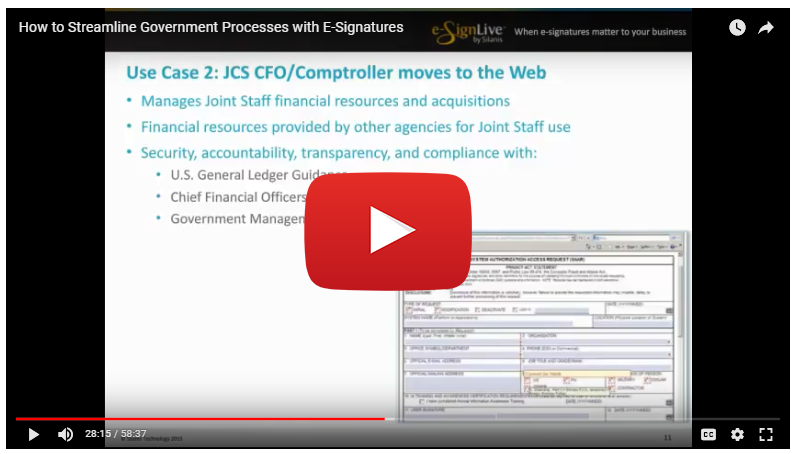 Learn how e-signatures support transparency in JCS business processes
In the Comptroller's Office, the responsibility of certifying and authorizing expenses is restricted to certain individuals. There are four positions of authority: the Accountable Official, Certifying Officer, Disbursing Officer and Supervisor. These officials use e-signatures for project accounting and general ledger functions, as well as:
Funds Certifications and Disbursements
Expense Authorizations
Contracts and Purchase Actions
For the Comptroller's Office, one of the key requirements for using e-signature was the ability to capture a digitized cursive e-signature, in addition to e-signing with their Common Access Card (CAC). All accounting for military and defense spending is processed through a sister agency known as the Defense Finance and Accounting Service (DFAS). Some disbursements are also made directly to the U.S. Treasury. When the Comptroller's Office is dealing with external partners such as these, the Comptroller and authorized signers will apply a digitized hand-scripted e-signature to documents. The resulting electronic signature looks just like its traditional ink counterpart, except that it is accompanied by a time and date stamp. The second key requirement was the e-signature audit trail, for auditability readiness. Because eSignLive embeds the audit trail directly into the e-signed document, the Comptroller's Office can store their e-records in any system. The Comptroller's Office therefore stores e-signed financial and acquisition documents in their ERP in compliance with their own storage policies. When they need to, the Comptroller's Office can quickly call up these electronic records – and don't have to wait on another agency or department to archive or retrieve files for them, making it faster and easier to prepare for a financial audit. And because the embedded audit trail creates a vendor-independent record that can be verified offline, the e-signed documents can also be securely shared with auditors and other agencies, and distributed through any means, including Microsoft SharePoint, email or via the portal.  
Use Case: City of Sacramento
At the municipal level, the City of Sacramento uses e-signatures on its reports to the Fair Political Practices Commission (FPPC) for the State of California. The FPPC requires full transparency with the City's G1C ticket distribution and sign-off. The City files those reports when it distributes tickets to a suite in the entertainment and sports complex for Sacramento Kings basketball games. Thanks to the e-signature technology, the City can track exactly who signed which reports and when, creating a complete audit trail should one be needed.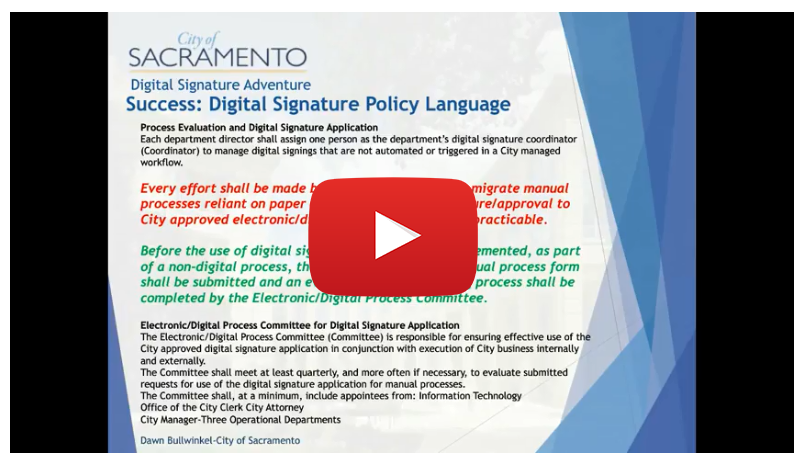 Learn how e-signatures support transparency for the City of Sacramento
Audit Trails Enhance Transparency in Government 
With e-signatures, you may be wondering about transparency, auditability, and how to maintain end-to-end visibility. With e-signatures, you have the ability to prove, for every signer:
Who signed
What each signer did during signing
What data was entered by each signer
eSignLive captures this data through e-signature audit trails. The three levels of transparency and audit are:
Document level: Audit information about each signer is part of the document itself
Evidence summary: A date- and time-stamped log of everything each signer has done
eWitness: A visual record of what each signer saw and did – content in context. This patented technology even allows you to 'replay' a signing transaction!
Your e-signature vendor needs to be able to record and log this data for every transaction.  eSignLive treats the signing of a document as a modification to the document. When treated in this fashion, and by encrypting every signature, a full audit trail becomes part of the document. Each signer is a revision to the document, which can be opened and viewed. Additionally, all of the audit and attestation data is immediately available.  This allows you to retrieve and combine it with the remainder of the transaction data, making it part of your government transparency strategy.