Quickly Verify Identities Remotely
Ensure ID documents are legitimate with digital identity verification
New account fraud and other identity theft crimes continue to challenge banks and FIs. Automated ID document verification and facial comparison enable a customer's identity to be validated in real-time, whether the transaction takes place online or via mobile.
OneSpan Agreement Automation automates new digital customer onboarding and reduces fraudulent enrolments by positively identifying qualified customers during the application process.
Ensure the Authentic Applicant is Present
Leverage biometric authentication to verify identities across your digital channels
During the digital account opening process, financial institutions must determine whether the remote applicant is who they claim to be. Best practice is to leverage facial comparison capabilities to extract biometric indicators from a selfie and compare that against the image in an authenticated ID document.
After the applicant has been onboarded, biometric authentication methods can be used to verify known customers using facial recognition and fingerprint scans.
Report: Transforming the Digital Account-opening and Onboarding Experience
Based on interviews with bank executives and consumer survey data, Aite Group provides an expert analysis of the top trends, challenges, and technologies to deliver a customer-centric, mobile-first account opening experience.
Capture Consent Electronically
Automate your signing workflows with e-signatures
Secure your digital account opening processes by integrating electronic signatures.
OneSpan Sign balances ease of use with the highest levels of security and compliance to deliver a risk-free e-signature solution for all your business needs.
Protect against Mobile Fraud
Mitigate fraud with mobile security capabilities
Data breaches, malware, and phishing attacks are fueling the rise in identity theft and third-party application fraud. OneSpan offers comprehensive security capabilities to protect mobile users and applications, including:
Persistent device identification to bind user accounts to trusted devices and thwart unauthorized attempts to apply for new credit products
Mobile app shielding and behavioral biometrics to identify and stop automated malware or bot activity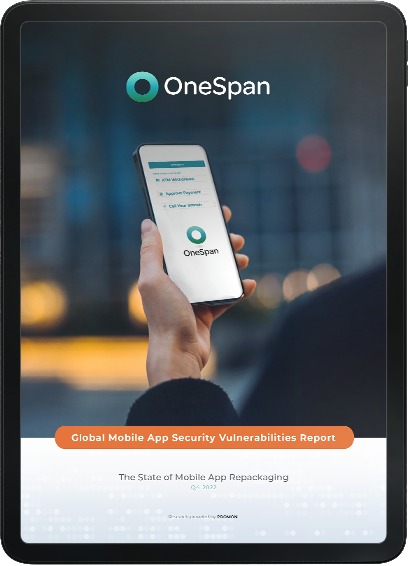 Analyst Report
OneSpan Global Mobile App Security Vulnerabilities Report
Find out which types of apps are most susceptible to repackaging attacks—and what industry benchmarks you should use to assess your own level of app protection.
Download Now
Leverage Digital Audit Trails
Protect your organization with comprehensive audit trails
To prove that a compliant account opening process was followed, financial institutions can capture a full audit trail of exactly what the applicant saw and did during an account opening process – including the identity verification and signing steps.
Digital audit trails prove that the FI carried out all necessary KYC checks and that the applicant intented to be bound by the terms of the agreement. Audit trails provide a complete record of the account opening process and can protect financial service providers against legal or compliance disputes.
More than half of the world's top 100 global banks use OneSpan's digital identity & anti-fraud solutions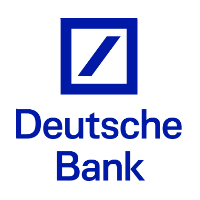 Why OneSpan
Domain Expertise
Financial institutions around the world choose OneSpan for our proven fraud prevention technologies and extensive expertise in financial digital channels. We understand the complexity of account takeover fraud – and provide the risk-based intelligent analytics to fight it. 
Secure Digital Customer Journeys
We bring together best-in-class security solutions that work together to secure the digital customer journey and mitigate fraud. By establishing trust in digital identities, devices, and transactions, we help you reduce fraud, increase top-line growth, and strengthen compliance as you modernize the customer experience.
Customer Commitment and Support
We're known for taking a hands-on approach. Customers appreciate our industry leading post-launch support, where we provide ongoing help to fine-tune fraud prevention, increase efficiency, and improve adoption rates.
Flexible Solutions and Cloud-based Platform
Our solutions are designed to integrate seamlessly with third-party and in-house systems, so you can continue to leverage your existing technology investments while advancing your digital transformation with next generation technologies.
In addition, our SaaS solutions are delivered on a platform that makes it easy to integrate new and existing tools and technologies, to better detect fraud and improve the user experience.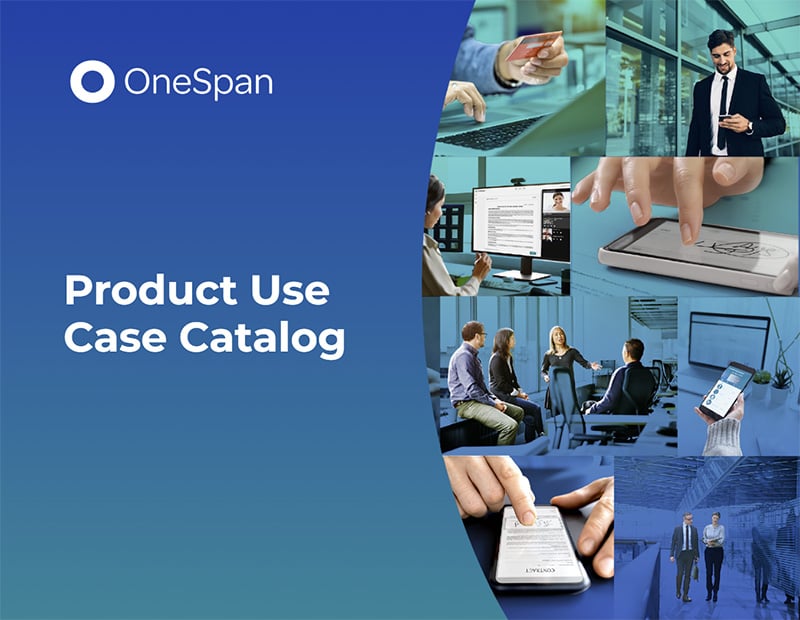 E-book
Use Case Catalogue
Our solution portfolio supports secure, simple end-to-end experiences for your clients. Find out how.
Read now
Questions? We are ready with answers
OneSpan can help you prevent application fraud and enable digital channel growth