Extending the Value of Salesforce With E-Signatures
Salesforce is well-known as a powerhouse in the CRM market. In the early days, the solution's target user was a salesperson or sales manager. Today however, Salesforce has a much larger reach across the enterprise. Gartner recognizes that since 2010, the size and complexity of Salesforce deployments has grown and broadened, and so has its user personas. Typical users are now of a mix of departments such as sales, IT, finance, legal and operations. This is due in large part to the 2,800+ partner apps in the Salesforce AppExchange that touch all levels of the organization.
Before e-signature apps were available, the last mile in the sales cycle – getting a signature – was still a manual, paper-driven process. But today, organizations are digitizing the sales process with the help of e-signatures to streamline sales-related activities. Digitization starts by eliminating paper and "wet" signatures from your current processes. What's great about digitization is that it has a rippling effect beyond your sales group and benefits other departments across the organization. So while the immediate impact will be on upstream sales processes, other departments such as operations, finance and legal/compliance (i.e., further downstream) will also benefit because invoicing, reporting and other post-sales activities become completely automated.
Data merge: it's a two-way street
Manual data entry sucks. In the paper world, this is a common problem. With e-SignLive for Salesforce, the process stays 100% digital because Salesforce data is automatically inserted into your documents for signature, and data entered by your signers (i.e., during the e-signing process) is written back to Salesforce once the transaction is complete. This two-way data flow – to and from Salesforce – eliminates manual data entry and ensures that other stakeholders further downstream in the process benefit because they don't need to spend time rekeying data.
For example, when your customers fill out and sign documents in e-SignLive, that data automatically populates the related fields in Salesforce. This means other departments such as finance or accounts receivable are able to send out invoices that are based on the most up-to-date CRM data. No need to call or email the customer to verify billing information – all of the information that is entered during the e-sign process is automatically written to the associated Salesforce fields. This level of accuracy helps eliminate errors that can cost your organization valuable time and money.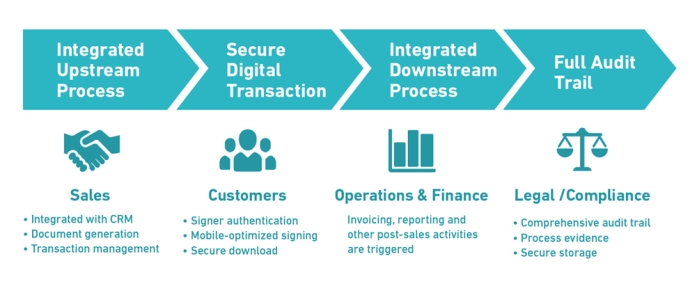 The benefits of digitization also resonate with the legal and compliance professionals at the tail end of the process. Our app provides them with direct visibility into when and how the transaction took place – something that simply isn't possible in the paper world. While most e-signature providers only offer a "static" audit trail (i.e., what was signed), we take it up a notch with a patented "active" audit trail that captures a full record of the signing process (i.e., how the documents were signed). E-signature vendors like DocuSign don't even come close to offering this type of audit trail and their solutions fall short when it comes time to prove compliance to external auditors. With e-SignLive for Salesforce, all actions taken by each signer (including the date, time and IP address) are recorded to provide an extra layer of built-in audit trail protection precisely for legal and compliance purposes.
Meet Salesforce at the upcoming e-SignLive User Conference
This year's e-SignLive User Conference is just around the corner. We are delighted to have Paul Tatum, SVP of Engineering Solutions at Salesforce present on "Extending the Value of Salesforce with E-Signatures". Paul will discuss how e-signatures in conjunction with Salesforce can help organizations close deals faster and truly move away from analog, paper-intensive processes that are slowing down business. Are you registered? Time is running out. Check out the agenda for the full list of presenters and sessions.
Meet us at Dreamforce 2015
If you can't make it our User Conference, we hope to see you at Dreamforce. With more than 140,000 attendees expected at the mega-event in San Francisco this year, we're eager to show the latest release of the e-SignLive for Salesforce app and how moving to an all-digital process can have a positive rippling effect across your organization – from sales, operations and finance, to legal and compliance. We look forward to meeting you at booth #N2005!