Essential Reasons to Focus Your Institution on Digital Account Opening Technology [Infographic]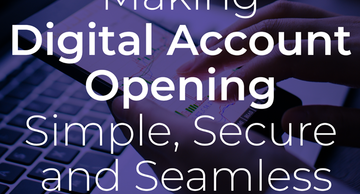 << Download full infographic here >>
Customers expect a fully digital account opening process — available online and on mobile. Banks, credit unions, and other financial institutions (FIs) need to offer simple, secure, seamless, mobile-first account opening experiences to convert customers and drive growth.
High application abandonment rates, increasing levels of identity fraud, and intensifying competition from challenger banks have all increased the urgency to modernize.
The Risk of Fraud: A Real Concern for Financial Institutions
Cyberattacks on financial institutions (FIs) are growing in volume, complexity, and speed. According to Forbes, cyberattacks target financial services 300 times more often than other industries.
Attackers target FIs to access sensitive customer data that can then be used to commit fraudulent activities. In addition to causing victims much anxiety and a negative customer experience, fraud costs FIs and their insurance companies significant amounts of money. LexisNexis estimates that in 2018, the cost of fraud for mid to large financial service companies operating internationally was 2.41% of revenue. This could equate to as much as $31 billion in losses in 2018 worldwide, according to McKinsey.
According to Aite Group, the second highest cause of fraud losses for FIs is application fraud, fueled by large-scale data breaches and the availability of credentials on the Dark Web. Aite estimates that 14.7 billion data records have been breached since 2013. These breached records offer attackers data for use in third-party fraud and synthetic identity fraud, leading to a rise in the number of attacks during new account onboarding.
Given the scale and impact of fraud, it is vital that FIs detect fraud during the account opening process.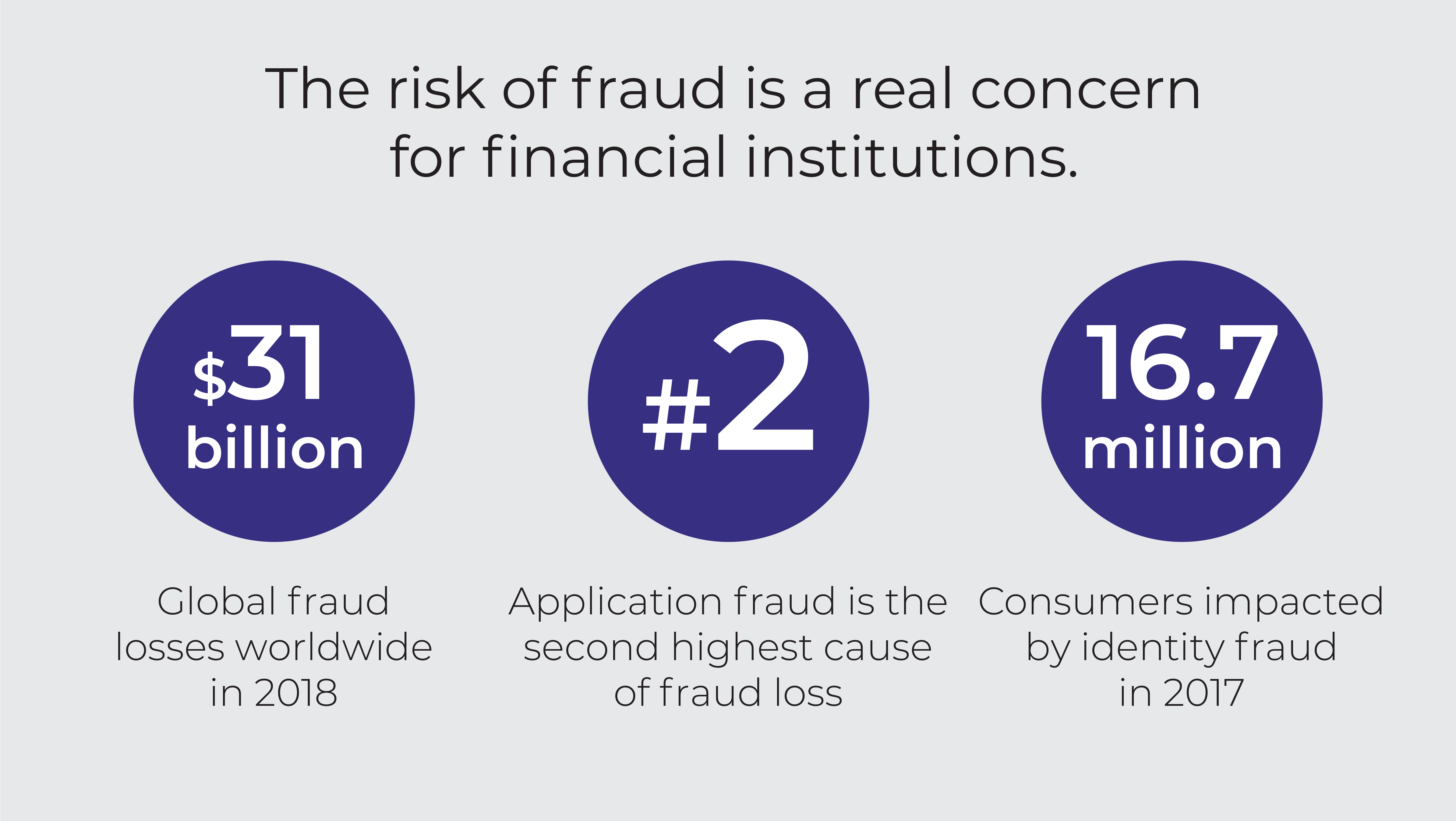 Poor Account Opening Experiences Cause Customers to Abandon an Application
Up to 57% of consumers prefer to open a new account via digital channel or mobile app. Despite this, many FIs do not offer fully digital account opening experiences — with some aspect of the onboarding process, such as identity verification, requiring the applicant to come into the branch.
These manual steps slow down the account opening process and frustrate applicants, often causing them to abandon the account opening process altogether.
According to Senior Analyst Tiffani Montez at Aite Group, "application abandonment rates are still between 65% and 95%, depending on the product."
FIs that do not offer fully digital account opening processes may lose out to competitors and challenger banks that offer users the ability to open accounts entirely remotely.
Balancing demands to improve the customer experience with the need to protect account opening processes against fraud is therefore of paramount importance for FIs that wish to grow the digital channel.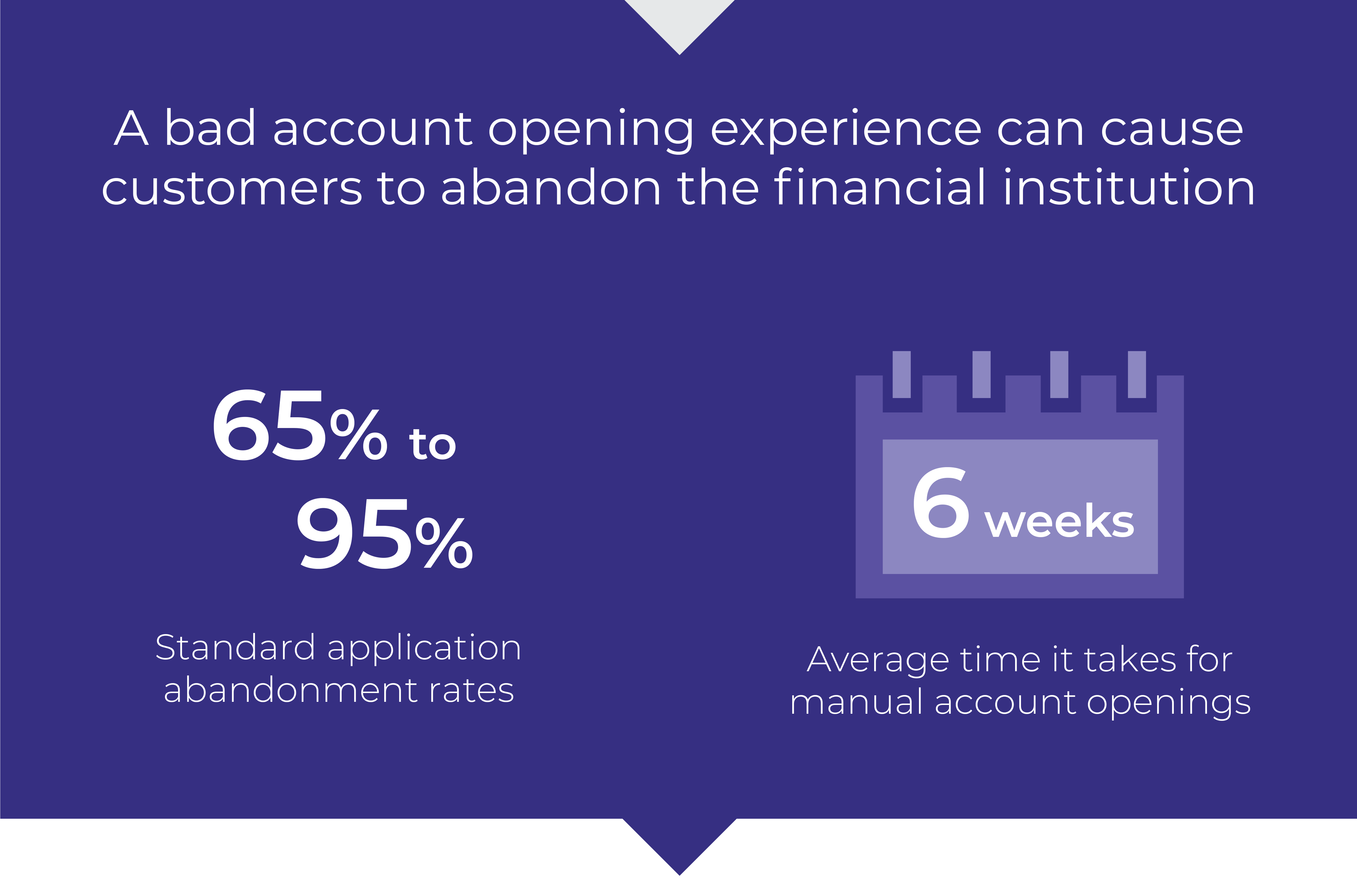 Benefits of a Fully Digital Account Opening Process
While bad account opening experiences drive potential customers away and lead to application abandonment, good customer experiences can have a measurable impact on growth.
Fully digital account opening experiences that provide the convenience consumers demand, while offering the security and anti-fraud measures that FIs rely on, provide the following benefits:
Reduced processing time
Improved customer experience
Lower customer abandonment rates
Reduced synthetic and identity fraud
Stronger regulatory compliance
Lower operational costs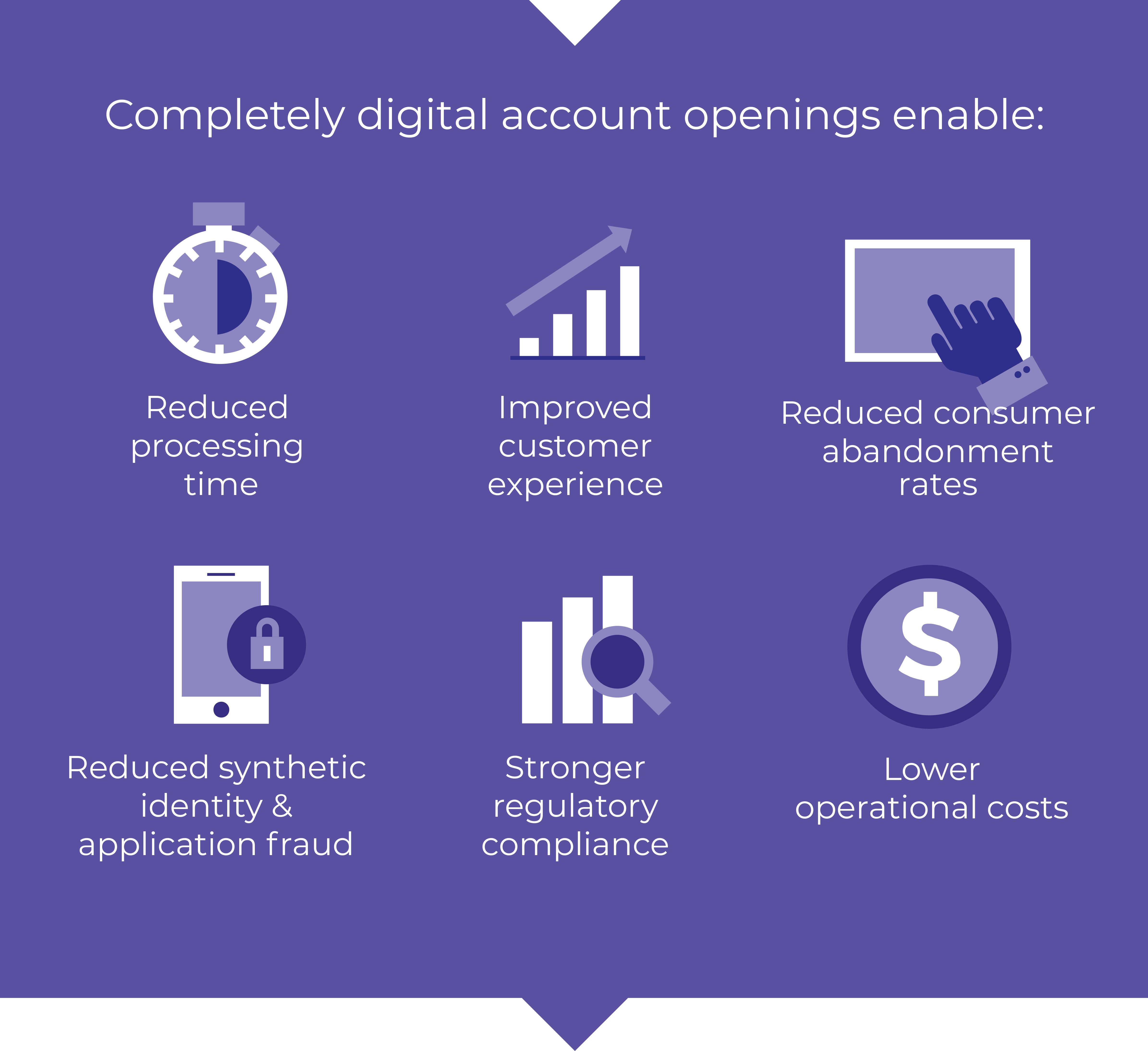 Ways for Financial Institutions to Simplify, Secure, and Provide a Seamless Customer Experience During Account Opening
Financial institutions that wish to fully digitize account opening should start by identifying opportunities to optimize the account opening experience for customers. Aite Group defines the account opening process as having five steps:
Collect Data: Communicate the requirements for applying for a product and capture information needed to make a credit decision.
Verify Identity: Verify the applicant's identity through an existing account relationship or by using ID verification systems.
Present Disclosures: Communicate key terms and conditions and gain consent on submitting the application and pulling credit.
Qualify for Product: Use the credit decision model to determine consumer eligibility for the product.
Onboard Account: Open the new account, send the cardholder(s) information on how to access their new account, communicate key product features, and deepen the relationship through relevant offers.
Technology can help reduce friction in these steps and help transform the account opening and onboarding process, leading to a reduction in customer abandonment. Technology can also help financial institutions protect their process against fraudulent activity and attacks.
Tech Solutions: Digital Identity Verification is Top-of-mind
Technologies that can transform the identity verification and disclosures stages of account opening include:
Identity verification hub solutions
Workflow
E-Signatures
Secure digital storage
Digital audit trails
In an Aite Group survey of account opening processes at large financial institutions, 63% of respondents indicated that they were likely to implement mobile data capture and identity document verification for checking, savings, and credit card accounts within 1–2 years. Why? Digital identity verification is a key step in the remote account opening process as it allows FIs to detect fraudulent ID documents and prevent application fraud in real time, even when an applicant is remote.  
Multi-layered digital identity verification through a single platform allows FIs to access a wide range of third-party identity and verification services. This way, FIs can select the best verification types for their use case and channel, to improve customer experience and minimize risk. A platform-based approach results in higher pass rates and enables failover in the event of a verification failure or provider unavailability. This in turn eliminates the need for manual intervention and reduces customer abandonment. All of which enables FIs to provide an optimal customer experience and safeguard against application fraud.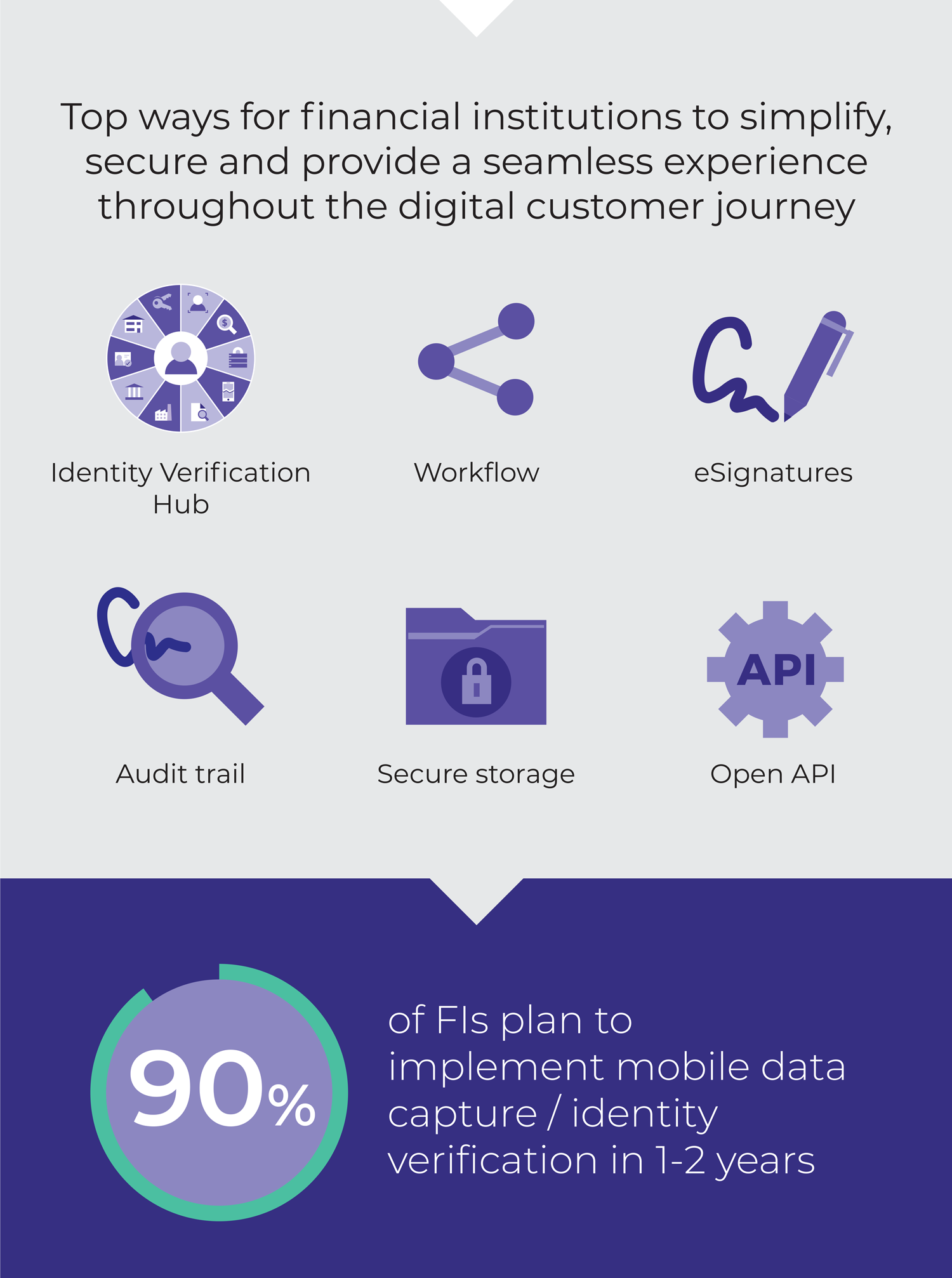 At OneSpan, our mission is to transform and protect the digital customer journey — from an applicant's first interaction to securing their accounts throughout the entire customer lifecycle. Our Secure Agreement Automation solution has been designed to help FIs deliver a differentiated customer experience while helping protect against fraud. Contact us to discuss your unique requirements.