Javelin Strategy & Research Ranks 12 Mobile Biometric Authentication Vendors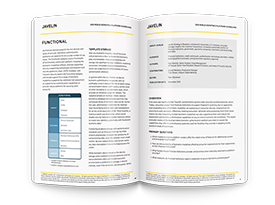 To help financial institutions evaluate mobile biometric solutions, Javelin ranked 12 vendors using the advisory firm's Functional, Innovative, and Tailored (FIT) model. Discover which vendors lead the pack in key areas like ease of integration, long-term value, and flexibility in adapting to business needs and use cases.
OneSpan scored high marks as a leader in all three categories, and Javelin recognized OneSpan with the "2018 Best in Class Mobile Biometrics Platform" award. View the scorecard rankings to see how OneSpan ranks in addressing current and emerging fraud schemes, and delivering a positive customer experience across channels.
Download this report to learn:
The importance of choosing a mobile biometric solution that supports multiple biometric modalities across a variety of channels
What emerging modalities and advanced analytics ensure the strongest possible authentication
How flexible configuration and implementation options reduce fraud while creating a positive user experience