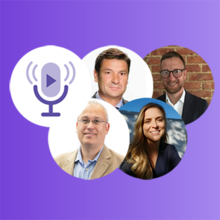 Predictions Podcast
2021 Technology Trends & Predictions
After rapid digitization to establish remote processes and ensure business continuity, the financial technology landscape looks remarkably different than it did only a year ago.
In OneSpan's 2021 Prediction Podcast, three technology experts discuss their top innovation, cybersecurity and digital transformation predictions for banks and other financial institutions in 2021. 
Speakers:
Benoit Grangé - Chief Technology Evangelist, OneSpan 
Conor Hickey - Director of Solution Engineering, OneSpan
Daniel Mcloughlin - Principal Technical Account Manager, OneSpan
Sarah Dixon (Host) - Content Strategy Senior Manager, OneSpan
In this podcast, you will learn: 
The top technologies to look out for in 2021 - including biometrics, machine learning, and ID scanning. 
How banks will continue to accelerate digitization programs in 2021.
Why banks are moving to platform-based cloud technologies for better integration, scalability, and speed.