Everything You Need to Know About the OneSpan Sign New Signer Experience
We are proud to announce the availability of our next generation signing interface: the OneSpan Sign New Signer Experience. Our team has been hard at work overhauling the e-signing experience to bring to market a slick, streamlined, and intuitive interface, so signers can complete transactions faster than ever across all devices — laptops, tablets, and smartphones.
The New Signer Experience was a major undertaking. Not only was this a significant makeover to our e-signing interface, our team carefully analyzed popular e-signing use cases and tested a number of signing workflows to enhance the overall signing experience.
OneSpan Sign New Signer Experience FAQs
Why was updating the signing experience a priority?
OneSpan thrives on helping organizations provide the best customer experience to their clients. After speaking with our customers, it was clear that delivering a simple and intuitive signing interface to their end users was a top priority to help increase adoption rates and reduce abandonment. We worked closely with our customers to gather feedback about their top signing use cases, tested signing workflows, and incorporated the best UX design principles to modernize the look-and-feel of the signing interface.  
We've also seen a rise in demand for e-signatures due to COVID-19 coupled with heightened customer expectations to complete documents remotely now more than ever. As e-signature adoption increases, we wanted to make sure that anyone using OneSpan Sign can successfully complete the signing process from anywhere and on any device.
What improvements and enhancements can we expect in the New Signer Experience?
In addition to the aesthetic overhaul of the interface, we also made the following improvements to the New Signer Experience:
Responsive Across All Devices
The New Signer Experience is optimized across all devices, giving signers the flexibility to e-sign transactions from their computer, tablet, or smartphone. We wanted to ensure that the signing experience is consistent and truly responsive across all screen sizes, no matter which device signers use to e-sign documents.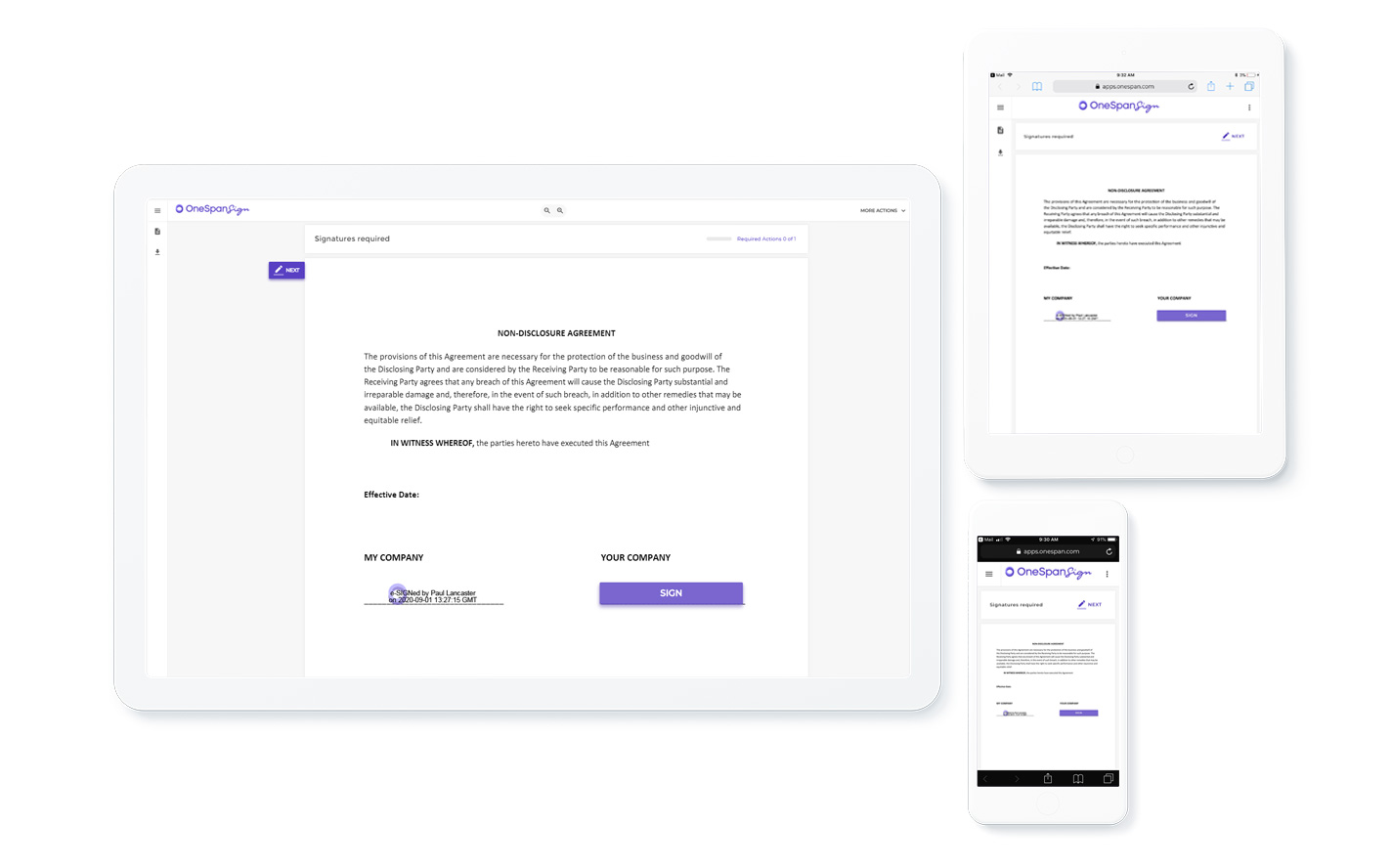 More Branding and Customization Options
OneSpan Sign is known in the market as the only e-signature solution to completely white-label every aspect of the e-signature process. With the New Signer Experience, we included self-service branding options, giving you the power to customize the signing experience to your signers. In addition to customizing the signing experience with your brand logo, you can now customize the colors and text strings throughout the signing experience, so your brand is truly front and center with your signers.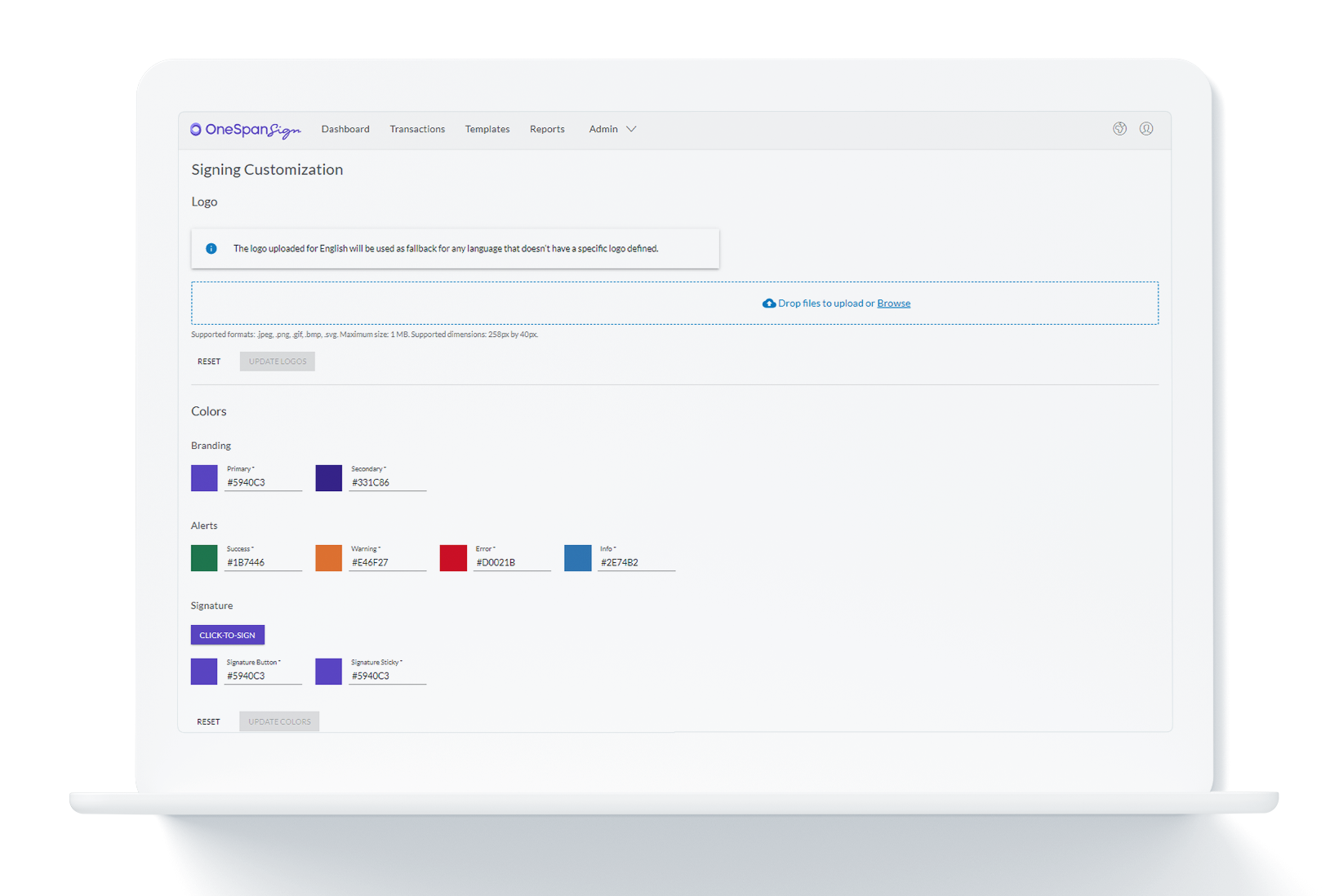 Faster Document Load Times
Speed is everything when conducting business with your prospects and clients. We optimized the New Signer Experience, so documents are loaded faster to help accelerate the e-signing process. This update was more than just about aesthetics; our team built the New Signer Experience using the latest technology to ensure reliability and an exceptional signing experience.
We also introduced new features and enhancements to the New Signer Experience:
What's coming up next in the New Signer Experience?
With new remote signing use cases arising in the market, the team is already hard at work to enhance the New Signer Experience to meet these needs. Stay tuned for new features and enhancements in the coming months!
Watch our video to learn more about the New Signer Experience.
OneSpan Sign E-Signing Experience