OneSpan Sign Product Updates Q1 2021
Our team has been hard at work bringing together new and exciting capabilities in the past quarter. We released a number of product updates to OneSpan Sign to help you optimize the way you use e-signatures across your organization. Our e-signature solution has been enhanced to include:
Updated e-signature features and capabilities in the New Signer Experience includes refreshed features, such as Fast Track and signing with digital certificates, for an intuitive experience for signers
More customizability options to provide a branded and seamless signing experience
New signing option allowing signers to upload an image of their signature to a transaction
Additional layer of security when validating your signer's identity with SMS authentication for in-person scenarios
Partnerships provide new integrations with eOriginal's electronic vaulting service to securely store e-signed authoritative copies of high-value digital assets; new Trust Service Provider (TSP) partnership with itsme to help organizations in Belgium meet eIDAS compliance
Let's take a closer look at the highlights of the latest product updates.
OneSpan Sign Product Updates: New Features and Capabilities
Updated E-Signature Features and Capabilities in the New Signer Experience
Fast Track
Need to send out documents for signature to many recipients at once? The Fast Track feature lets you automate the e-signature process and eliminate the need to send individual transactions to your recipients. Fast Track creates a dedicated URL for your transaction and can be embedded into your website or secure portal with zero integration or development. We made UI enhancements to this feature, so your signers can complete transactions quickly.
Read our blog post or watch the video below to learn how senders and signers can use Fast Track.
Signing with digital certificates
OneSpan Sign offers a variety of robust and flexible authentication options allowing signers to securely e-sign documents using digital certificates. OneSpan Sign supports signing with government-issued smart cards, as well as Electronic ID smart cards and tokens issued by Trust Service Providers (TSPs) in Europe. We enhanced the signing experience by making it intuitive for signers to complete transactions using their digital certificates.
Read our blog posts on how senders can configure transactions for signing with digital certificates and how signers can e-sign transactions with digital certificates.
More Branding Customizability Options to Provide a Seamless Signing Experience
We recently updated the signing experience to include a signing overview page before signers access a transaction to sign. The signing overview page outlines the current signing progress and the tasks pending for signers to complete the documents in the transaction. Additionally, account owners can customize the content that appears on the overview page and update logos and colors to match the look and feel of a company's branding. With the branding customizability options available for the signing overview page, we're helping organizations create a seamless signing experience, reinforcing trust, and helping achieve the highest adoption rates.
Contact our Support Team to enable the signing overview page in your account today.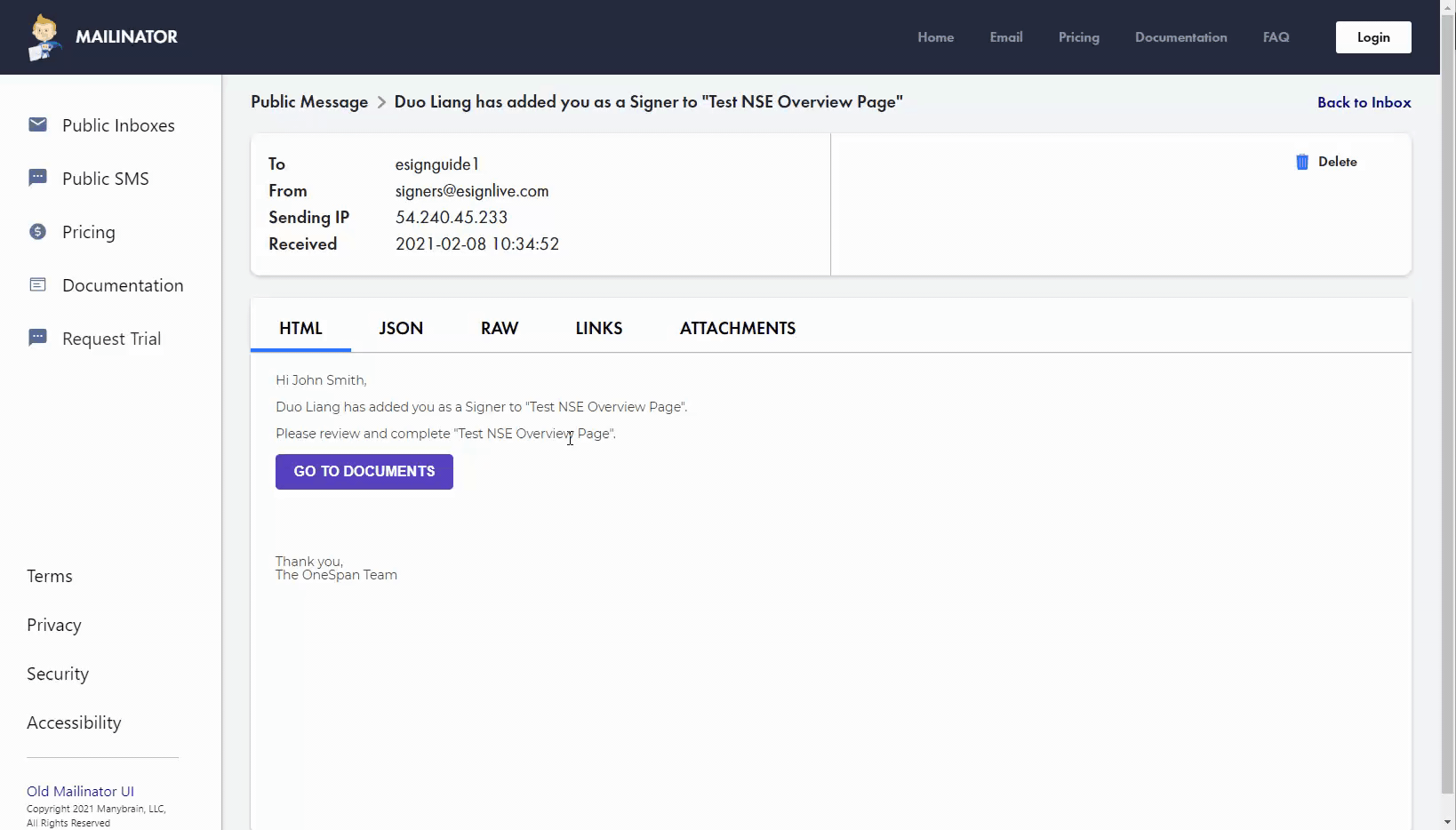 Offer Signers the Flexibility to Upload an Image of their Signature to a Transaction
In addition to offering signers the option to click-to-sign, click-to-initial, and capturing their handwritten signature on a mobile device, we're offering an additional option for signers to upload an image of their signature to a transaction. Signers can scan an image of their signature and easily upload the image file to the transaction. Now your signers have another way to provide their signature to help them sign documents in all the right places.
Read our blog post or watch the video below to learn how signers can upload an image of their signature to a transaction.
Add an Extra Layer of Security for In-person Signing Scenarios with SMS Authentication
For transactions that require signatures in a face-to-face scenario, OneSpan Sign offers an additional layer of security to validate the signer's identity with the SMS authentication method. Using SMS authentication for in-person signing also confirms that the signer agrees to participate in the signing session and is documented in our comprehensive audit trail.
Watch the video below to learn how to use SMS authentication for in-person signing scenarios.
New Trusted Service Provider (TSP) Partnership to Help Organizations in Belgium Meet eIDAS Compliance
OneSpan has partnered with itsme to issue certificate-based digital IDs in order to validate the identity signers and create a Qualified E-Signature (QES). After signers click the "Sign" button in OneSpan Sign, they are requested to validate their identity using the itsme mobile app. Once verified, the signer completes the signing process and a QES is applied to the document. The result is a secure, tamper-evident e-signed PDF that facilitates compliance with the eIDAS regulation in Belgium.
We will be expanding our partnerships in the coming months to give our customers the freedom to work with even more TSPs and meet the highest levels of compliance and assurance for signer authentication.
New Partnerships Extending E-Signature Capabilities to More Business Applications
eOriginal
As a trusted leader in digital lending transaction for the past 20 years, eOriginal guarantees trusted transactions and helps meet regulatory requirements of digital financial assets for all parties. OneSpan Sign's integration with eOriginal's electronic vaulting service allows users to manage high-value digital assets like loans, leases, and mortgages throughout the lifecycle of the transaction. After a document is e-signed using OneSpan Sign, eOriginal will manage an authoritative copy of the document by securely storing it in its electronic vault.
Read our blog post about how you can manage digital assets with e-signatures and e-vaulting.
We hope you take advantage of the latest product updates we have to offer in OneSpan Sign. Read our release notes for additional information.