OneSpan Sign Product Updates: Q4 2019 Round-up
Our team has been hard at work bringing together new and exciting capabilities as part of the OneSpan Sign Q4 2019 Round-up . The Round-up includes a number of product updates to OneSpan Sign which help you further leverage e-signatures across your organization. We also have several new apps and connectors to popular business applications to accelerate your signature processes.
Let's take a closer look at the product updates we have to offer:
OneSpan Sign Q4 2019 Round-up: New Features and Capabilities
New Signer Experience
We are proud to unveil our New Signer Experience, a next generation signing experience empowering your signers to execute transactions easier and faster than ever before. We overhauled the signing interface to provide a modern, streamlined, and intuitive experience while reviewing and completing transactions. 
We give you the power to fully customize the signing experience for your signers, so your brand is front and center. Customizations include applying your brand logo, corporate colors, text strings, notifications, and dialog boxes that reflect your brand throughout the signing experience. 
Finally, the New Signer Experience is responsive, so your signers can e-sign transactions from their desktop computer, tablet, or mobile phone. The responsive design provides an optimal signer experience no matter the device, so your signers can complete their documents anytime and anywhere.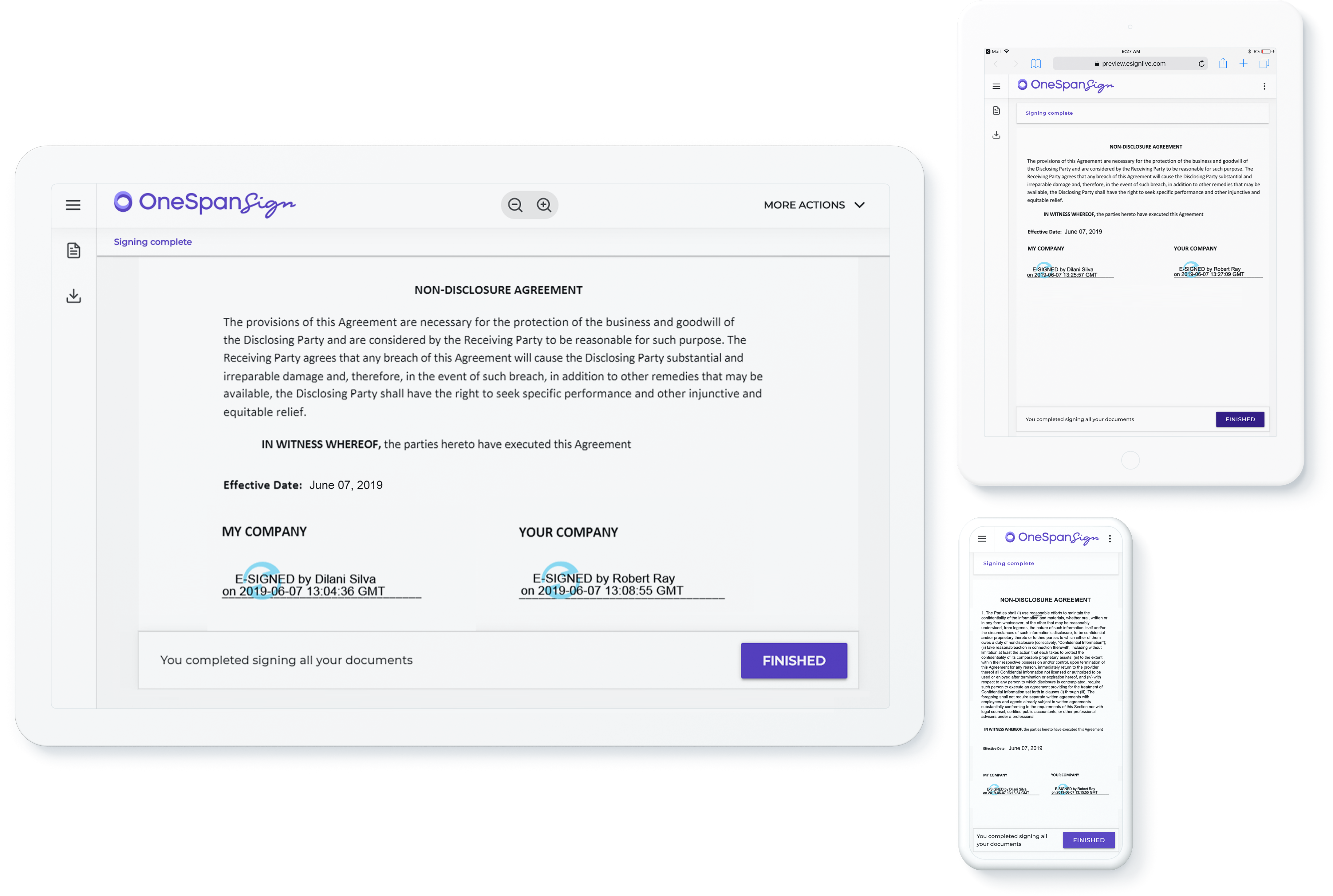 Secure Agreement Automation: Transform Your Customer Account Opening and Financial Agreement Processes into a Seamless, Secure, and Fully Digital Experience
Financial institutions (FIs) are making significant investments to provide fully digital and secure customer experiences with the goal of increasing long-term customer loyalty and profitability. Although FIs are making strides in transforming the customer experience,  most account opening, lending, and financing processes still fall to paper. The paper-based processes lead to frustrated customers, operational inefficiencies, human errors, and increased risk. Modernizing the agreement process not only involves digitizing how agreements are prepared, signed, and managed, but also how customers are verified and authenticated.
OneSpan Secure Agreement Automation allows FIs automate new customer acquisition and reduce fraudulent enrollments by positively identifying qualified customers during the application process. This solution digitizes the customer journey from a customer's initial application through to digital identity verification, the electronic delivery, presentation, signing of an agreement, and the capture and management of all supporting audit trails. By automating and securing the account application process, FIs can bring on new customers within minutes with less risk, lower costs, and an improved customer experience. This is the first account opening solution in the market to combine an identity verification hub, e-signature, workflow, and an end-to-end audit trail delivered via open APIs. 
Contact our sales team to learn more about how you can digitize your account opening, lending, and financial processes with the OneSpan Secure Agreement Automation solution. For current OneSpan Sign customers, contact your customer support representative or Strategic Account Manager to digitize your agreement process by adding identity verification services to your existing OneSpan Sign e-signature implementation. 

New Trusted Service Provider (TSP) Partner Program to help organizations meet eIDAS compliance 
OneSpan is partnering with Trusted Service Providers (TSP) to launch its TSP Partner Program to offer Qualified Electronic Signatures (QES) and Advanced Electronic Signatures (AES) to meet eIDAS compliance. 
With the program, TSP capabilities will be integrated into OneSpan Sign, allowing customers to leverage TSP trusted signing technology directly from OneSpan Sign. We will be expanding our partnerships in the coming months to give customers the freedom to work with their preferred CA/TSP to implement their e-signature solution and help ensure compliance with their local regulations. 
Apps and Connectors to Get Documents Signed from Popular Business Applications
Pegasystems: As a cloud software leader for customer engagement and operational excellence, Pegasystem's adaptive, cloud-architected software empowers people to rapidly deploy and easily change applications to meet strategic business needs. We've partnered with Pegasystems to bring the OneSpan Sign for Pegasystems connector, allowing you to digitize your workflows and cases by adding e-signatures to your documents and contracts in Pegasystems. Learn more about OneSpan Sign for Pegasystems.
Guidewire: OneSpan Sign for Guidewire offers e-signatures with Guidewire ClaimCenter™ and Guidewire PolicyCenter™ to help make the complex business of P&C insurance simpler and smarter, thereby increasing efficiency, improving underwriting, and sharpening insurers' competitive edge. Automated workflow rules ensure that the process is 100% digital and accurate, reducing NIGO errors and increasing productivity. Document packages are sent by agents for e-signing directly from ClaimCenter and PolicyCenter and then automatically returned to the Guidewire applications for electronic storage. This creates a completely digital, straight-through process without any manual steps. Learn more about OneSpan Sign for Guidewire. 
Laserfiche: Laserfiche is the world's leading software for content management, business process automation, and productivity-boosting data analytics. Our latest OneSpan Sign for Laserfiche connector allows you to digitize your processes by enabling secure, legal, and compliant e-signatures for your documents stored in Laserfiche. OneSpan Sign is fully embedded with Laserfiche's Web Client to provide the most intuitive sending and signing experience for your stakeholders. E-Signed documents and audit trails are automatically saved in your Laserfiche folder after the process is complete. Learn more about OneSpan Sign for Laserfiche.
Interested in integrating OneSpan Sign with your existing business applications? View our growing list of available OneSpan Sign apps and connectors.
 

Improving the Electronic Signature Experience: Quarter by Quarter
At OneSpan, we are always searching for ways to improve our product solutions and deliver a superior experience to our customers. This quarter, we're excited to have taken another step forward in that effort. From a new signing experience to connectors with leading web solutions you already use, it has never been easier to further your digital transformation with electronic signatures. Register for the live webcast  to learn more about the product updates as part of the Q4 2019 Round-up.